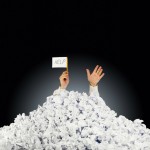 For any business these days, going paperless is most definitely a target, but some just don't see digitization as an attainable goal. Some are fearful of the time it might take, or how much it can cost. Really though, not digitizing, especially when paper is dominating your time and efforts, is really the true cost.
Read our case study of how one auto repair facility let MES Hybrid Document Systems show them the way out of the piles of paper and into a smooth, efficient workflow.
We can help you dig your way out too. Contact us today and we'll show you how easy it really is!