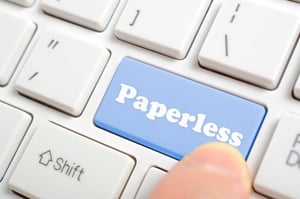 We all know that we have a role to play when it comes to protecting the planet. This is why more and more business owners and employees are trying to create a paperless environment. It's not just about that, though; the benefits of going paperless extend a lot further than this. You can expect to run your business much more efficiently, as it will be easier to source the documents you need. You can collaborate with greater ease too. You will also save yourself a lot of physical space in your office, and we all know that this is at a premium today. The argument for becoming a paperless company is very compelling, to say the least. The only trouble is that a lot of business owners don't know where to start. The very thought seems overwhelming and the task seems too mammoth, so it keeps getting put to the back of the to-do list. With that being said, read on to discover the benefits of being a paperless business, as well as some useful tips and pieces of advice on how to achieve this.
What are the benefits of becoming a paperless office?
There are a number of different reasons why you should consider going paperless at work. This includes the following…
Better customer relationships
Positive environmental impact
How to approach going paperless in the office
As you can see, there are many benefits that are associated with going paperless at your business. However, a lot of people do not do this because they think that implementing a paperless filing system is going to be too difficult. This does not need to be the case. In fact, a simple three-step process is all that is needed. So, let's take a look at these steps in further detail below…
Capture
The first thing that you need to do in order to go paperless at your business is to capture information in a manner that is searchable and can be used in business processes in the future. After all, information arrives in many ways. Aside from paper documents, you have web forms, physical mail, faxes, and email, amongst others. Every information entry point needs to be viewed as an opportunity to capture information. Even scanning paper and indexing its content can be automated in full today. This is where digital software comes in, enabling you to capture and index everything. Indexing is pivotal because it transforms your documents into information that can be managed with ease. This means that the key points of the content will be read and stored so that you have ultra-efficient storage and organization, leading to a powerful working environment.
Workflow
Once you have sorted out how information is going to be captured, you then need to address your workflow. The goal here is to ensure that paper shuffling is replaced with a fully digital and streamlined workflow. This means that there is going to be a predefined process in place for document approval, renewal, and routing. Automation is important because it means that anyone who needs to be able to see certain documents and data will be able to do so automatically. This is where an effective document management system comes into play. Some of the things you should be looking for in software include mobile capabilities so you can capture information on the go, web form integration, and process-mapping tools so processes can be visualized.
Archiving and retrieval
The third piece of the puzzle when it comes to becoming a paperless company is dealing with archiving and retrieval. Once the information has been routed through your automated workflow, it needs to be archived in a manner that means it can be retrieved with ease. However, at the same time, this must be a controlled environment with security taken into consideration so that only certain people can get their hands on your data. This is imperative for compliance matters too.
So there you have it: a quick guide to becoming a paperless company. There is no denying that this is something that everyone should be striving to achieve today. After all, there are so many benefits associated with going down this route. The main reason why business owners neglect this is that they fear it is going to be too complex and overwhelming. However, hopefully, you can now see that this is not the case. Follow the three steps that have been discussed and you will have the perfect formula for becoming a paperless business.