Summary: Document indexing is an important aspect of any modern paperless office. Here we get into what document indexing means, how it's done and why it's important for your business. We will also go over some implementation tips you can start using right away.
Table of Contents
What Is Document Indexing?
How is Document Indexing Done?
Why Is Indexing a Document Important?
How Does Metadata Indexing Make Documents Easier to Find?
How Can I Implement Document Indexing for My Files?
Paperless offices are not just popular because they are environmentally friendly. Going paperless allows organizations to reap many benefits including improving the productivity, workflow, cost-effectiveness and security of your business. However, you can only optimize the benefits of going paperless if you use the right tools and techniques to further improve your productivity. This is where document indexing comes in. Here we explain what document indexing is and how you can implement it to make the most of your paperless business.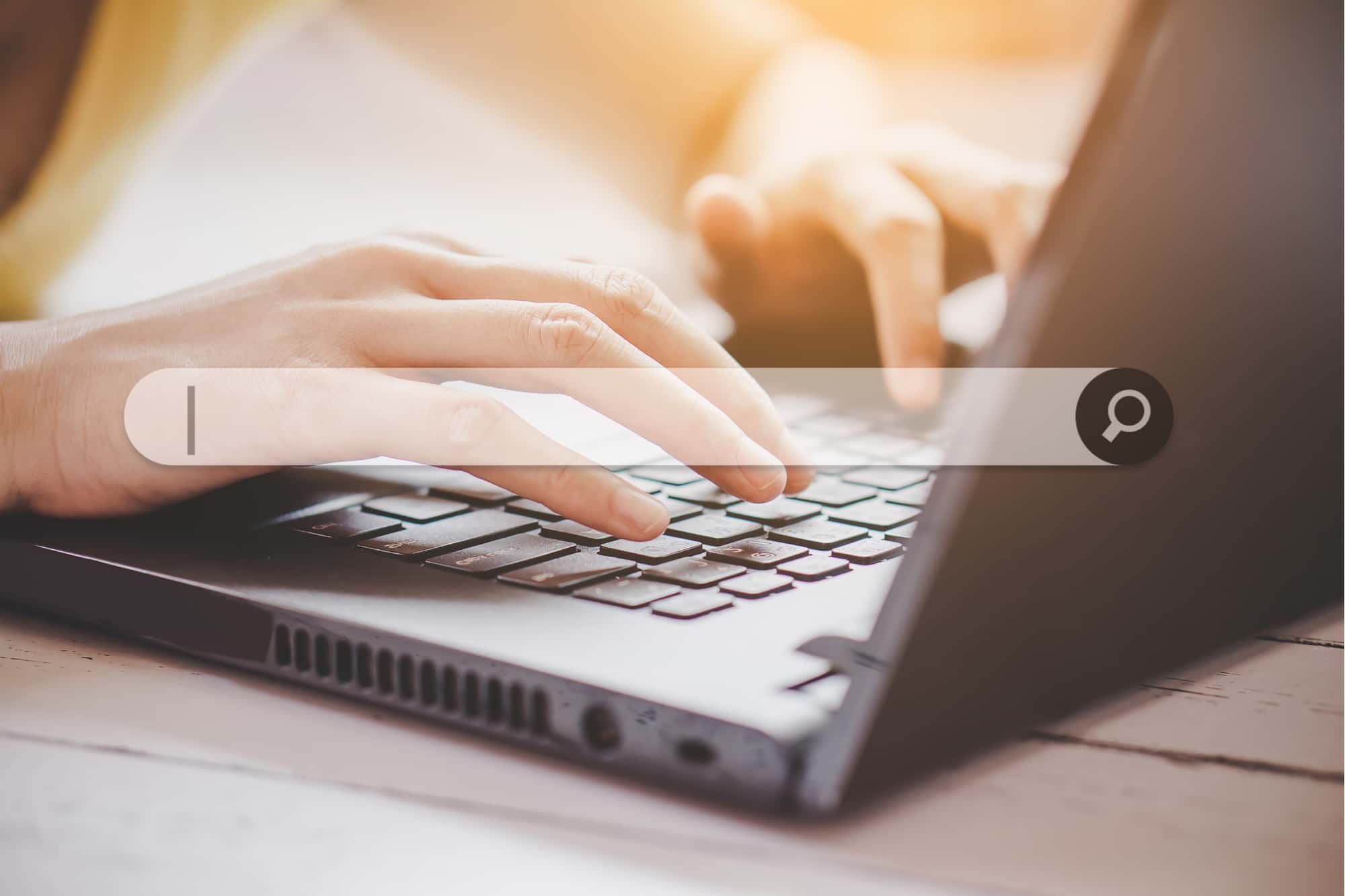 What Is Document Indexing?
Document indexing is the process of using effective metadata naming practices to make it easier to store, find and sort your digital files. The information is based on criteria you set that make the most sense for your operations. Through indexing, you make the search and retrieval of documents easier.
How is Document Indexing Done?
Document indexing applies tags or related information to a file to make it easier for people to search it and retrieve it. Indexing works in hand with document management software which organizations use to access data as required. Implementing metadata into every document ensures there are no holes in your document management system. All employees involved in creating, saving and storing documents must use the same indexing method to apply metadata for document indexing to work. Metadata is similar to keywords applying logical words, terms or phrases people would be most likely to use when searching for a document. This can get quite complicated and requires rules to be set out so everyone uses the same search terms.
Why Is Indexing a Document Important?
At first glance, indexing can sound too complicated to work for your business if you already use the title and content of a document to save documents. Indexes ensure every file added to your system is categorized in the same manner so you can not only make it easier to find, but also provide a way to streamline retrieval. You can also leverage metadata as a tool for access restriction. As well, your automated indexing automatically saves documents in the proper location based on the metadata applied.
How Does Metadata Indexing Make Documents Easier to Find?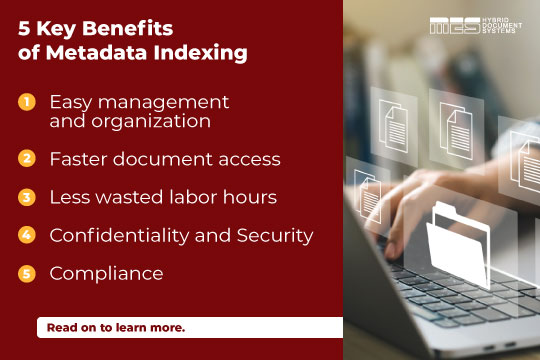 Indexing metadata makes your documents easier to access and manage in several ways including:
Easier document management and organization
Metadata ensures each document is grouped with similar documents based on the keywords used. As a result, you streamline your ability to manage your documents because you apply the same identifying terms for specific groups, departments, file type, etc. The organization of large volumes of documents becomes easier because the metadata categorizes each document reducing the time required to manually search each category.
Faster document access
When your data indexing measures are integrated into a good document management system, everyone shares, uses and understands the proper terms to find any document. Instead of trying to guess what someone named a document, logical keywords are applied to make searches universal. Because people tend to save documents in their own way, this eliminates confusion, and saves time making every search as easy as "googling it."
Less wasted labor hours
Tied together, the above benefits result in saved time. With employees saving, searching, reviewing, and retrieving documents each day, you can reduce the hundreds of hours wasted on mundane document searches. You can save tens of thousands of dollars, since wasted time costs an average of $19,000 per worker. Also, employees can focus on higher-value tasks with the time saved.
Confidentiality and Security
Metadata indexing also helps improve confidentiality and security. You can use specific types of indexing as authorization criteria using terms such as internal use, public, confidential, or a coded clearance so only those with authorization can review documents. This limits document retrieval to specific groups.
External mandates from Government departments, regulatory bodies, and standards organizations can be managed effectively using metadata. As with above, you can set certain criteria in your naming methods to ensure you remain compliant with all regulatory boards impacting your industry. Non-compliance often comes with stiff penalties and fines which can make a major impact on small to medium-sized businesses.
How Can I Implement Document Indexing for My Files?
This is where things get tricky. While it all makes perfect sense to index documents, it takes time to create an easy-to-use metadata process. To implement document indexing effectively the following steps must be followed:
Implement a streamlined document indexing system: Effective data indexing systems are organized to suit the needs of the business. Therefore, you must break down document categories and the keywords used to define them. Considering special characteristics that place documents into sub-categories helps create a logical organization of your documents. From there you set the guidelines for indexed metadata creation.
Start from the beginning: Start with archived documents when implementing your data indexing system, adding the proper metadata. The larger the volume of archived documents, the more time-consuming and overwhelming this process becomes. Scan documents to add to your indexed data to reduce the amount of storage needed on site. For larger volumes, it makes sense to consult a document management expert for guidance.
Make using metadata mandatory: All employees must use the exact metadata process for your indexing to be effective. If your employees aren't implementing metadata into every document, many documents will be lost within your document indexing system. The key is to formally launch your data indexing program, with a metadata instruction sheet and proper training so everyone knows how to add metadata.
Implement a document management system: The whole purpose of document indexing is to create an organized document storage system. Therefore, you need a document management system that allows you to apply your indexing to all document searches. Without the document management system, you can't put your indexing system into effect.
By following these steps your document indexing system will make managing every document that you own easy and cost-effective.
Now you know the meaning of document indexing, and why it is so important to create an effective document storage and retrieval process. If you are ready to discuss how you can implement a document indexing system for your business, speak to the MES experts today.