Long gone are the days of backlogged accounts receivable and accounts payable departments, cluttered with paperwork. Financial process automation removes the clutter, disorganization, and confusion of traditional finance and accounting paperwork.
At MES Hybrid Document Systems, we help businesses across Ontario bring financial services into the digital age by automating processes previously done on paper. Whether printing paychecks or sending invoices, financial process automation will streamline your finance team and minimize work for finance leaders.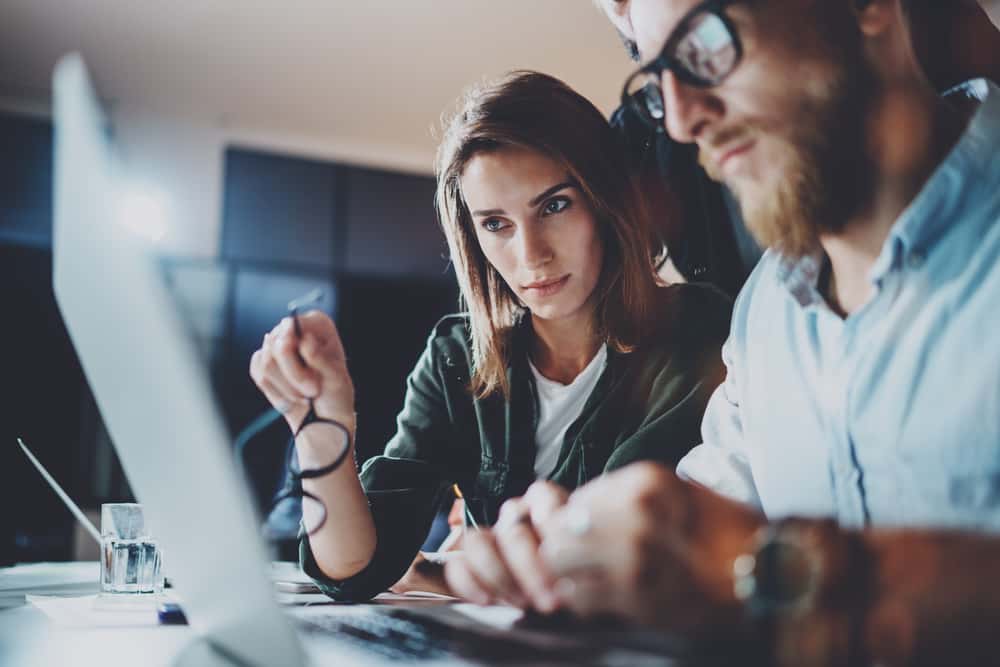 When you've been in the automation game as long as we have, you get to know the ins and outs of client companies. We understand better than most businesses the advantages of updating management tools and automating financial data. We want to share those conveniences with our clients, so you can reap these benefits for yourself.
Interested to learn how automation could improve your business? Here are 3 benefits to financial process automation.
1. Finding and Sorting Information Is Easier with Financial Process Automation
Perhaps the biggest advantage to any automated digital finance department is the simplicity of locating any document. Rather than searching stacks of paperwork on your desk, skimming filing cabinets, or checking sticky notes in your day planner, you can find all the information you need in one place – your digital cloud. This easy to use cloud storage offers a variety of advantages like:
Easier Searching
Having a virtual storage space with access to every file your office needs means that you can find any document with a simple keyword search. Search for files by name, date, department and more. Never get stuck without a file you need. Your documents remain available to you 24/7 from anywhere you can connect to your cloud.
Reduced Clutter
This digital sorting also minimizes databases, removing catalogues of information and compacting lists of suppliers, employees, and contractors into bite-sized files. There's less clutter in your office, less paper waste, and less time wasted finding and using the information you need. This makes business decision-making easier.
Simple Sharing Methods
You can also share information more easily between departments. Data shared on the same cloud can be found by finance, even if the file was saved by human resources. There's no need to visit other department file rooms, looking through storage and hoping to find the document you need. If your finance department has security clearance, they can access any paperwork needed right away.
Lowered Employee Costs
Easy sorting and document searches improve employee productivity. When employees aren't spending time on data input, they reduce costs by minimizing the need for additional support in the financial department. No hiring, no additional benefits packages, and no vacation pay for new hires.
2. Less Data Entry Means Fewer Errors
The finance department needs to get information digitized one way or another. Aside from finance automation, businesses would need to input everything from purchase orders to invoices manually. These financial processes leave room for human error. Your business can improve the accuracy of all financial documents with financial process automation.
Less call for data entry also means less financial waste. Manual jobs require employees to be hired and trained on said tasks. Data entry is a tedious and time-consuming task and one which doesn't require an employee if you use automated scanning and filing processes instead.
At MES Hybrid Document Systems, we help businesses scan to zero and specialize in services like document scanning, business processing, and scanning hardware solutions. We focus on a variety of document types across a range of industries, such as:
Benefit claims
Applications
Surveys
Accounts payable invoices
Logistics forms
Employee reports
Compliance paperwork
Handwritten forms
Contracts
Cheques
With fast, efficient, and secure financial process automation, you can skip the middleman and ensure every record appears as it was originally written.
3. Greater Chance for Growth
Your business builds a reputation among partners, shareholders, employees, and clients. Your financial department juggles all these moving pieces in terms of funds in and funds out. Everything year-end taxes to employee paystubs filter through your finance department, not to mention investment funds, company donations, and more. When your company has room to grow, you can look forward to:
Enhanced Reputation
Building a reputation for forward-thinking, modern technology, and organizational consistency looks good on large companies. It shows other large companies they can trust you with their money, information, and patronage.
Easy Access to Contracts and Files
When it comes time to expand your company, investors are more likely to help you grow your brand knowing that you have modernized your finance department. Why? Because it means easy access to all the files needed to prove you're an asset. It also provides organized contracts and documents you can grab quickly at a moment's notice. In this way, your brand becomes more reliable in the eyes of those you serve and partner with.
Increased Transparency
Digital automation in your finance department makes building, updating, and sharing budgets, expenditures, and other important documents between shareholders easier than ever. You can even create a folder in your storage cloud accessible by relevant partners and investors, ensuring transparency during financial dealings.
Contact MES Hybrid Document Systems Today
Are you working toward a paperless automated finance department in your office? MES Hybrid Document Systems can help you on the path to a fully digitized workplace. With more than 4-decades of experience serving businesses across Ontario, our team is a leading authority in automation and document digitization.
We work with businesses from start to finish, implementing strategies that automate finance processes with ease. From scanning and uploading to automatic filing and retrieval, our team can show you how to use scanning hardware and document management software to make light work of your finance department.
Automated financial processes don't need to be complicated. Streamline finance functions through document digitization. To learn more about MES Hybrid Document Systems, our products and services, we invite you to give us a call at 1-905-475-9263 or visit us online.