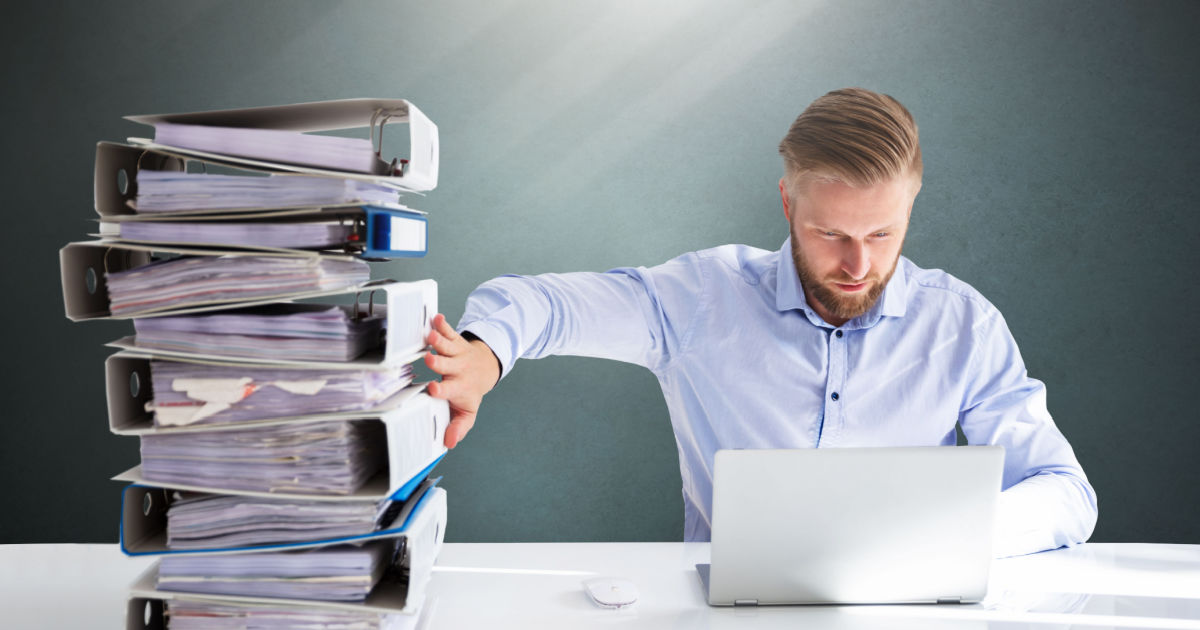 Businesses across the board—from micro-startups to large enterprises and every size in between are adopting digital practices in their daily operations.
Some are trying to go completely paperless. However, with large amounts of legacy data on paper, and new paper documents streaming into their premises daily, the quest for an entirely paperless operation seems challenging.
Business owners and top management of these organizations have several questions:
Will scanning high volumes of existing documents cause disruptions in our day-to-day operations? And by the time we tackle our existing paper and digitize it, will we not have accumulated stacks of new documents? How can we achieve a completely paperless state?
Because of this bind, they see no way out and struggle to start their document digitization initiative.
In this article, we will discuss two processes that can deal with the challenges that organizations face when they adopt paperless practices.
MES offers a comprehensive range of scanning products and services to match your operational needs, budget, and growth strategy. We work with you to craft a customized scanning solution that combines day-forward and backfile scanning, allowing your organization to eliminate paper documents completely.
What is day-forward scanning?
Day-forward scanning takes care of new paper documents that arrive every day. These are digitized at the source—the moment they come in. A dedicated team manages an everyday scanning operation to ensure that every new paper document that comes into the office is scanned immediately. This could be papers that arrive by courier or are generated by printing out computer files created by the staff or handwritten papers or forms and requisitions hand filled by customers or employees.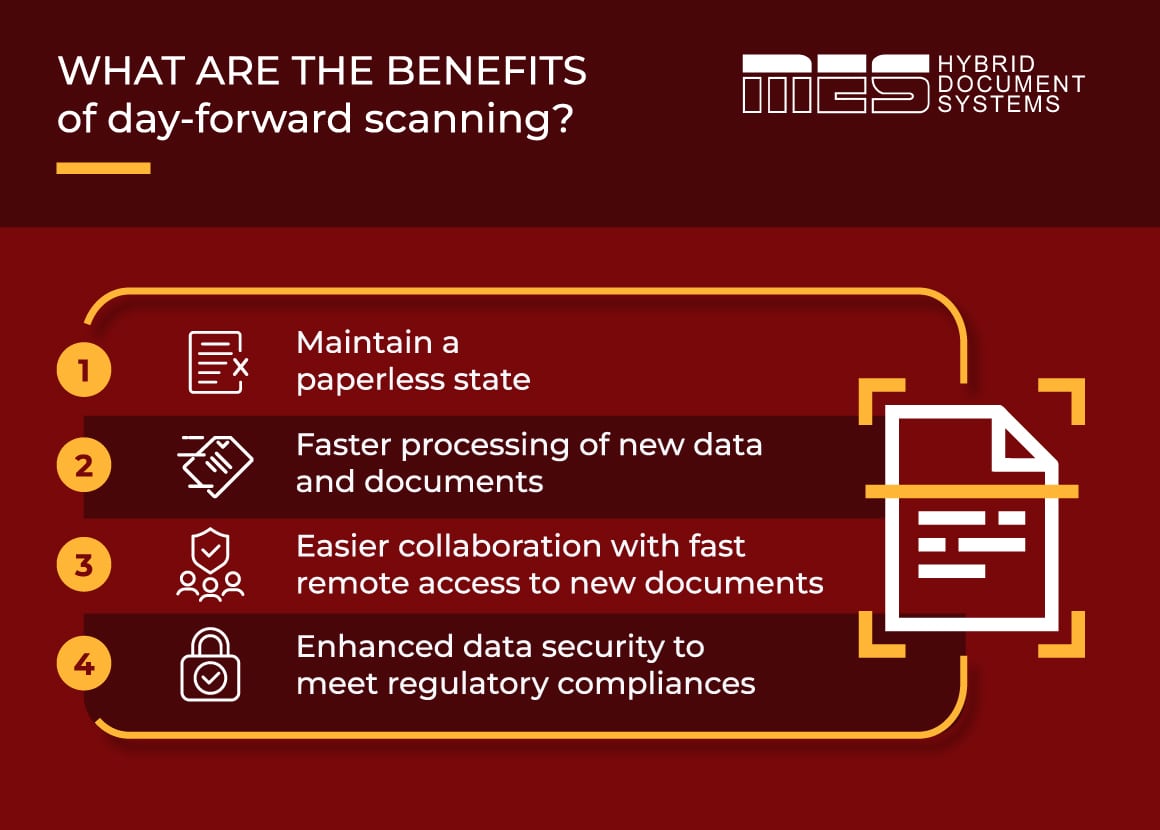 What are the benefits of day-forward scanning for your business?
Day-forward scanning helps your business tackle the inefficiencies and costs associated with paper-based processes that pull down overall productivity and slow down workflows.
When you digitize paper at source on a daily basis, you see substantial benefits in operations:
Maintain a paperless state
Once you go digital, you'll experience the liberation of a paper-free office! Access all your business documents electronically—send them via email or share them via cloud-based apps.
But what do you do about the vendor who sends in the next invoice in paper format? Or a partner who couriers you an agreement for signing?
Can you stop the influx of new paper documents into your paperless office?
The answer is a resounding 'No'!
Day-forward scanning helps you maintain a paperless state by scanning every new paper document that enters your office.
Faster processing of new data and documents
Digitizing new incoming papers daily also speeds up the processing of documents such as invoices and service requests. These are scanned immediately and electronically forwarded to the relevant employees for further processing or approval—papers are not stuck in a logjam of pending files waiting for an employee who's not currently on the office desk. Cloud-based document management systems allow employees to view, process or approve documents on the go via a mobile device.
MES offers an integrated scanning and document management system implementation, which empowers your team with collaboration tools, document editing, cloud storage, and search capabilities.
Easier collaboration with fast remote access to new documents
Another benefit of scanning new paper documents as soon as they arrive in your office is that you can instantly electronically share digital files with colleagues, vendors and partners—no time lost in sending papers from desk to desk or office to office. A cloud-based DMS promotes collaborative working between remote teams and speeds up workflows.
Enhanced data security to meet regulatory compliances
Digital files managed via a highly secure DMS simplify compliance. Does your industry have strict regulations for data privacy and information security? Digital documents are easier to store and share safely. Strict access control features ensure that only authorized employees can view and edit files. And if modifications are made, an audit trail ensures you'll always know who edited the file and when.
What is backfile conversion?
Backfile scanning, or backfile conversion, is a one-time bulk scanning process that converts all your existing paper documents or legacy documents to a digital format.
For organizations with high volumes of archived documents, backfile scanning can be a complex process. It requires high-speed scanning equipment and project management by an experienced service provider for accurate backfile conversion projects Besides, a stringent chain of custody is required for scanning confidential business documents or highly sensitive data.
MES offers a well-defined backfile conversion process that is efficient and secure, using high-speed scanning equipment and trained technicians.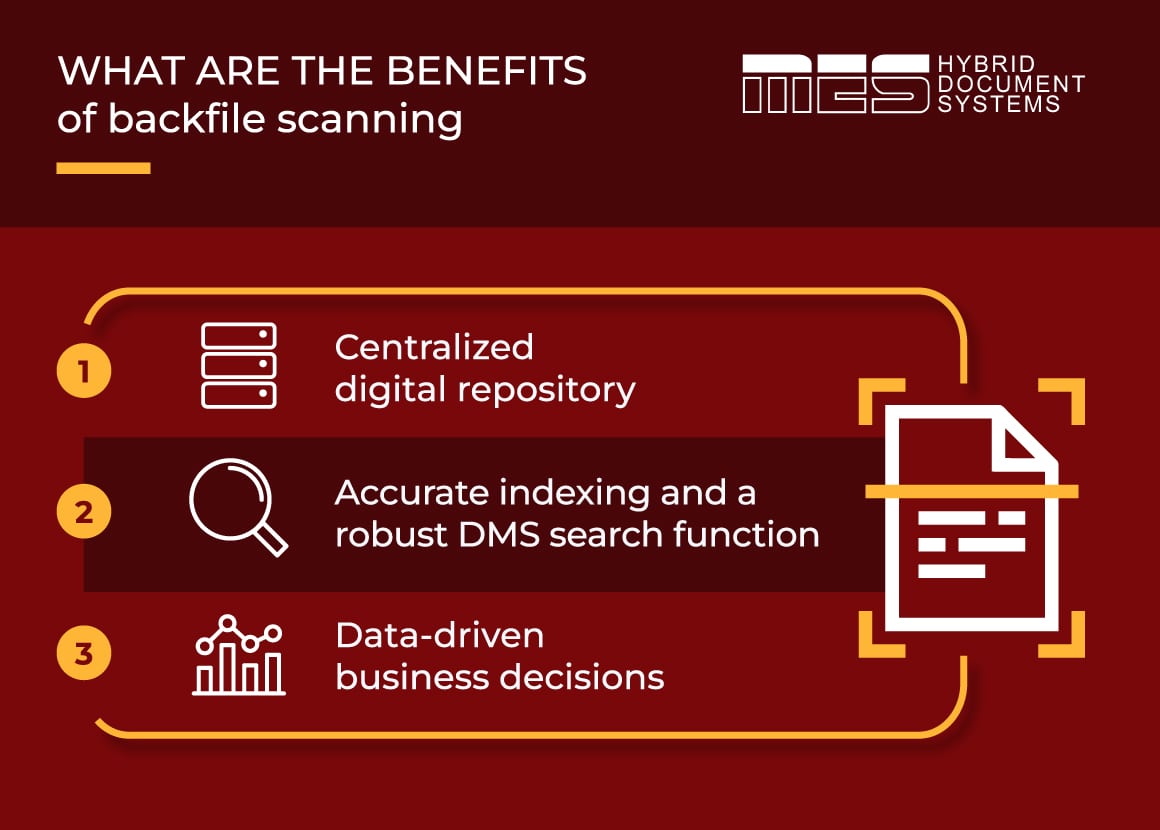 What are the benefits of backfile scanning?
Educational institutes, legal departments and medical institutions accumulate large amounts of documents over time. A backfile scanning project allows them to digitize legacy and archived records and make them easily accessible for future use. As organizations move towards digital transformation, it is increasingly becoming important to convert archives to digital formats to bring all existing information into a common digital platform.
Here are some of the most important benefits of backfile scanning:
Create a

centralized digital repository

of all records in the organization's archives, making it searchable and accessible from any location or device.
Never lose a paper document again! There's always a backup copy, even if someone accidentally deletes or damages a file. And with

accurate indexing and

a robust DMS

search function, you can search out any document even if you've forgotten where you stored it. You can also safeguard old documents containing vital information that are prone to aging and wear and tear.
Digitizing legacy records uncovers a treasure trove of valuable business data that was relegated to a dingy backroom or storage area. Old records are accessible easily at the click of a button and can provide valuable insights from the past, helping make

data-driven business decisions

in the future.
Which should your business start with—day-forward scanning or backfile scanning?
Some companies prefer to tackle a one-time scanning project first for backfile legacy records. Then, once that's complete, they initiate a daily scanning operation to digitize day-forward paper.
However, you may also choose to start with digitizing daily incoming paper first and simultaneously launch a backfile scanning operation.
A combination of backfile conversion and day-forward scanning helps organizations achieve and maintain paperless operations with speedy digital workflows that enable remote work and improve productivity.
MES offers a Scan to Zero service in which we scan a set amount of them per month until your office is completely paperless. Moreover, during the scanning project, we provide safe and secure document storage services at our state-of-the-art records centre at no additional cost to you!
You can then upload newly scanned records to your servers or our secure cloud-based information management system and eliminate recurring physical storage costs.
Many organizations today prefer to also opt for an outsourced digital mailroom service to maintain paperless workflows and bring incoming paper as well as electronic mail into paperless workflows instantly and seamlessly.
Any industry, sector or functional department that has document-intensive workflows and must maintain long-term records gains significantly from using a combination of backfile and day-forward scanning.
Let's look at some industries that deal with high volumes of physical records:
K-12 schools, higher education institutes, and universities are burdened with regulatory compliances for retaining student records for several years. As a result, their digitization projects must include backfile conversion of archived documents and day-forward scanning to tackle the inflow of new student records.
Scanning patient charts is one of the first steps for clinics, hospitals and other healthcare organizations to move toward paperless operations. But they need a combination of backfile and day-forward scanning to get there. Digital medical records management improves efficiency. Digitized records are easily integrated with EMR software. They are easier for patients to access from anywhere and easier to share with specialists and imaging services.
Manufacturing units struggle to constantly optimize their operational costs, improve productivity and save time. Scanning archived documents and incoming new paper documents streamline back-office operations, helping companies to gain competitive advantages and improve time-to-market.
Backfile and day-forward scanning help government agencies digitize high volumes of citizens' vital records, geological maps and surveys, and legal documents and enable online portals and digital payments for citizen services. Scanning helps municipal agencies to improve public service delivery while staying within fixed budget constraints.
Departments such as Human Resources, Accounts Payable, and Customer Service carry a heavy burden of paper. Digitizing records helps HR, AP and customer service teams improve efficiency and reduce errors and compliance risks.
MES offers an AP automation solution for automated invoice processing that integrates seamlessly with your ERP. It speeds up invoice approval and exceptions resolution. So your AP team can avoid late payment penalties and take advantage of early payment discounts.
HR processes are document intensive—from recruitment to onboarding and benefits, paper prevails. MES offers HR records digitization services to streamline HR processes.
Records digitization helps customer service teams provide world-class service to customers. Scanning customer records means they always have legacy and current information available at the click of a button—empowering agents to resolve customer queries and issues quickly and provide a better customer experience.
MES: Your partner in day-forward and backfile scanning
MES Hybrid Document Systems specializes in secure, fast and accurate document scanning services and efficient document management solutions.
We have successfully managed high-volume document scanning projects for organizations across industries to help them achieve and maintain paperless operations.
We deliver scanned, indexed digital documents which save expensive office space by eliminating the need for paper records and replacing them with affordable digital storage.
Speak with an MES scanning expert now to understand how our day-forward scanning and backfile conversion services can help your organization digitally transform itself to stay competitive in a digital era.