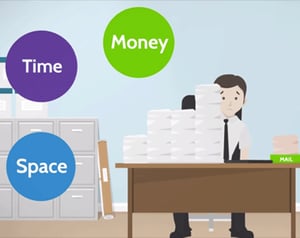 It's one of the leading questions our customers ask when they first interact with the company: "How do you convert my documents into digital data?" The answer lies within our complete bulk document management process, and in this latest post, we'll explain each phase.
Learning the Objectives
The initial phase of the process involves learning about your objectives and discussing your document plans. We'll learn more about the data contained within your documents and build a strategy that safeguards your data and ensures the ideal approach for your customers.
Safe Transportation
We'll then begin the transportation of your documents to our secure facility. The transportation process is handled by experienced staff members who have been vetted carefully and background checked.
Careful Receiving
The documents are then received within your secure facility, which is controlled-goods certified to ensure our security measures are up to date. MES owns each element of our facility, so we can assure you of the utmost security and next-level process control. At this stage, the documents are prepared for the conversion process.
Comprehensive Scanning
The documents are then scanned, harnessing the latest scanning software. Our systems operate at 120 pages per minute and are integrated with the latest image-scanning tools to ensure you receive the best quality scan for your service investment.
The Image is Created
Next, the finalized image is created in your required format. Whether you need a PDF or a TIFF image, we can respond with the ideal image for your systems.
Your Final Service
The final element of our service is the delivery of your image, which includes each of the scanned documents. The image will be delivered securely by our transportation professionals, and we will complete the handover of your property in accordance with the pre-agreed guidelines requested during the initial consultation.
What Are the Benefits of Your Document Scanning Service?
So now you know a little more about the process for our document scanning work, let's examine some of the benefits gained by working with our team:
More Space within Your Facility
Once your documents are scanned and digitized, you'll have more room within your facility for upgrading your company's structure. This is often ideal for growing companies looking to streamline their processes and reduce real estate and hardware costs.
Improved Customer Service
Another clear benefit of a document scanning service is that you can improve your service to customers. Now, all data is available in one secure yet accessible repository so that your frontline service team can query the data at the touch of a button. There's no more spending time searching through paper documents trying to find specific details. Now, information can be found in seconds to support exceptional service.
Our team is working with companies across the country and helping them to capitalize on the many benefits of the document scanning process. To learn more about our work in the industry and the value that dynamic document scanning can bring to your company, call today.