Document and records compliance is time-consuming and risky when you depend on outdated manual processes. However, a document management system helps facilitate automated compliance throughout the entire lifecycle of your documents. Regardless of the types of regulations you must follow, the right document management system allows you to ace compliance, while remaining focused on your core business activities. Here's how the magic of document management systems simplifies the compliance process.
Compliance Document Management Enhances Data Protection
In an organization lacking access protocols, documents are vulnerable to document mismanagement. Using a document management system allows you to introduce data protection measures to safeguard your data from unnecessary access.
Using role-based authorization, you can determine the level of access required to perform responsibilities for each job. For some, that might include access without the ability to edit documents, others might have full access, while others have no access at all. You can avoid serious mistakes such as unintentionally sending out a confidential document to the entire organization or inadvertently changing a date on a critical paper trail that negatively impacts an audit.
Automation to Improve Compliance Document Management
Manual processes can easily miss steps that lead to compliance issues. With effective compliance document management software, you can create data protocols that ensure every step is followed. If someone tries to skip a step or forgets a step, they can be prompted to follow the process before the system allows them to move forward. Your Standard Operating Procedures (SOP) are written into data access protocols, so you reduce the number of errors created. With automated SOPs, you eliminate inconsistencies and ensure every step is followed across all departments.
Compliance Document Management Adopting Auditing Functions
Compliance is subject to inspections and audits that catch your team up. With a compliance document management system, you can adopt auditing functions that ensure you create clear and transparent audit trails. You can find key dates, note changes, and know who made them to prove your compliance. You can also set functions that trigger messages when compliance errors are made. For example, if someone forgets to initial a document, adds a date, or is unauthorized to make certain changes, the software will send the user an error message flagging the issue.
You can stop the type of activity that creates risk for non-compliant situations and ensure the correct processes are followed. In the case of non-compliance, you can also consider ways to include additional auditing functions to correct unwanted methods moving forward.
If you have reporting responsibilities in your industry, you can send reports to regulatory agencies with an auditing function that searches and collects the information needed.
Accountability with Compliance Document Management
Along with your role-based authorizations, you can also improve accountability across the entire organization. You can track who accesses what documents and the actions taken to identify team members who are not adhering to regulations. Whether it is confidentiality, privacy, poor record-keeping, or misleading information regarding incidents such as HR complaints, you will always know who is responsible so you can provide additional training or take disciplinary action.
Controlling Workflows with Improved Compliance Document Management
Outdated manual workflows add unnecessary steps while also making it easier for people to stray from required processes. When you use document management software, all departments use the same workflows and benefit from automated steps. You can introduce streamlined SOPs that improve all aspects of the organization, especially for situations involving several team members.
A classic example is relying on email for team communication. Reply trails become convoluted and are difficult to follow as the back and forth continues. Two people might be conversing yet include the entire 15 people working on the project. There are also unnecessary cc's which can disrupt workflows when people are constantly interrupted from their work.
With a document management system, people can work together on projects in several different ways. For example, you can create an SOP based on your approval process, ensuring people who must sign off on a document are alerted when a change is made. In other cases, you might tag specific people who must add something to the document before it can move on to the next step, such as an image or updated pricing. These automated communication tools adopt triggers to move the document forward, controlling workflows and ensuring each step in the SOP is compliant.
These consistent SOPs ensure everyone:
Accesses documents based on their role
Follows the required steps to remain compliant
Ensures documents are safe and backed up during the process
Receives error messages that notify them when they are non-compliant
Remains accountable for their actions
As a result, you reduce human errors and improve procedures with optics that help you understand common document interactions.
Retention Scheduling with Compliance Document Management
Automated processes also ensure you maintain documents based on retention guidelines. It maintains an ongoing record within each document and triggers document destruction to help keep your records organized. Canada bases retention guidelines on the risk of harm caused by the destruction or poor management of records. Understanding this breakdown based on your industry and/or function is difficult to manage, especially if you are mandated by several retention guidelines.
For example, tax documents have a six-year retention period, yet other types of financial records require retention for two to 10 years. Meanwhile, the government states there is no "one size fits all" retention period for personal information, which means you can create an organizational legislative requirement for personal information or have no requirements at all. By using a compliance document management system, you can create destruction schedules based on the regulations that apply to your business. This avoids fines, frees up space, and maintains a far more organized document system.
Some examples of governing bodies involved in retention regulation include:
CPIN
The Ontario government introduced the Child Protection Information Network (CPIN) to enhance the way children's aid societies (CAS) manage data to help modernize the child protection system. Mandated under section 35(1) of the Child, Youth and Family Services Act, the system helps ensure vulnerable children and their families receive the services they need and that no one falls through the cracks.
A document management system allows you to share data digitally so CPIN records are always up-to-date. The system helps avoid mistakes and empowers childcare workers to assist children in a timely manner. As a professional providing child protection services, you must ensure personal information in CPIN is only shared among CASs and those with a formal role in providing child protection services.
Records stored in CPIN are only available based on the role of the staff in the provision of child protection services and only include the necessary information to ensure the child receives the proper care. Some records must be disposed of after certain time periods according to the law, and each CAS has a written policy on the secure destruction of records.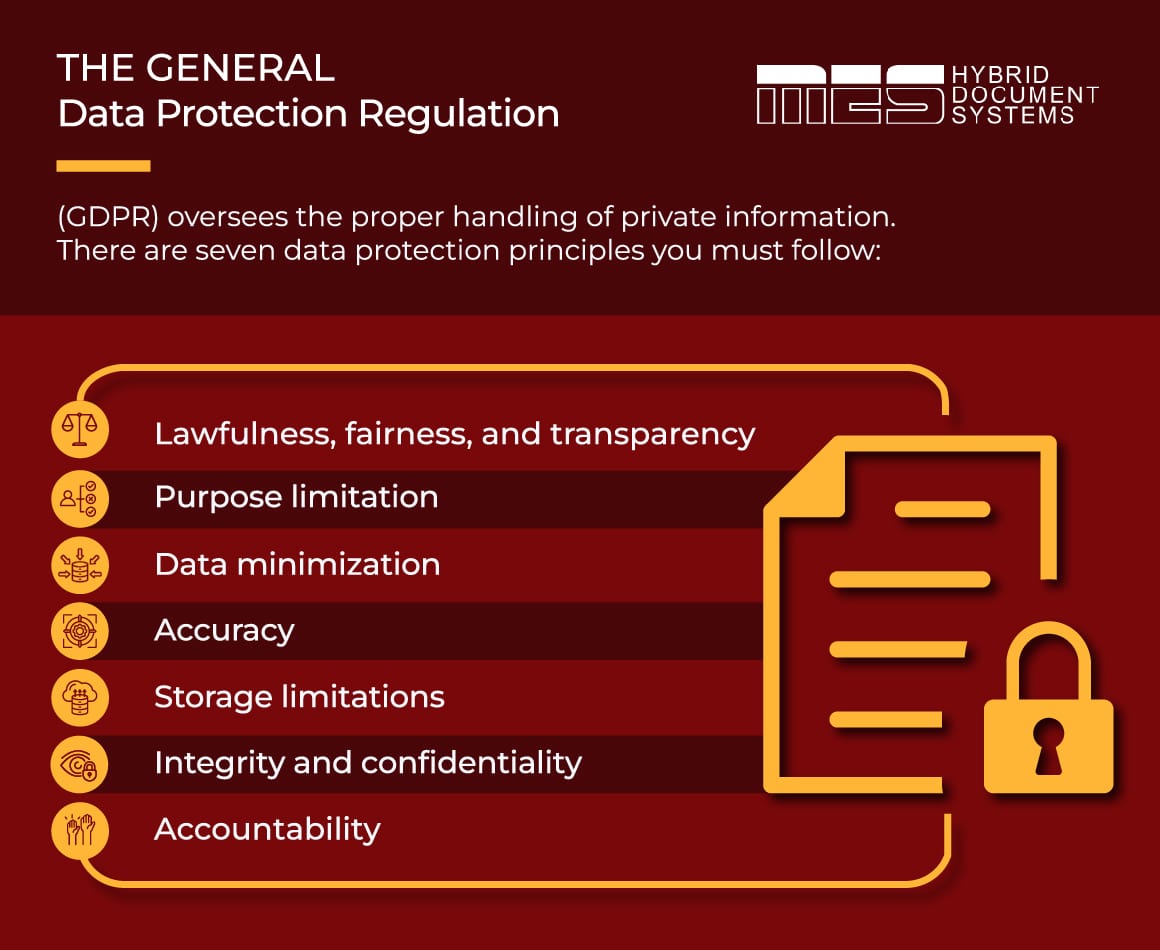 GDPR
The General Data Protection Regulation (GDPR) oversees the proper handling of private information. There are seven data protection principles you must follow:
Lawfulness, fairness, and transparency
Purpose limitation
Data minimization
Accuracy
Storage limitations
Integrity and confidentiality
Accountability
Non-compliance can lead to fines and taint your brand's reputation. A data management system helps you manage the customer data no longer needed so it is properly disposed of in a timely manner. It also helps limit the amount of personal data collected and introduces processes that help manage the principles to protect personal information protocols.
PIPEDA
Canada's Personal Information Protection Electronic Documents Act (PIPEDA ) compliance laws regulate the collection, use, and disclosure of personal information in the private sector. Companies must protect personal information with security safeguards in place to control access to sensitive information. This includes technological security measures, such as encryption and passwords. Your document management software provides the secure storage required to comply with PIPEDA and avoid fines of up to $100,000.
FIPPA
The Freedom of Information and Protection of Privacy Act (FIPPA) also applies to personal information stored or controlled by public bodies in Canada, such as schools, hospitals, and municipalities. In order to remain compliant, your information must be stored in Canada, which calls for a highly secure document management system with backup Cloud storage also located in Canada. To remain compliant, you must have the following controls in place:
Identity and access management to ensure only those with authorization can access information
Infrastructure security with strict management and ongoing maintenance of the system and network
Encryption during transmission and storage at the provider facility
It is critical to address FIPPA in contracts involving document management, sharing and storage with all providers, especially regarding actions following a personal information breach. The contract must also clearly outline how and where the information is managed.
HIPAA Compliance
The Health Insurance Portability and Accountability Act (HIPAA) regulates sensitive patient data management and sets protection protocols for companies dealing with patient health information (PHI). Organizations require compliant physical, network, and process security measures. A document management system ensures you comply with the following rules:
PHI can only be accessed by authorized staff
Patients can request and/or access copies of their personal records
Taking reasonable physical, administrative, and technical measures to protect PHI
Reporting and resolving security breaches promptly
Your compliant document management system protects your patients and avoids criminal penalties of up to $50,000 or up to one-year imprisonment.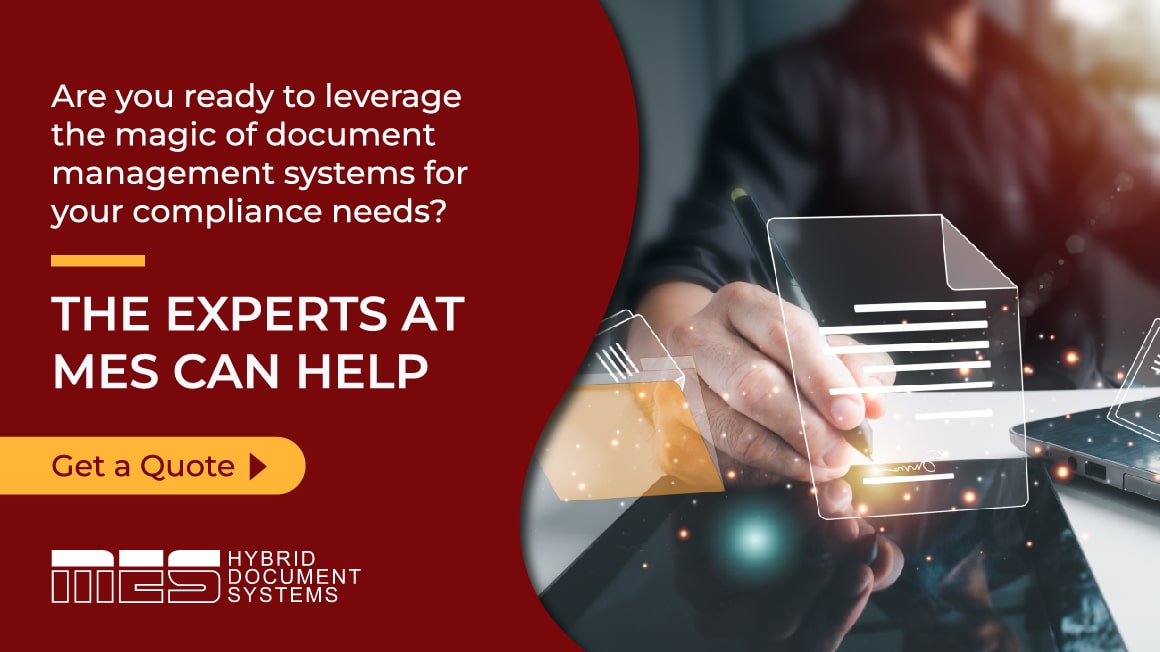 The bottom line is that most organizations fall under at least one of these mandates. As a result, finding a document management system solution that facilitates compliance throughout the entire lifecycle of your documents is a must, regardless of the regulations you follow.
If you are ready to leverage the magic of document management systems for your compliance needs, the experts at MES can help. Find out more about migrating your vital records and documents to a management system.