Scanning patient charts is one of the first steps for clinics, hospitals and other healthcare facilities to leverage technological advances to improve patient care. Digitizing medical records can improve how you protect your patients' privacy while empowering your entire team to become more efficient. This allows you to focus on patients, so your level of care is improved.
Although scanning patient charts takes time, once complete, you can move forward with a more streamlined process. This improves patient record maintenance while making it easier to share medical records with specialists and imaging services. Here we offer the complete guide to scanning patient charts to create a consistent record system that improves efficiency.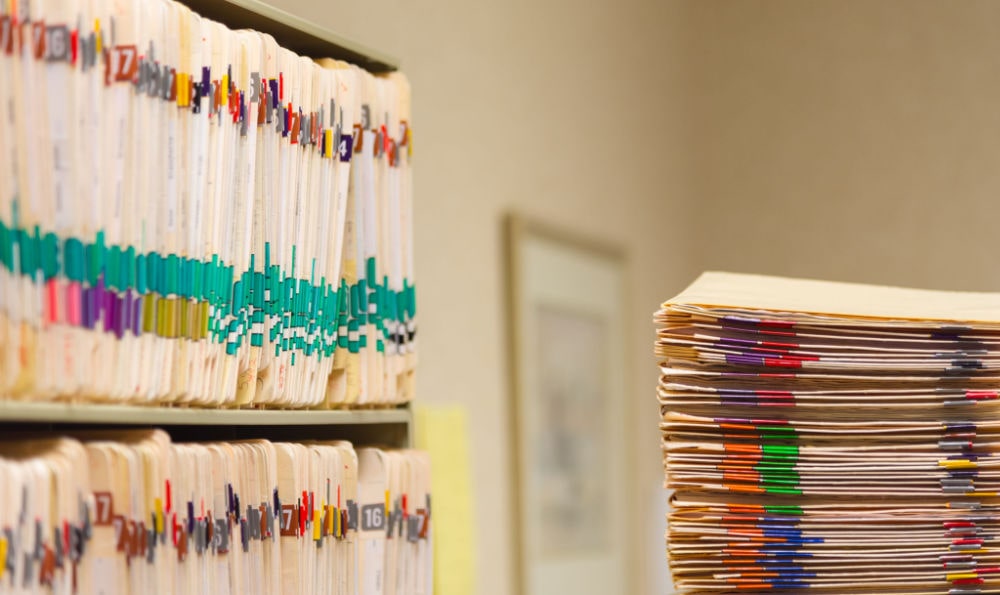 Why Scanning Patient Charts is Recommended
Keeping and accessing medical records is an important element of providing effective patient care for medical practices. When you eliminate paper records and large format imaging, you create a single format and storage system that is secure and easy to access. Electronic medical records are the best way to store and access medical charts, making it easier to share records with other medical facilities. Doctors and caregivers have instant access to patient information ready for review at patient appointments. You also reduce wasted time for administrative staff without the need to pull or refile charts and records. This also reduces the risk of lost and misfiled patient information.
Benefits of Scanning Patient Charts
There are many benefits to medical document scanning and digital records management, including:
Easier access and retrieval of patient charts for improved record management
Search capabilities that make it easy to retrieve all documents when needed
Secure sharing of medical records with healthcare providers for improved care
No need for filing cabinets opens up more clinic space for patient care
Limitless record storage space
Secure storage that can't be accessed without passwords
Reduced risk for patient confidentiality breaches
Improved workflow across all practice functions
Focus on patient care
Disaster recovery following a catastrophic event such as fire, flood, or damage from severe weather
Health Insurance Portability and Accountability Act HIPAA

compliance

through improved sensitive patient data protection
Although medical document scanning takes time, it is a relatively quick process. Once chart scanning is complete, everything is saved in one EMR system, including scanned paper records, images and digital files. Moving forward, all medical records are digital, so everything is accessed from one secure storage system without the need for manual data entry.
How Scanning Patient Charts Works
When you decide to undertake a medical record scanning project, all paper records, as well as large format images such as x-rays, are safely scanned and transformed into digital files. Here we offer a step-by-step guide to explain how medical scanning works.
Choose a Medical Scanning Service
Your medical scanning service will meet with your project or office manager to discuss your needs. This allows them to understand your goals and recommend a process that will ensure you meet them. The plan will include:
The right process and storage for your facility
Explanation of how to prepare documents for transportation
Explanation of how patient information is handled and protected to remain HIPAA compliant
Recommendations for an effective EMR system
Working with a medical scanning service is important as they understand medical terms and HIPAA compliance to ensure they manage documents properly. Going with a scanning service without specific experience in medical scanning increases the risk of errors, privacy breaches and non-compliance.
Preparing Records and Documents
Following your meeting with a medical scanning service, your team has the instructions they need to prepare your records and documents for chart scanning. This involves:
Organizing patient charts to ensure all relevant medical records and images are included in their medical history
Identifying existing digital records that must be included with each patient chart once scanned
Physical preparation of paper records such as removing staples and paper clips, unfolding sheets of paper, repairing tears, etc.
Identifying active charts to ensure they are scanned first
Scheduling deceased and inactive patients for final scanning and

archiving
As the charts are prepared, they can be filed in boxes so they are ready to ship to the secure scanning facility.
Medical Records Transportation
Once the charts are prepped and packed, they can be shipped to a secure facility to be scanned. All medical scanning projects protect privacy while ensuring every sheet of paper and image is kept in proper order so nothing is lost or misfiled. Although it might seem safer to do the scanning on-site, the space required to scan files in a secure area is close to impossible for healthcare facilities. Offsite scanning is managed in a secure facility where limited personnel and visitors have access to the scanning area.
Scanning Patient Charts Process
The charts scanning process scans 120 pages per minute for your patient files. Everything is scanned using the latest hardware to ensure everything is legible. When quality is corrupt due to the condition of the original documents, a specialist uses software to make the image as clear as possible. During the scanning process, a medical scanning service ensures they remain compliant with the healthcare industry. As charts are scanned, they are indexed and organized, so they are searchable based on your preferred system, including date of birth, last name, address, etc. Specific records can also be searched based on the date of service.
Formatting and Securing Scanned Files
All scanned charts and images are saved in the same format, so every record is compatible. By exporting the files into the same format, you create a paperless filing system that makes it easier to store, search, retrieve, review and share files. Your EMR makes it easy to manage patient records from a single secure storage system protected against unauthorized access. This ensures breaches and data loss is prevented. As well, role-based security ensures only authorized personnel can share and edit patient-critical information. Audit trails also make it easy to discover where a breach has occurred.
What Happens After Scanning Patient Charts?
Your new electronic document management system allows you to move forward with a streamlined process that improves how you collect and maintain patient records, including:
A consistent method for

indexing

patient charts as new information is collected
Simplified patient information searches
Editable charts based on role-based security
Improved HIPAA compliance
Access to all medical records, including patient forms, photos, EKGs, lab results, medical practitioner notes, etc., ready to review or share with other medical professionals from a single storage system
Scanning patient charts empowers your team to become more efficient with a focus on patient care. If you would like to learn more about digital charts and effective EMR systems and software, the team at MES is ready to help. Reach out to us today to set up your consultation.