The transformative world of automation touches every aspect of business operations, creating a more collaborative environment with improved information sharing and reduced manual tasks. As a result, you can significantly enhance operational efficiency by implementing digital workflows in core business functions, including Human Resources. Here, we shed light on the profound influence modernizing HR practices has on business-critical HR responsibilities, including recruitment, employee onboarding, payroll processing, and performance management.
The Effectiveness of Strategic Implementation of Automation
Often, it is challenging to convince HR professionals, decision-makers, and organizations that digitizing HR practices has a significant impact on business performance. It helps to share compelling statistics that illuminate key stakeholders on the effectiveness of HR automation, including:
Employment Brand: 77% of line-of-business leaders say the gaps and lack of integration within systems adversely impact the quality of the customer experience.
Compliance: 46% of HR teams aren't sure they have copies of all signed agreements.
Refocus HR Team: 31% of HR staff time could be freed up by addressing the document disconnect.
Employee Experience: 63% of line managers say document process issues negatively impact customer satisfaction.
These numbers bring the influence of HR best practices and their impact on business performance and brand optics to the forefront of business strategy.
Automation of HR Processes and Recruitment
Recruitment is difficult when your HR teams struggle to find the ideal candidate amongst a pile of applications. However, automating human resources allows HR professionals to capture, sort, and distribute applications and resumes automatically. This frees up time to focus on core HR business functions while providing streamlined hiring processes that make an excellent first impression on candidates.
Capturing resumes allows your team to search and screen candidates based on skillsets and qualifications leveraging OCR technology. You quickly sort the wheat from the chaff to identify top talent, feed them into the interview process, and avoid delays that lose candidates to your competitors. Automated responses also help make an excellent first impression, instantly informing candidates when their resumes are received, interview times are scheduled, or their applications fail to meet position requirements.
Self-Serve Onboarding in HR Automation
Streamlined onboarding can increase employee retention rates by up to 50%. Once a candidate is chosen, you can leverage HR automation to improve the onboarding process. Self-serve systems automate information collection, signing up for benefits, providing payroll information for direct deposit, and even setting self-serve training modules in motion. As a result, your HR team can focus on career planning for new hires instead of getting bogged down with paperwork.
Employees feel empowered to help manage their own information and set career goals from day one, helping to improve employee engagement and retention.
Payroll Processing with HR Automation
Automated payroll processing avoids employee frustration and reduces pressures on your accounting team. You also ensure you remain compliant with record retention and CRA tax laws, with accurate records for hours, overtime, time off, sick days, etc. stored for easy access. Processing and calculating pay entitlements, reductions, and adjustments using multiple systems and manual processes create payroll nightmares with inaccurate records and complex manual tasks that increase the risk of errors.
Backdating errors and resolving issues is time-consuming and leads to employee dissatisfaction. Having a single solution keeps data updated and automates the payroll process for simplified payroll runs week after week.
Improved Communication and Collaboration with HR Automation Software
Poor communication and collaboration between HR and hiring departments can lead to a rocky start that sets the wrong example for new hires. With HR automation software, you improve collaboration, so the right hand knows what the left hand is doing. You create a collaborative, company-wide effort to ensure new hires feel welcomed, their desks and offices are set up, their email accounts and computers are ready to go, their phone lines are hooked up, etc. All the technical details are managed across multi-departmental functions so employees never have to worry about the "man behind the curtain" and step into their new roles friction-free.
Automate HR Processes to Improve Performance Management
A central document storage system provides a central repository for all employee performance-related records. Through digitized HR records management, managers can access evaluations to review past performance and receive notification when the next performance review is due. This helps maintain consistency and ensures employees understand their performance, goals, and benchmarks to keep their careers on track. It also maintains records of disciplinary actions to ensure dismissals are squeaky clean in the case of wrongful dismissal disputes.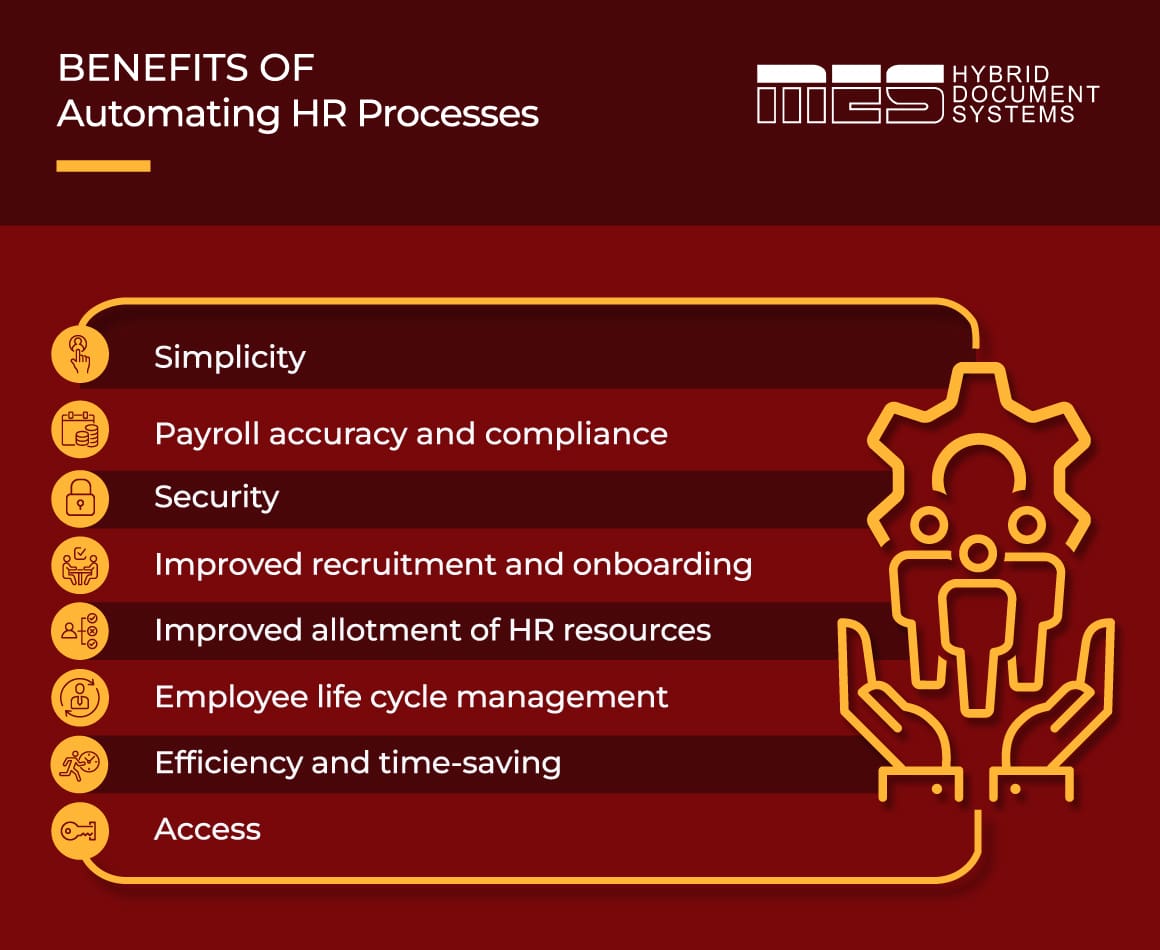 Benefits of Automating HR Processes
Automation digitizes and centralizes HR document management, providing the following benefits:
Simplicity: Automation simplifies the organization and retrieval of vital documents like contracts, reviews, and benefits info. Automated workflows streamline HR tasks, including onboarding, leave, evaluations, payroll, etc., reducing errors and ensuring consistency.
Payroll accuracy and compliance: Automated payroll accurately computes compensation, taxes, and benefits, saving time and minimizing mistakes. Also, maintaining real-time updates reduces delays in HR and Payroll access to relevant information, unlike paper-driven processes that increase the risk of loss and errors.
Security: Employee information and records management are subject to strict regulations. Digital personal details, time-off requests, financial information for direct deposits, benefits and insurance, performance, salary amendments, and payroll changes keep records secure so you remain

GDPR

compliant

and protect your employee's most sensitive information.
Improved recruitment and onboarding: You can reduce the burden of time-consuming paperwork with automated processes for recruitment and onboarding to eliminate manual resume reviews and paper onboarding forms for new hires.
Improved allotment of HR resources: HR specialists often get bogged down with manual processes that take attention away from recruitment and employee retention strategies. They can leave the less critical tasks to automation and focus attention on employee career paths and hiring to build stronger teams that contribute to enterprise-wide productivity and talent enrichment.
Employee life cycle management: From hiring to benefits management and evaluations to career tracking, right up until an employee leaves the company, you have complete control over employee records with a central HR document management system.
Efficiency and time-saving: You reduce costs by eliminating manual tasks and error corrections across your HR and payroll functions. You also eliminate piles of paper traditionally managed in HR departments, including resumes, application forms, benefits paperwork, timesheets, performance and evaluation forms, and more. Records become searchable using a digital storage system that eliminates the need for physical storage, so you optimize your office space usage.
Access: Remote work poses challenges for document access, made easier with digital cloud storage. HR teams and department heads can access employee records with the click of the mouse anywhere at any time.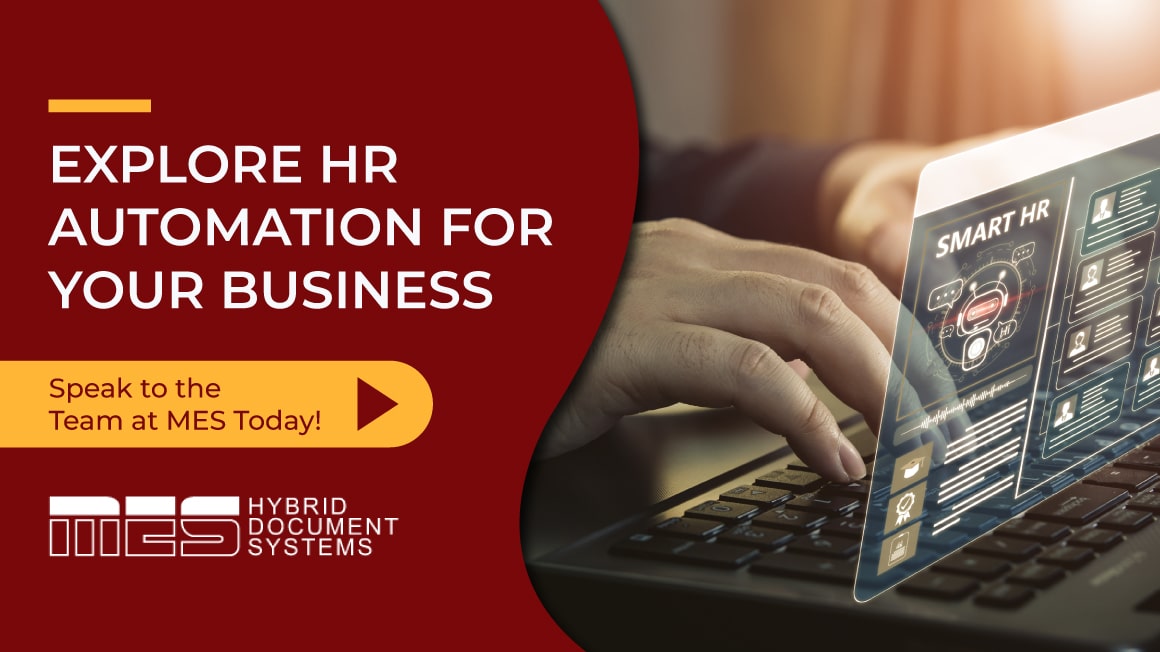 How to Automate HR Processes
When you're ready to explore HR automation for your business, speak to the team at MES to learn more about HR document management systems and digitization.