Both document management systems (DMS) and content management systems (CMS) are designed to handle electronic documents. Sort of. While both offer solutions to help automate business information management, the two systems serve very different roles. A DMS provides an internal function allowing your team to create, track, share, and store digitized documents. A CMS, on the other hand, allows your team to store digital assets, create content and publish the content using a public-facing platform. Here we compare the similarities and differences between content management vs. document management to help you decide which one is right for you.
What is a document management system?
A document management system or DMS uses software to help manage digital documents across your organization. It stores files created by various users to be shared, edited, and accessed across the entire company. The DMS maintains a single version to reduce errors. The files remain on a secure system when accessed, reducing the risk of loss yet allowing multiple users to access the file simultaneously. There are two options for storing documents:
Cloud-based:

Cloud-based documents

exist on a third-party, secure server accessible using passwords and permission-based criteria.
On-premises: On-premises documents are stored on internal servers, also accessed via passwords and permission-based protocols.
Common functions of a DMS include:
Creating and storing various document types such as

invoices, contracts,

HR records, accounting reports, training materials, project management sheets, etc.
File sharing for collaboration
File locking to ensure no one can overwrite someone's work in progress
Version control and rollback settings in case errors are made
Fast and efficient document retrieval to save valuable time
Accountability with audit trails to understand touchpoints and who made changes
Date stamping to track the time changes were made
Flexible document input routes such as scanning, email, manual/bulk uploads, etc.
Document indexing using different search terms, categories, etc., to make documents more searchable
Workflow automation with rule-based settings to trigger actions such as approvals, document creation, and document routing
Enhanced security features to help prevent cyber attacks and similar issues
What is a content management system?
A content management system, or CMS, allows you to create, manage, edit, and publish content for your website, social media profile, or ad account, depending on the tool you're using. It allows your marketing/creative team to build and edit a website without the need to write code. It is a collaborative system that accommodates multiple users contributing to a single stream of content. Role-based settings allow different users to perform various tasks, whether creating, editing, or publishing content. In addition, it streamlines the creative process allowing creation and editing to take place from a single source.
Standard functions of a CMS include:
Website creation and management, no coding expertise required
Collaboration among multiple users based on user roles and permissions
SEO capabilities
Security features to help prevent cyber attacks
Theme-based website templates for simplified design
Easy updates, even for live pages
Blogging tools
Automated publishing schedule
Image libraries
Analysis tools to measure visitor behavior
Similarities between content management (CMS) & document management systems (DMS)
Once you understand the functions of the two, it becomes more difficult to find similarities, at least on the surface. However, there are several things they have in common:
Document management
Central storage for data (one is document storage, the other is content storage)
Information distribution and retrieval
Permission and role-based access
Information security
Information collaboration

and automated workflows
What are the differences between CMS & DMS?
Generally speaking, the DMS and CMS serve different purposes. For example, a CMS is used for effective website design and delivery, while a DMS is all about document and workflow management and regulatory compliance. Breaking the differences down further, you'll also find the following functions set them apart:
Structured vs. Unstructured Data: A DMS manages structured data, categorizing, searching, and sharing documents from a central platform, while a CMS manages unstructured data without a defined data model or specific organization.
Traditional vs. Non-traditional documents: A DMS manages traditional business documents such as Word documents, PDFs, PowerPoint presentations, Excel spreadsheets, etc., while a CMS handles web content such as HTML and PDF files, as well as digital assets such as images, video and audio files.
Advanced imaging and scanning: DMS applications use advanced imaging and scanning, such as OCR, HCR, and OMR, while CMS platforms don't.
Integration: DMS usually depends on integration with enterprise systems such as Enterprise Resource Planning and Customer Relationship Management tools, while a CMS uses plug-ins and Digital Asset Management, marketing automation, e-commerce, etc.
Key components: A CMS has two key components, with the first providing a content management application to add and manage content, and a content delivery application that assembles the code, stores it, and displays it to visitors. A DMS focuses on the management component to add, manage and display information for internal users.
Content Management vs. Document Management: Choosing what's right for your needs.
Often, companies need both a CMS and DMS as they have two clear purposes. To help you decide, let's look at why you might need each option: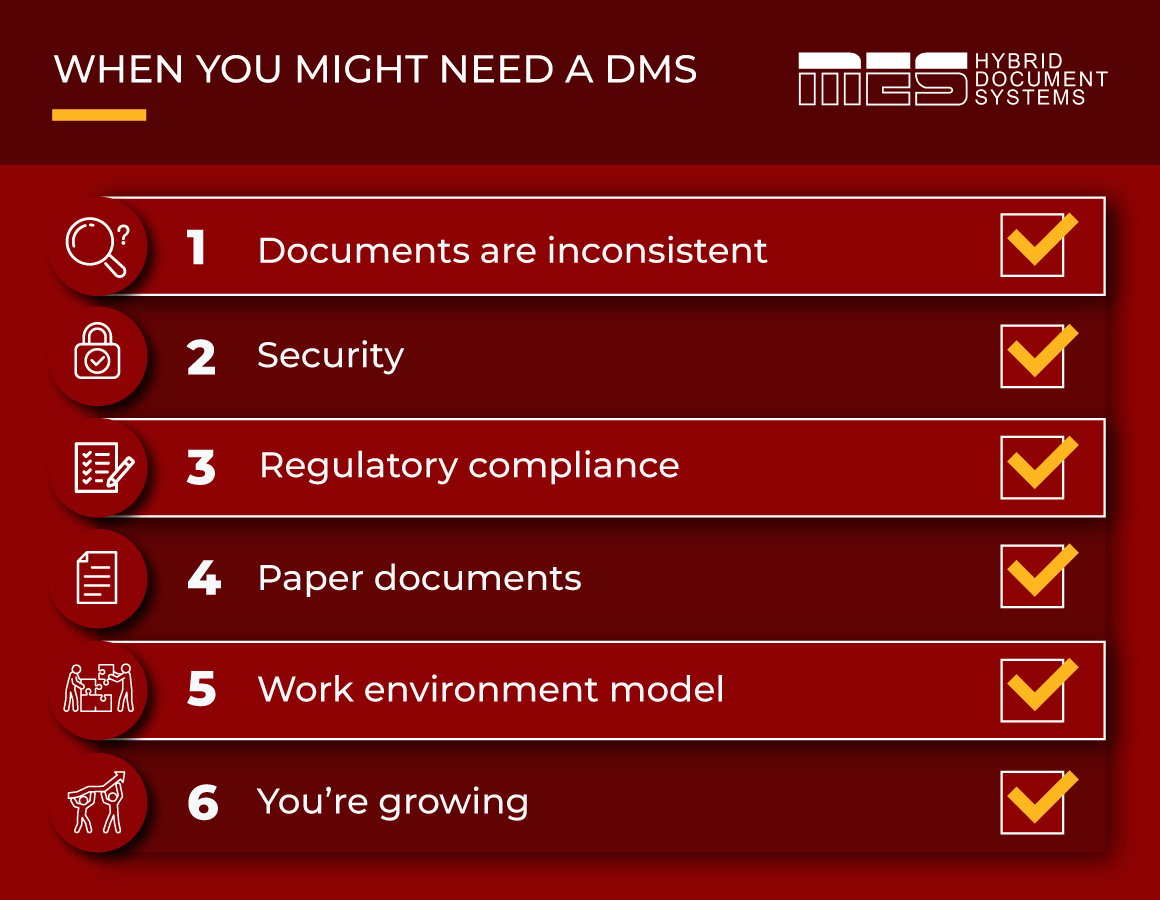 When You Might Need a DMS
Documents are inconsistent: If you have a larger organization with multiple departments or numerous individuals sharing and editing documents, keeping track of the most recent and correct version becomes more challenging. It also increases the risk of errors or, worse, document loss. A DMS provides a central location for all documents to ensure the most recent version is always available yet allows you to retrace versions in case of errors. In addition, you can create files and track and manage new documents throughout their lifecycle.
Security: If you work in an industry where security is a concern, a DMS offers protection for sensitive information, whether it is customer information, proprietary information, or other information specific to your organization. A DMS provides a secure storage system and controls to safeguard your information and, in turn, your business.
Regulatory compliance: If your business requires record retention for specified periods, a DMS allows you to create automated document record maintenance periods. Hence, you know when it is legally acceptable to destroy excess documents. Proper document destruction makes it easier to maintain larger archives, free up office space, and reduce

offsite storage

costs. Your document storage also ensures you remain compliant with privacy regulations, whether for

healthcare,

consumer protections, etc.

Paper documents

: If your business is still driven by paperwork, you can improve search capabilities using OCR search to assist with finding everything from checks to balance sheets using custom

metadata. Documents are ready for review without the need for printouts.

Work environment model

: Hybrid work environments make it difficult to maintain consistency across documents, sharing with people on the road, working from home, and working at different office locations. Also, businesses with lingering office hours, such as real estate brokers with documents that must be

shared and signed

in real-time, require virtual document sharing 24/7. If this sounds like your work environment, the DMS provides access to documents anywhere, anytime, while ensuring sensitive documents remain secure using role and permission-based access.

You're growing

: A growing business needs to remain scalable. As your business grows, so do your client, product, proprietary information, and other documents. A massive collection of paper files

takes up space

and mucks up

business processes. A DMS keeps files under control physically and functionally, so your document storage grows along with your business.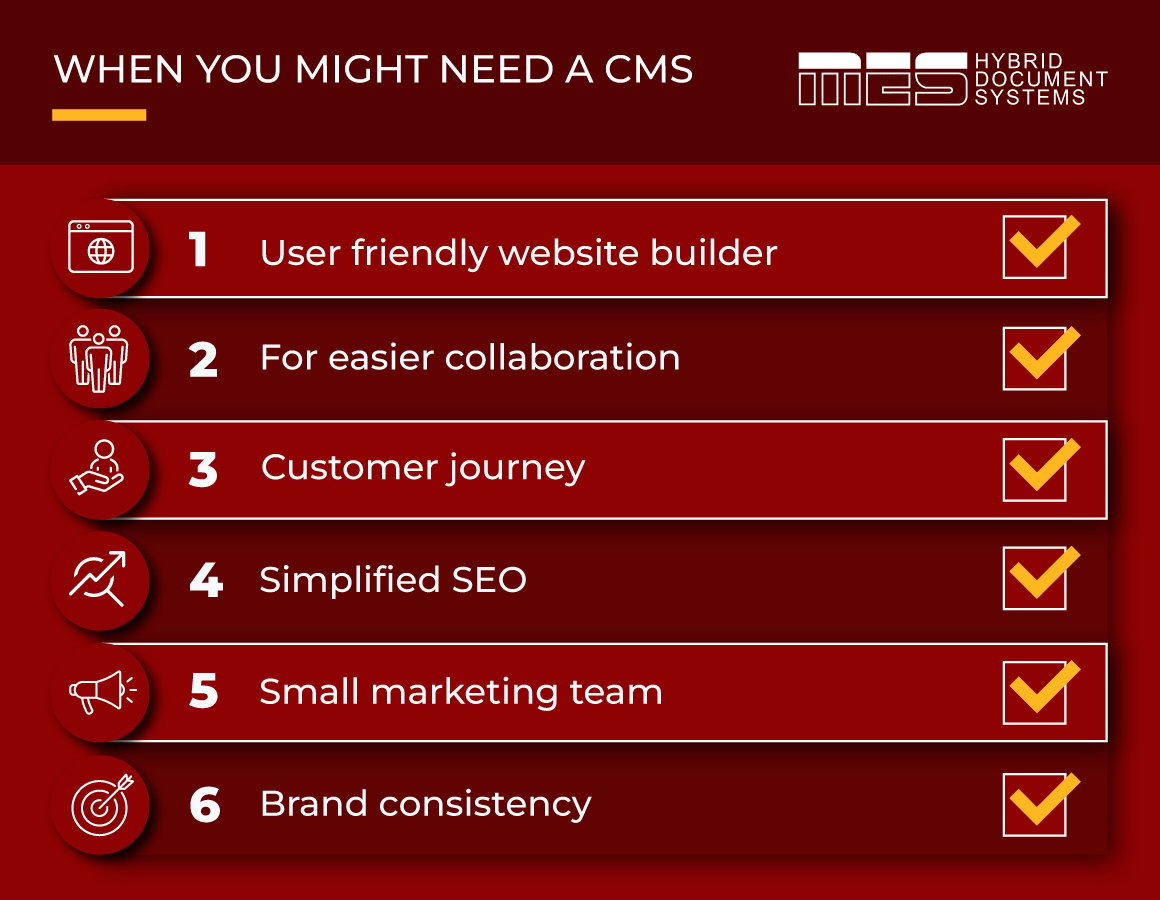 When You Might Need a CMS
User friendly website builder:

You need a website for your business but don't have any coding experience. You can create and manage content and customize the design of your site with easy-to-use drag and drop features. This means you can build a quality website, even if you have limited technical resources.
For easier collaboration:

It's possible for multiple users to work in the back end of a CMS at the same time. This means writers and marketers can be producing content, IT professionals can be updating security features, and designers can be modifying the theme all at the same time. Many CMS also allow you to set specific user role permissions, so each professional can only work in their designated area.
Customer journey: If your sales team calls for support throughout the customer journey, your CMS makes it easy to provide journey-relevant content. You can answer questions, build trust, and publish relevant content on your service pages and your blog. In addition, you create a "self-serve" form of searchable information with calls to action to encourage visitors to take the next step.
Simplified SEO:

A CMS allows you to use built-in or third-party tools to perform a range of tasks like customizing page titles and meta descriptions, creating XML sitemaps, adding image alt text, or creating 301 redirects.
Small marketing team:

Smaller marketing teams are challenged to keep up with demand. A CMS allows your team to easily create professional-grade web pages and content using templates, image libraries, and SEO-friendly tools to keep your marketing affordable.
Brand consistency:

If you've used various tools and platforms to create your content, you are likely facing issues with brand consistency. A CMS allows you to create a consistent look across all your content, even if you decide to undergo a brand refresh. Everything quickly changes using one setting to address all pages.
Where does enterprise content management (ECM) fit in the mix?
Another option is to use enterprise document management systems (EDM) and content management (ECM) systems. Both help streamline document storage by performing the following functions:
EDM: Organizes paper and electronic documents and structured content.
ECM: Enables organizations to capture, manage, preserve, store and deliver many types of content, including paper and digital documents, video files, audio files, and more.
Should I consult with an expert to make the right decision?
Yes, consulting with an expert is always the best way to go when it comes to deciding whether you need a CMS, DMS, or both. After reading through the features and benefits of both of these systems, it's obvious that these decisions shouldn't be taken lightly, and expert guidance will help you make the right choice for your needs and goals.
DMS and CMS technology makes overhauling your old system more accessible and affordable. Let MES assess your current business processes and offer customized suggestions for a more efficient operation. Reach out to our team today.