Researching into common ways to store paper files from the many accumulated files generated by corporations big and small; I started with assessing the industry field the corporation is a part of. For instance, a lawyers' office would generate considerably more paperwork than a stand-alone plumber; a giant corporation with many employees would generate a far greater amount of paperwork than a small office of insurance brokers.
Evaluating the costs of storing the growing number of file cabinets of consumed paper, even for a small office, can be daunting. My research shows that in many western cities in Canada, in the core of the city, office rental space can range in cost anywhere from $8/per square foot in smaller cities like Red Deer and Lethbridge; to $20 - $27/ square foot in larger cities like Winnipeg, Calgary, Edmonton and Vancouver.
My research indicated the average document archival self-storage space is approximately 1/5 of the space used by office employer/employee work space. Costs for storing the corporation's own paper usage can grow exponentially over time. For example, have a look at how a legal firm would calculate the needed space for occupancy and archiving storage:
6 lawyers

3 employees each

3 extra in-office positions:
(1-office manager,
1- bookkeeper, 1- receptionist)

total 27 firm occupants

150 sq. ft.
/occupant
500 sq. ft.
washrooms
500 sq. ft.
reception/waiting room
500 sq. ft.
break room

Total estimated occupancy space: 5550 square feet plus an additional (1/5 space) 1110 square feet for archiving.
At $27/ square foot, the firm would be paying $29,970 annually for paper storage. Not even taking into account that on average a 4-drawer deluxe filing cabinet would cost in the neighbourhood of $350 to $400 per cabinet, the dollar signs just keep chiming.
Consider this - a firm of this size would also have annual rising storage cost as required space increases (in Canada for the first six years and in the U.S. for the first seven years of business operations) before they could begin to eliminate paper, which would translate to an approximate 65:35 ratio of paper turnover after the 6th (or 7th) year. With an approximated 35% retention of paper, after the stated years, there would always be a need for growing archival storage.
Noting that this is only accounting for the space of real estate consumed by onsite document archival systems, and not the additional cost of a security presence and possibly an archivist to ensure the integrity of the filing system.
Have you ever rented a self-storage unit? From experience, I can tell you that there are units mainly meant for outside items, boats-bikes-summer cars, and the like. The disadvantage to this kind of self-storage unit is they are not meant for anything that could not be outside in your garage. The doors to these storage units are not 100% air tight and do let in a nominal amount of dirt and grime and (of course) snow. To put documents in this kind of storage unit is not advisable, but it has been done.
With indoor self-storage units, similar problems exist, that are rarely considered. Many indoor self-storage units also have garage door entrances or enclosures. The differences here would mainly be that they do not have a roof. In the place of a roof, many self-storage unit buildings have opted to reduce the amount of storage space of any given unit, by putting a wire mesh covering over the units just above the height of the garage doors.
Documents retained in this type of storage unit have on what appears, from the outside, to be a very secure document storage option, but as soon as you see one from the inside, you realize that the security factor is almost an illusion.
Between the self-archival of documents, and the use of a document storage facility, business owners have also used private secure document storage space rental. But besides the obvious lack of security and the also obvious fact that most storage units are not climate controlled, the main issue here is that even a 15' x 25' storage unit would become filled with banker's boxes and/or filing cabinets rather quickly.
Secondary to this is the integrity of the filing system. Which would be easily compromised by having any employee retrieve files for past cases etc., not to mention the ease of storage box breakdown in a self-storage unit where there are no proper shelving options to alleviate the weight as the boxes pile up.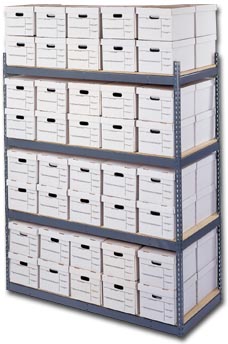 From document self-archiving to self-storage to off-site storage warehousing. Each have their value, and each have their costs. Going back to the example of the legal firm, it is easy to see the choices available to an organization when paper documentation storage is under evaluation.
Now imagine the enormity of a large, multinational corporation, with many office locations and a very large spatial footprint. With archival space requirements and costs rising annually, it is no wonder that many large organizations turn to off-site document warehousing facilities.
Offsite document warehousing facilities come with their own pros and cons. There are many reasons to switch to a document warehousing facility, but there are also many reasons that document storage facilities can be an inconvenient problem for their clients.
Beginning with a couple pros that you may or may not have known.
Document or record storage facilities (in general) are temperature regulated. Since paper degrades over time and is affected by the elements, document storage facilities must maintain a temperature that is neither too hot nor too cold. If the air is hot and dry, the room becomes static charged due to the paper's presence, someone working in the area could spark a static charge and disaster could befall the facility. Similarly, if the air is too damp and cold, the paper could absorb the dampness and the paper could degrade. In either case the facility could be liable for the loss.

Document facilities tend to be outside the core of the city this can be both a positive and a negative. In a positive light, the facility located outside the city core does not take up valuable core city real estate resources, which in turn helps to keep rental prices down because core resources are opened up where there were previous "paper tenants".
Now for the cons, which probably everyone can guess:
Facilities located outside the city core:

24/7 security required to watch paper.

Document storage facilities are open only regular business hours making it difficult for document retrieval or submission.
(Although these are both inconveniences no matter the location of the document storage facility, it is more of an inconvenience to business owners who work long hours in the core of the city and cannot get to the facility during the facility hours.)
Off-site document storage facilities are an inconvenience for business who use them because they are off-site. Options to quickly go and retrieve a document is foiled because… (you guessed it) the documents are offsite.
Off-site storage facilities (in their convenience that the document owner is not having to deal with onsite security and an Archivist) can be a different kind of concern.
Without instant access to your files, costs are incurred because many Archival Facilities charge a flat fee to access your files for you. Because each document and box are catalogued prior to archiving, the owner must now know the document number and box ID to have access to their own files. An Archivist will then retrieve the specified document and prepare it for pick-up. Once the owner is done with the document, the document must be returned to the facility and another fee (similar to a restocking fee) is charged to re-archive the document.
Documents retrieved and returned are tracked like library books, with the difference being that only the document owner or authorized agent is allowed to retrieve the corporation's records. Needless to mention; though the cost of document off-site storage is far less than the rising cost of self-archiving; there is still a cost, it is now just charged to the company in a different fashion.
It might be a mute-point here, but I should mention that 24/7 security is a pro as well as that earlier con! You might think it silly to have someone watch paper, but if anything were to go wrong at the document storage facility, (a break-in, or a fire or anything similar) it is a good thing to know that your records are secure. Security and Archivists are prohibited from giving documents out to anyone without the proper clearance and request forms.
It should also be said that an organized document storage facility, can be a very good and important way to protect your files. The on-site Archivist is trained as a librarian and then follows up as an archivist after a rated period of time. They are well trained in archiving procedures and they cannot submit or retrieve documents, for anyone, without having the proper release documentation or submission credentials.
With all this information, you might think that all off-site document storage facilities have an Archivist and 24/7 security to maintain the integrity of your documents. Unfortunately, you would be wrong on that account. All document storage facilities are not created equal. Unless you have researched the facility thoroughly, you might be risking the very security you thought was inherent of the facility.
In the current climate of creating a reduction of paper for all business organizations and the encouragement to bring business into the digital age; it may be that warehouse facilities and document retention centers are becoming somewhat of a living dinosaur. They too, may be phased out in the coming years as we move forward in technology and depend less on paper products.
Of course, this paves the way for digital file storage and digital file document service management software, which in turn make way for cloud-based software management solutions for document service and retention. But then again, that might be a subject for another time!