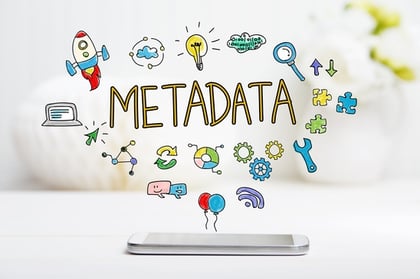 Reaping maximum value from the capabilities of modern technology means using the best digital tools and strategies. The foundation of building a digital business is switching to a paperless office and using a document management system that can handle your voluminous document cache. While these two steps alone will enhance every element of your business' operations exponentially, this is only the first step. Next, you need to invest in metadata.
Metadata allows you to define every scrap of information that your company possesses. This means faster access, easier indexing and better data control. This is a much more effective approach than trying to handle file folders that are difficult to navigate. In order to effectively implement and use metadata, you need a solid metadata standards system in place. Here is how you can create and implement metadata standards to improve or create highly effective metadata for your company.


Define what your goals are for using metadata
Your ultimate goal for using metadata is better document management. However, this definition will be too broad for your metadata strategy. You need to break down what your specific goals are in order to ensure efficient implementation.
Carefully define your documents so that your metadata strategy can have clear goals. For example, if there are multiple definitions for a document group, break them down into a single definition. This will significantly simplify integration.


Determine who will be using the metadata
When you market to consumers, you create content with their perceptions and needs in mind. This is because a person is more likely to understand and use something that is designed for them. You should take the same approach when creating your metadata strategy. Creating a standard strategy based on the needs and perceptions of those who will be using the metadata will guarantee that they are able to easily adapt to it.


Invest in the tools you need for streamlined integration
Your metadata strategy won't be very effective if you don't have the software needed to properly integrate it. In fact, the wrong software can interfere with implementation and cause unnecessary redundancies in your operations. The best way to prevent this is to avoid getting metadata add-ons for your document management system. Instead, invest in a document management system that is already capable of creating and managing metadata.


Click here to speak to one of our experts about which document management software could work best for your business.


Make room for future metadata
Your metadata use won't end with your current documents. You will need to use metadata for all of your future documents; otherwise, your metadata would quickly become useless. Prepare for your future documents before you get them. You can do this by having the creators of documents add metadata to each newly created document, so that your document management system can automatically index the data. The metadata for the new documents should be created based on the same information that was used to create your original set of metadata.


Track the efficiency of your metadata standards system
Once you have implemented your metadata standards strategy, you still have a job to do. Ensure that your metadata system remains up-to-date by keeping track of it and adapting as necessary. For example, if a definition for a certain type of document is updated throughout your company, you should update your metadata standards to reflect this. Otherwise, you would be facing unnecessary, confusing redundancy regarding your definitions.


Optimize your business with metadata
The key to thriving in the digital world is to be able to move faster without sacrificing the quality of your products. When you have effectively implemented a metadata standards strategy, your company will be able to move faster than ever.