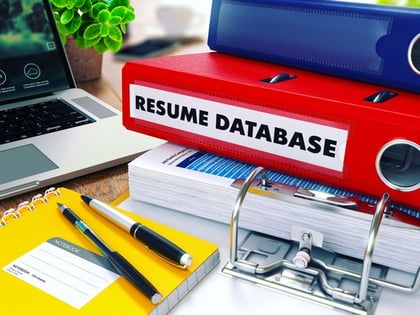 Your human resources department handles a ton of paperwork every day.
From candidate searches and new employee onboarding to information governance and compliance, HR sets the benchmark for every employee in your organization. So, it is imperative for your HR team to demonstrate efficiency and accuracy in their operations.
Digitizing physical documents and automating HR processes eliminates mundane paperwork and allows your HR to focus on their core competencies and critical issues related to human resources management.
MES offers an HR records management system that combines digitizing, organizing, and securing critical HR documents and employee data.
Does my HR team really need an HR records management system?
Your HR team plays a vital role not just in talent acquisition and retention but also in overall organizational effectiveness.
HR teams must create, approve, process and store hundreds of documents from day to day - application forms, contracts, organizational policy documents, and employee identification documents containing PII.
Manual filing and processing is not just tedious and time-consuming; it is also prone to errors. Misplaced documents, lost data or delays in approvals create bottlenecks in HR processes and can lead to serious consequences if information security or privacy laws are flouted.
That's why HR teams managing critical documents and employee records benefit from process automation and deploying a robust records management software system.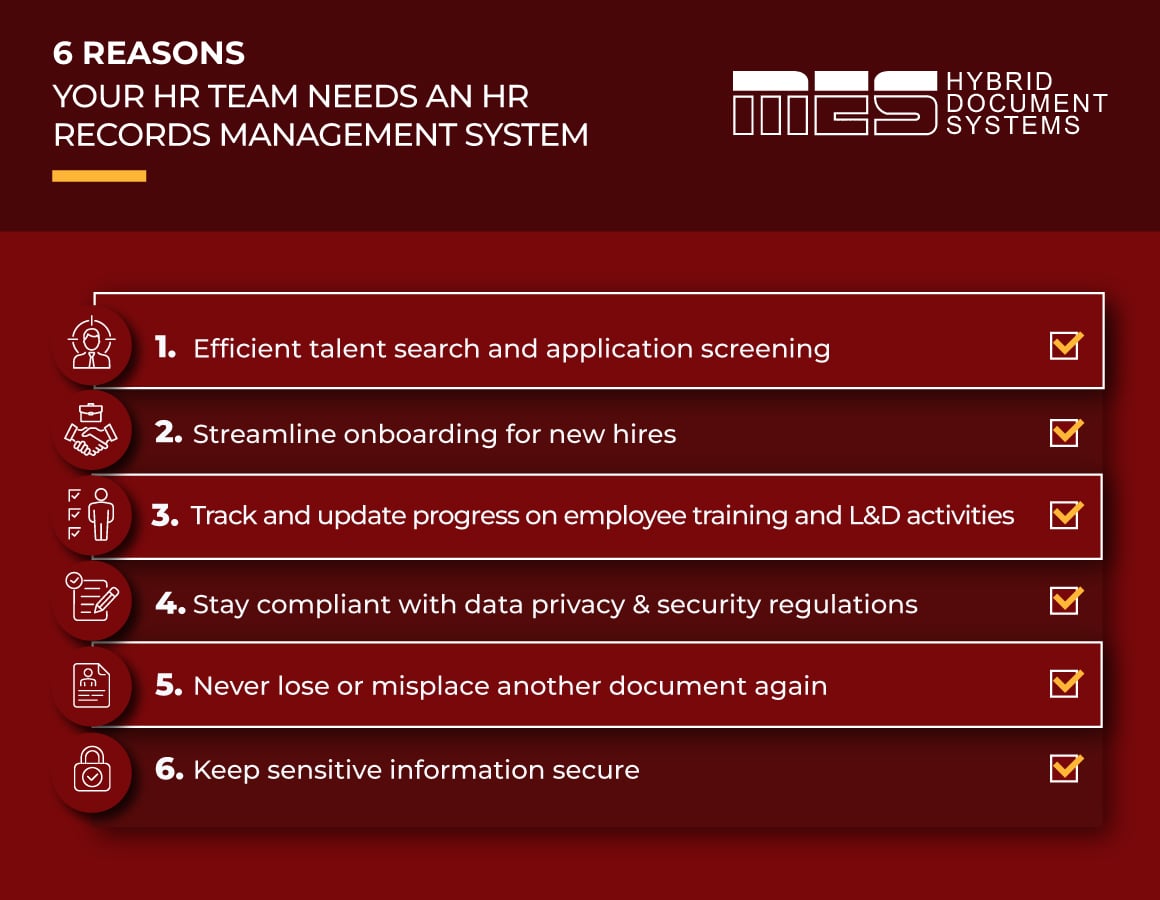 Here are 6 irrefutable reasons why your HR team needs an HR records management system:
#1 Efficient talent search and application screening
Searching through hundreds of resumes to find the right candidate is inefficient and tiresome. An automated records management system helps your HR team search through resumes and applications in a fraction of the time it would take to sift through paper applications manually.
An HR records management system compiles and organizes applications based on qualifications, overall experience and other factors, saving time and effort and ensuring your HR team doesn't overlook a great candidate.
#2 Streamline onboarding for new hires
How does a typical first week at work pan out for your company's new hires?
Are new employees spending hours filling out paperwork and getting IT access and other approvals instead of interacting with colleagues and learning about the company's processes and culture?
Gallup reports that only 12% of employees feel their company does a good job onboarding new team members, leaving 88% of workers with lacklustre onboarding experiences.
Research suggests that employees who experience confusing or inconsistent onboarding are most likely to leave within the first year.
Half of all hourly workers leave new jobs in the first four months and half
of senior outside hires fail within 18 months.
Using HR automation systems, companies can present new employees with self-serve portals that can manage their needs throughout their employment lifecycle with the company. This includes training schedules, vacation requests, managing employee benefits, requests for transfers, sick leave or booking their own performance reviews.
New employees can easily submit documentation through the portal and get user access to important policies and company rules, making their onboarding experience smoother and giving them a sense of control over the onboarding process.
#3 Track and update progress on employee training and L&D activities
Once you have electronic documents and an automated records management process, it becomes easier for HR to monitor the progress of training programs and send updates and notifications to employees who must achieve certification or complete mandatory tests.
HR automation also helps keep employees informed about upcoming L&D opportunities to enhance their skills.
Automated workflows, scheduled alerts, and real-time notifications improve efficiency, save manual effort and time, and improve overall employee productivity.
#4 Stay compliant with data privacy & security regulations
Your HR team manages records containing PII or personally identifiable information, which is subject to stringent government regulations for privacy and information governance.
When your HR team uses a robust document management system (DMS), they can easily control access to sensitive information. Features such as user authentication, secure logins, password protection, and audit trails prevent data leaks. Automated records retention schedules help your company adhere to information security and privacy compliance regulations.
Investing in a proven HR records management system helps your HR department to secure employees' personal information and stay compliant.
#5 Never lose or misplace another document again!
Paper documents are prone to get misplaced or misfiled. But with an electronic DMS, important files can't get lost. Deploy a DMS with robust document indexing capabilities to ensure efficient search functionality. Your HR team can search out any document in minutes and never lose information. Audit trails ensure that no one can accidentally or intentionally delete files.
#6 Keep sensitive information secure
When your HR department processes and maintains sensitive employee data and payment information for third-party vendors, it is important to use a records management system with the latest security features, such as multi-level data encryption and secure cloud access.
MES provides document management and workflow automation solutions to help your Human Resources department streamline its operational workflows and maintain documents and PII data securely and competently.
Tip: Here's a handy HR compliance checklist your HR team can use to keep sensitive information secure.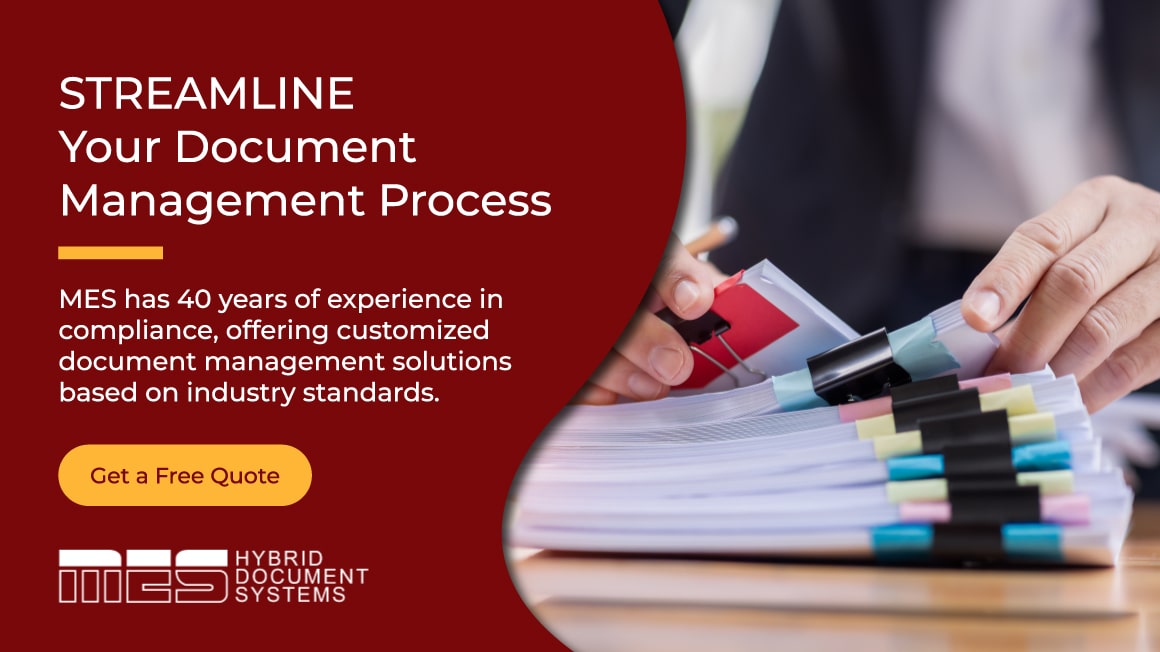 MES: Improving the efficiency & effectiveness of HR teams
MES has helped scores of businesses like yours to leverage HR automation to remain competitive in the recruitment process, reduce HR operational costs, eliminate paper records and manual processes, stay compliant, and increase employee retention.
Are you looking for ways to make HR documents more easily accessible?
At MES, our experts help you identify digitization and automation opportunities within your company.
We offer document scanning services to digitize all types of records, and our comprehensive approach to HR document management includes digitization, automation and optimization of all your HR processes.

Connect with MES today for a no-obligation discussion on how your HR team will benefit from a comprehensive HR records management system.