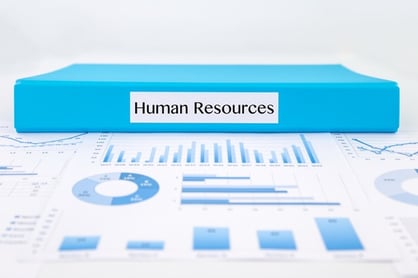 Because your organization's human resources department handles sensitive employee information, the Canadian government has certain requirements for managing any related records. This requires you to do more than keep everyone's social insurance number a secret. The federal government has several requirements for this.
Content requirements for human resources record retention
The first thing you must understand is what records the government requires you to keep in the first place. This way, you won't accidentally destroy records that you need. The amount of time you are required to retain information can also vary based on the type of data that is being stored.
Basic employee data
An employee's name, address and start date should all be kept on file for at least three years after the employee leaves. If the employee is a student under the age of 18 at the time of employment, you must also keep their date of birth on record for the same time period.
Wage information
All information related to an employee's wages should be kept for at least three years after you give the information to them. For employees who work from home, you must also attach their home address to this information.
Number of hours worked
You are required to retain this record and any written agreements to work more hours than normal (including overtime) for at least three years. This applies to all employees who are not exempt from overtime pay.
Employee vacation information
All vacation time taken and vacation pay dispensed to an employee must be recorded within a week after the vacation entitlement period ends. The related documents must be kept on record for at least three years after an employee takes the vacation time.
Personal leave information
All personal leave information must be kept on record for at least three years after the date that the leave was set to expire. If the leave is taken, the reason must be included. This applies whether an employee takes the leave or not.
Privacy requirements for human resources record retention
In order to maintain the safety and privacy of your employees, you are required to maintain certain privacy standards for your employee records. Although specifics can vary from province to province, the following best practices will keep you in line with your local and federal privacy requirements:
Do not dispense employee data without their consent

Limit the need to share employee data with anyone

Limit the collection of employee data to what you need

Implement security protocols and safeguards to protect employee data

Regularly audit your compliance with privacy requirements
The best way to consistently adhere to content and privacy requirements for human resources record retention
Documenting, storing, managing and protecting large volumes of employee data may not seem easy at first, but you can make it so by taking the following two steps:
Only use digital HR records
Trying to manage paper employee records can limit your ability to keep everything organized and safe. Have your current documents professionally converted to digital files, create all future HR documents digitally and prepare to convert incoming paper documents.
Invest in secure document security software
Enhance your ability to protect your employees' data by investing in the right software for the job. Good document security software will also streamline your overall management capabilities.
Is your employee data in order?
Your employees' personal information is some of the most sensitive data your company possesses. Make sure that your handling of this documentation is in line with government standards.