Companies quick to learn that document management tools are a must to support a growing range of business needs have remained immune to digital disruptions. They identified the need to adopt digital management solutions to maintain control of their document and information management while automating business processes to improve workflow efficiencies.
From product development to customer service and everywhere in between, medium-sized companies that embrace advanced document management systems and automation will come out ahead in an increasingly competitive marketplace. To give you a head start, here we look at the top document management trends in 2023 that you should embrace to gain that competitive edge.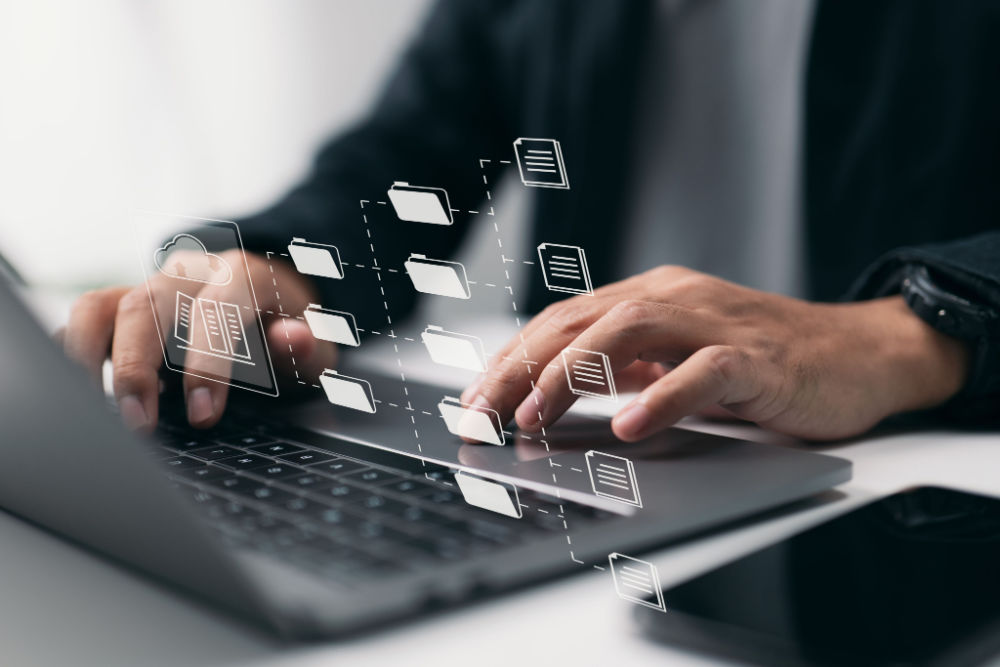 Creating an Electronic Records Management Lifecycle Environment
In 2023, document lifecycle management environments will help business owners understand how each document type reaches the archive or destruction stage. Following the processes, records and documents provide valuable insight that creates a document management system that is always up-to-date. The stages of the average document lifecycle include:
Creation
Approval
Storage
Distribution
Retrieval
Change control
Obsolescence
When your company understands each stage, you can put the proper controls in place to reduce the risk of data loss. You can also ensure you follow industry standards dictating how you maintain the integrity of information. Finally, without a document lifecycle environment, you are more likely to create a decentralized document and records management approach that keeps departments operating in silos.
The right environment encourages collaboration for your internal and external stakeholders, providing an integrated approach to document management. The electronic environment protects the integrity of records at every stage of the document lifecycle for consistent management that remains sustainable while adhering to industry regulations. As a result, traceability is improved with lifecycle controls in place.
Creating Paperless Business Processes
Technical innovation allows companies to create paperless business processes that reduce risks and promote the successful management of all records and documents. Scan to zero in 2023 establishes digital business processes that include electronic records management technologies that free up your filing cabinets. Taking this approach, businesses can manage their paperless efforts based on a set amount of scanning of paper records each month.
The result is manageable digitization both from a budget and workload standpoint. Once paperless businesses enjoy the convenience, security, and accessibility of digitized documents using secure premise cloud-based information management systems. Costs associated with either offsite paper archive storage or inefficiencies from manual accessing multiple format documents are eliminated, and all workflows are greatly improved with instant access to information.
Adopting Scalable Document Management Processes
There is no way around the growing number of documents in a business. Whether it is paper, microfiche, microfilm, or large format printouts of varying sizes and purposes, remaining scalable is a must for document management trends in 2023. Volume is always challenging with physical records, often leading to expensive paper archive storage. The most scalable solution is electronic documents and files, providing endless storage capabilities and easy access from anywhere.
No matter how long you must retain records for a document's lifecycle, you can quickly and affordably expand your storage requirements from one central storage system. If your business can't avoid paper documents, you can easily invest in scanning equipment so that you always retain electronic records of each document as a reliable, secure backup. This is the easiest way to store and locate any document for a scalable, sustainable document management setup designed for searchability and sharing.
Global Document Management for Collaboration
Today most businesses rely on multiple operational locations, whether it is the homes of your local team or vendors and customers globally. Global document management in 2023 calls for access to up-to-date information available from anywhere. A practical document management system not only stores files but also allows you to share documents based on role-based access controls. Global document management enables companies to expand their reach, whether it is working with international vendors and suppliers, hiring top talent from different countries, or servicing global customers. A central document repository aligns with the needs of an expanding company ready to deal in the worldwide marketplace.
Document Management to Improve Customer Experience
Document management trends 2023 aren't just focused on new technologies. Instead, businesses are looking for ways to leverage their document management systems to improve efficiencies across the board, including customer service. Today's customers are all about easy access, with a desire for quick answers through familiar channels. This opens doors for customer service teams struggling to provide solutions to customers already frustrated by low response times. Using document management systems to improve customer service is something savvy businesses are doing right now.
They can quickly search and share important documents and records, such as when an order was received, what a customer ordered, instructions provided by a customer, etc., to confirm an error occurred. Effective records management in 2023 offers your customer service team real-time information so they can quickly answer questions or share up-to-date information tracking an order's status. Access to relevant customer data allows support teams to improve customer service experiences by always having the data they need at their fingertips.
Insights with Meta Data Capturing
Successful companies explore ways each department can leverage their document management system to improve profitability. For example, the marketing department can use the system for market research and understand how to create segmented market data for future use. They can assign tags to customer documents and orders to compare and retrieve information that can provide valuable insights into customer behavior. Using effective indexing, they can create a document metadata vocabulary to manage files and search for essential information that helps them create market segments.
Each department can develop its own tagging vocabulary to make it easier to find relevant data and define segments based on things such as age, timelines of order history, types of orders, etc. The accounting department can create unique profiles for invoices based on date, product name, or customer name. While each document must have common tagging for basic searches, clever planning using flexible elements in your indexing makes it easier to suit the needs of the end user in 2023. From HR to accounts payable, and manufacturing to customer services, insights with metadata capturing can have a positive impact on your bottom line.
These document management trends in 2023 leverage the full capabilities of document management systems. By embracing these trends now, you can improve your capabilities to become a true competitor in today's marketplace.
The MES team is ready to help you enter the digital era with scan-to-zero solutions, customized document management solutions, and a comprehensive range of scanning hardware. Reach out to our team for a customized project quote suited to your specific needs.