HR process improvements allow your HR managers to improve the efficiency of your entire department and achieve process excellence. HR leaders can address the areas that allow them to fulfill their roles effectively, improve compliance, amend employee engagement and retention, and find cost-effective ways to enhance productivity. Here we look at four key areas to implement HR process improvements for key HR functions.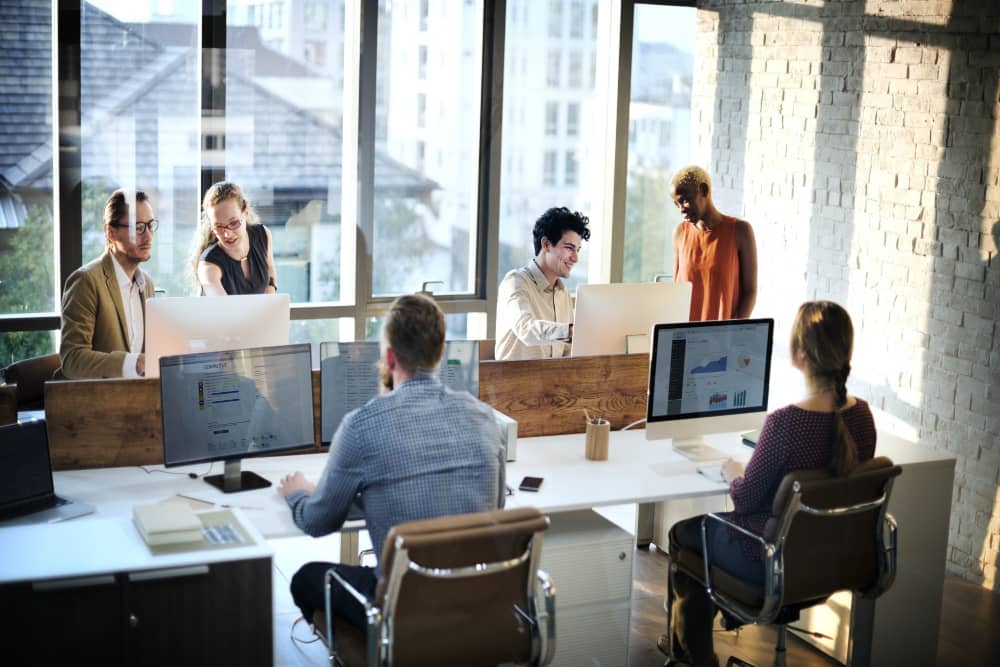 HR Process Improvement #1: HR Administrative Workflows
Document management and digitization help streamline administrative workflows for HR departments. This is the best way to reduce document-heavy HR systems and processes such as recruiting, onboarding, benefits administration, payroll and more. It allows you to separate low-value and high-value tasks so you spend more time on core work. Document management systems (DMS) allow you to standardize processes, so you eliminate time-consuming redundant manual tasks.
When you decrease paperwork burdens, you can streamline workflows that in turn improve efficiencies across all HR activities. Human resources records management leverages HR software to increase the value of human resource information systems allowing you to achieve the following improvements:
Efficient, effective application screening
Timely payroll processing
Compliance with government-regulated standards
Confidential employee information security
Efficient record retention
Commitment to employee reviews to help meet career goals
Automated record destruction scheduling
A DMS also improves your workflow to avoid common HR delays that interfere with both productivity and employee experience.
HR Process Improvement #2: External and Internal Compliance
Almost every organization today is subject to external mandates whether they are government departments, regulatory bodies, or standards organizations. HR teams often carry the brunt of responsibility to ensure mandates are met and non-compliance penalties and fines are avoided. You can improve compliance by implementing a number of HR processes including:
Document Management Software:

Document management software

provides a structured framework for your business rules, security, retention and information delivery for regulatory best practices.
Document Scanning: Paper records increase the risk of information loss and security issues.

Document scanning services

easily transform paper records into useful digital files you can store, search and maintain better control over for improved compliance.
Validation Reporting: The collection and storage of the information required to validate your records ensure you are ready to defend your case against lawsuits or to appeal compliance fines and penalties.

Validation reporting

identifies missing documents within a file and alerts human resource management of a possible non-compliance situation.
Having access to actionable data is crucial to compliance across all external mandates but can also apply to internal business processes, policies and procedures.
HR Process Improvement #3: Digitized Employee Data
HR is a data-heavy department with accurate information playing a key role in keeping employees engaged. Instead of relying on manual processes to enter, update and maintain employee data, an integrated system that adapts to future requirements of record maintenance is required. A document management system improves how employee data is stored and managed to offer several benefits including:
Real-Time Visibility and Reporting
The movement of paper employee records is a weak link leading to processing delays that negatively impact employees. Process automation using a document management system improves document workflow by automating processes for real-time visibility and reporting. As a result, your team always knows the status of all employee documents and can review or route them automatically based on internal HR procedures. HR teams are also freed from manual reporting, instead accessing automated data capture and analysis. This allows you to make data-driven decisions and look for more improvement ideas. It also empowers other department heads to access HR analytics to develop better employee relationships and results-driven career plans.
Access to the Most Recent File Version
Delays in manual processing can lead to errors from work hours sent to payroll to employee benefits administration and from timely raises to offboarding security procedures. Ensuring your team has access to the most recent version of employee data means you always have updated information relevant to not just processes but also maintaining accurate historical data for each employee.
Employee Privacy
Sharing paper records leaves an employee's private information vulnerable. Whether it is financial information for auto deposits, medical information, or performance history, paper records and even emails containing confidential information can be accessed easier than you think. Digitized employee data stored on a secure electronic DMS protects employee data while still allowing you to access it. You can apply role-based security so only authorized individuals or employees have access to their records. Built-in audit trail tools also help track possible breaches so unauthorized users can be identified and disciplined.
Collaboration in Real-Time
HR documents are often shared including co-workers in different HR roles, department managers, payroll, and the employees themselves. Paper documents are difficult to share for collaborative processes such as onboarding and offboarding, as well as events such as promotions, raises, or training. Electronic files can be shared using role-based security for faster, confidential document processing of employee data.
Self-Directed Employee Access
Today self-directed HR initiatives include everything from onboarding to training and benefits management to payroll submissions. A DMS allows employees to access documents for all these things from anywhere at any time. Employees can remotely access their own records, training documents, e-forms for new hires, and more. Employee engagement improves by creating a new corporate culture designed to encourage creativity, self-improvement, and a more agile workforce.
HR Process Improvement #4: Recruitment
With all the above efficiencies in place, you are also in a better position to focus on high-value tasks like recruitment. You can improve your recruitment pipeline and maintain a talent library ready to access whenever a new role becomes available. Using a DMS you can capture, sort and distribute applications and resumes automatically. This also helps relieve your team of manual screening procedures that take up valuable time. By creating an efficient recruitment and screening process you reduce the risk of missing out on top candidates due to slow responses. You can also incorporate your recruitment process into your onboarding plan to improve employee engagement and reduce churn.
Process improvements in these four areas allow you to free your team of paper-laden manual tasks and focus on core work. You can better meet employee demands and use data to provide actionable insights that inspire growth. With the right DMS, HR leaders become more strategic contributing to business initiatives and company success.
If you are ready to explore the possibilities of process improvement, MES Hybrid Document Systems provides document management and workflow automation solutions customized for Human Resources departments. Reach out to our team today.