Many organizations using a document scanning service feel safer using on-site scanning services. Although on-site document scanning doesn't necessarily mean the process will be more secure, it can prove to be more cost-effective when handled properly. Here we offer tips on preparing your documents for on-site document scanning services to ensure the process goes smoothly.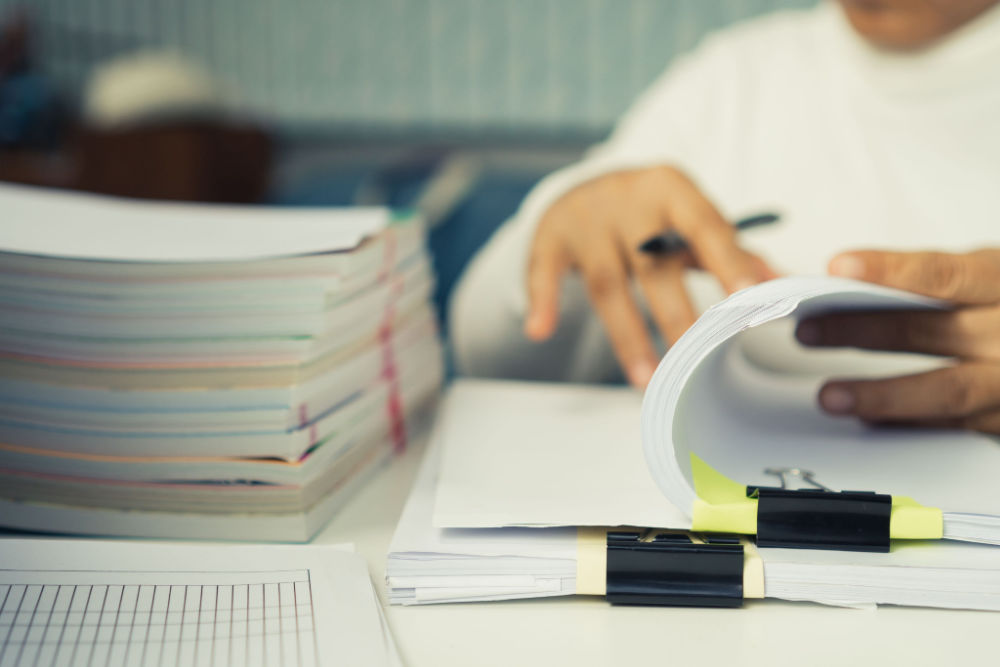 Involve the Right Players When Preparing Documents For On-Site Scanning
Before you begin anything, consider putting together a team to help with document management. There are many steps involved when you prepare your documents which makes it almost impossible for any one person to be perfectly suited to the job alone. We recommend considering all the departments involved and the following factors to ensure the right people are on the job:
Do you require

industry compliance? If so, who can ensure you remain compliant throughout the process?
Can you dispose of any of your documents? If so, who should be involved in determining what documents you can destroy?
Do you manage financial information? If so, who is bonded and can be trusted with this valuable information?
Are personnel records involved? If so, can an HR person be involved in ensuring proper procedures are followed?
Can some information be

archived? If so, who should be involved in deciding what records must be archived as opposed to stored with active documents?
Who can be trusted to follow the necessary steps to prepare the documents for scanning?
There might also be some specific team members who should be involved based on your organization or industry. By having the right people involved in planning and preparing documents for scanning, you remain compliant, limit losses, and improve efficiency.
Sort and Prioritize Documents When Preparing Documents For On-Site Scanning
If you plan to sort documents based on your requirements, whether it is to make indexing easier or to decide what can be destroyed, saved, and archived, this process should be managed first. As mentioned above, having the right people for this step ensures everything is scanned and saved as it should be. This allows you to reduce the number of documents scanned, making your bulk scanning process less time-consuming.
Also, some businesses should prioritize their documents so the most important documents are scanned first. For example, a clinic should do active charts first, then inactive files, then deceased charts. Businesses can use a similar process based on their customers' status, while a creative business such as an architect or ad company might need to access things such as proofs or blueprints for works in progress. Prioritization ensures you'll have quick access to the digitized versions of the documents you refer to most often.
Preparing Documents For On-Site Scanning with Indexing and Information Architecture
Indexing and information architecture improve the search process for your scanned documents. When you go paperless, you can create an indexing format using effective metadata naming practices. You can set criteria that make the most sense for your organization to make the search and retrieval of scanned documents easier. Your criteria tell people saving digital files what tags and/or related information they must use. Consistency of metadata using logical words, terms, or phrases makes saving and searching items in your document management system easier.
Physically Preparing Documents For On-Site Scanning
Physically preparing paper documents makes it easier for the scanning service to simply feed the paper documents into the scanner. This also reduces worry about things that can interfere with the quality of the scans. There are a few steps to preparing paper documents, including:
Remove Fasteners & Binders
Your team can help with prep work by removing fasteners such as staples, rubber bands, paper clips, etc. Taking documents out of binders and file folders, so pages are loose and ready to scan also makes the scanner's job easier.
Put Everything in Numerical Order
If your documents have multiple pages, ensure that everything is in numerical order. This will ensure pages are scanned in the right order, so they are easier to review once digitized. If pages aren't numbered, consider marking page numbers on the back if the pages are single-sided.
Identify Damage
During this process, you can also have your team identify damaged papers that need to be repaired. This is important because damaged documents will also cause legibility issues with the final scanned file. These documents should be clearly marked and set aside so they can be shown to the scanning service to determine the best way to proceed. Some industries are tight on document restrictions, and copies of documents that have errors or have been altered to remove these markings may be rejected.
Mount Small Paper Records
Another issue that can slow down your scanning process is having smaller paper documents scanned. A good example is receipts. In this case, we advise you to glue them to sheets of plain, white paper for scanning purposes. Receipt paper quickly deteriorates, and ink rubs off after being handled one too many times. By placing the receipt face up on blank paper, you'll ensure that the fragile paper is not touched when being scanned and that the receipt is easier to read when reviewed in digital form.
Designate a Storage Area as Paper Documents are Scanned
You'll want to designate an area where the scanned documents are stored, such as a conference room, their original storage spot, or a rented storage facility. This is extremely important in organizations where privacy or confidentiality of the content being scanned is regulated. You can't allow documents to sit out in the open where people can access sensitive information. This also applies to your intellectual property, which should not be exposed to prying eyes.
Make sure you understand how industry compliance impacts your scanning project. Can you arrange to shred documents as you scan them? If so, do you require a Certificate of Destruction from the shredding company? Your scanning provider must understand how specific items need to be handled and where you want them stored as the scanning progresses.
Preparing your documents for on-site scanning takes some organization and planning. However, when done right, it will make the process go a lot faster, so you are all set to enjoy the benefits of a digital storage system.
At MES, we specialize in on-site digital scanning projects that include preparation services to help streamline the entire process.
Let our team make the process easier. Reach out to us today.