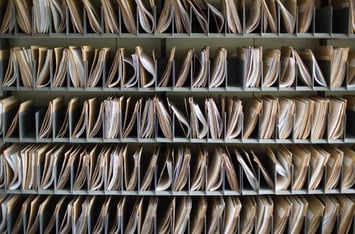 With so many paper records tucked away in filing cabinets and storage boxes that have been untouched for years, a bulk scanning project is no small undertaking. There are so many steps required to turn your stack of documents into an easy-to-access digital database, from prep work to scanning, organizing and more.
It's not a simple as getting your scanner and getting started. Working with all that paper can easily be overwhelming. Fortunately, we have some tips to help. So if you are looking to make your bulk scanning project a success, see our 4 steps to keep your records and your sanity intact!
Tip #1: Assess the State of Your Current Documents
The first thing you need to do is assess the state of your current documents and decide which ones need to be scanned. Although it can be tempting to scan everything because you already have the equipment on hand, it can be a poor use of your valuable time. In addition to deciding which documents to scan, you should also identify duplicates to prevent them from being scanned.
Hopefully all of this will reduce the number of documents you have to scan and make your bulk scanning project more manageable.
Tip #2: Pick an Information Architecture Before You Begin
Before you begin scanning, you need to decide how you are going to organize your documents in your new database. This will allow you to add the relevant metadata and other key information to your documents as they are scanned so that it is easy to find them at a later date. If you can't easily find your documents after the fact, your entire project has been in vain. Establishing an information architecture also has the double benefit of getting you organized and allows you to group relevant documents together before you begin.
Tip #3: Prioritize
Not all documents at your organization are created equal. If you have a large bulk scanning project ahead of you, it's critical to decide which documents are most important to your business and start scanning them right away. That way, you can digitize your most important business processes sooner and transition them away from paper if you so desire.
Tip #4: Consider Outsourcing the Scanning Process
Sometimes, your bulk scanning project is too difficult to tackle on your own. For example, you could be working with documents whose physical condition makes scanning extremely difficult or are working with extremely sensitive information that require the upmost secrecy. If this is the case, consider calling a reputable document scanning specialist who can get the job done right.
MES Hybrid Document Systems is a leader in providing document management solutions to businesses such as yours. We provide document scanning, document management software and more! See why we have so many satisfied customers. Contact us for a free quote today!