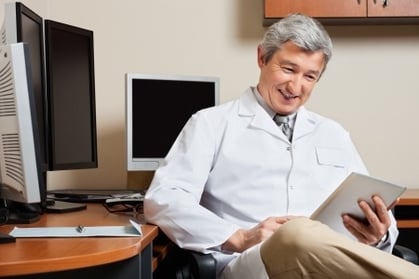 In the corporate world, libraries and educational institutions aren't the only ones transitioning to electronic systems. Increasingly, healthcare institutions are finding it a much more effective way to manage records, particularly due to the utility of electronic medical records, or EMRs. These are proving to be a more efficient medium for collecting, storing and retrieving vital patient information than their paper counterparts. As a healthcare provider – whether a hospital department, a walk-in clinic, a family doctor or beyond – here's what you need to know about electronic medical records (EMR).
EMRs Have Many Advantages over Paper
There are a significant number of disadvantages to paper records that are consistent across all industries: susceptibility to damage, risk of being lost, etc. But, for healthcare providers in particular, these disadvantages can adversely impact the level of care provided to patients. Here are some of the main benefits that come with electronic medical records:
They allow you to track patient data over time

You are able to identify patients that are due for appointments and follow-ups

You can easily measure up patients to certain benchmark health parameters, like blood pressure readings

An overall improvement to the quality of patient care
EMRs Improve Physician Access
One of the main advantages of using digital medical records is that they give physicians better access to clinical information about patients, which allows them to provide better quality care and more accurate diagnoses. Most notably, EMRs help facilitate the sharing of information between health professionals who are authorized to access it. And due to the medium, these can be accessed electronically without the need for traditional paper charts (which can't be shared easily).
EMRs Can Be Integrated with Software
Another significant advantage of electronic medical records is that they can be integrated with software that can assist in the management of these records. While the software will differ based on the needs of the healthcare provider, common features of software used with electronic medical records include the ability to manage scheduling, billing, patient diagnoses and more.
Better Patient Privacy
As mentioned above, electronic medical records can improve resource sharing among health care professionals who have access to the records. This also serves to improve the security of patient information and increase privacy. With EMRs, you are able to set up access permissions so that only certain staff can access these records. Paper charts and documents can't offer the same level of privacy.
If you are a healthcare provider looking for a way to improve the management of your medical records, you may want to consider looking at a system that allows you to benefit from using EMRs, rather than traditional paper charts. Ultimately, it can help you improve the quality of care provided to your patients.