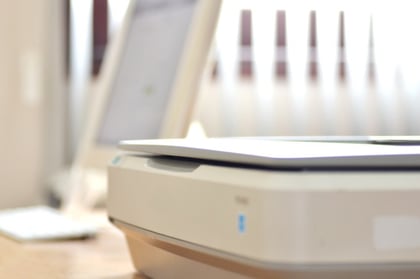 Are you considering improving your business' efficiency and cost-effectiveness by doing your document scanning in-house? If this is the case, then you need to make sure that the scanner you choose works well for your office's needs. To this end, you will need a high capacity scanner. This, however, doesn't narrow your options enough. There are countless high capacity scanners out there, so finding the right one can be difficult. To help you make the right decision for your company, we have listed the best high capacity scanners to put on your shortlist right now.
Canon imageFormula DR-C225
This fast, powerful high capacity scanner is outstanding for daily use. In addition to standard document scanning capabilities, it also features a fast text recognition feature to quickly convert prose documents into searchable digital files.
Panasonic KV-S2097
You will get one of the best possible combinations of simplicity and power out of the Panasonic KV-S2097. It has a 200 sheet automatic document feeder for hands-free high-volume scanning. You can also choose specific destinations (up to 100) for each document that you scan. In all, it can scan up to 15,000 standard-sized documents in a day with this scanner.
Epson Perfection V800 Photo
If you need to regularly get high-quality scans, then you should consider investing in this high capacity scanner. It can reproduce documents at a maximum resolution of 6,400 dpi, so all of your photos and film strips will be copied perfectly.
Epson Workforce 860 Color Document Scanner
If you want one of the best high capacity scanners for fast, hands-free scanning, then consider the Epson Workforce 860 Color Document Scanner. Its automatic document feeder churns out quality scans so quickly that you can comfortably copy up to 6,000 documents in a day.
Epson Perfection V19
The Epson Perfection V19 is designed to make everyone in your office's job easier. It has a fully automatic mode to make scanning easy, and it will scan each document to a searchable PDF file.
Fujitsu SnapSnap iX 500
This high capacity document scanner is blazing fast. It will provide you with 25 pages per minute in a myriad of formats. This includes a searchable PDF format with all of the words on a text document completely extracted.
Fujitsu SnapSnap iX 100
If your office needs high capacity scanners that are also very portable, then this scanner should definitely be on your shortlist. At 1.4 x 10.7 x 1.9 inches in size and only 14 ounces, this scanner can go anywhere you need it to. It also has Wi-Fi direct scanning capabilities, making it especially valuable for your employees who need to scan documents on the go.
Kodak i3250 Scanner
For true scanning power with nothing else to get in the way, the Kodak i3250 is one of the best high capacity scanners that you can get. It allows you to load up to 250 documents at one time; once you start it, this scanner can perfectly copy up to 50 standard documents per minute and up to 100 images per minute. In total, it has a recommended daily duty cycle of 15,000 documents per day. Because this scanner is large, you can do this for documents of countless sizes (up to 12 x 34 inches).
Maximize the benefits your high capacity scanner brings your office
Now that you have a shortlist of outstanding high capacity scanners, it's time for you to consider what your office specifically needs: a highly mobile scanner that saves office space, an extremely powerful scanner that can handle huge volumes daily or something in between.