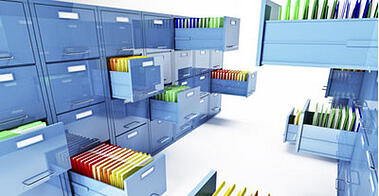 A great file management system is an absolutely essential but often overlooked component of any successful organization. The benefits of a system that helps – rather than hinders – your business are multiple, from increased productivity, to better customer service, even employee satisfaction! Yet, so many organizations struggle to implement a document management system that brings them these benefits. To this end, we've put together the anatomy of a great file management system, so that your organization can more easily make the changes it needs to improve document management.
Easy Search, Easy Retrieval
It's estimated that the average worker can spend anywhere from 40-50% of their time looking for the information they need to do their job. A great file management system significantly reduces this time by allowing for the intuitive search and convenient retrieval of documents. Unfortunately, paper-based systems don't allow for this, so going digital is the first step in cutting down document retrieval times.
Indexed Material
Part and parcel of making your documents more searchable is ensuring that they are adequately indexed. This involves organizing files by way of associating or tagging with certain search terms or metadata. These vary based on the particular needs of your business as well as the document type – for example, you may need to locate documents by date, by invoice number, by vendor name, by department, etc. Regardless, an essential component of any great document management system is indexed material.
File Sharing
All organizations require collaboration, whether it be among teams, departments, locations, etc. Your file management system needs to be able to facilitate this type of collaboration, and that begins with giving employees the capability to share documents and files easily, and work on them simultaneously.
Access Control
Effective records management systems also offer security and access control capabilities ­– much like a digital version of a locked file cabinet. This way, only authorized users are granted access to sensitive documents that may not be appropriate for all employees within your organization.
Document Diversity and Centralization
Finally, a great document management system should be able to facilitate all types of documents, no matter the format, that employees may need access to on a given day. This may include word processing files, images, invoices, spreadsheets, even microfilm or microfiche. The point is to take multiple information sources from multiple files and centralize them in one intuitive, convenient system.
If your organization is trying to improve its file management system, take a look internally and see if you are meeting any of the above criteria. If not, it may be time for you to consider a new document management solution.