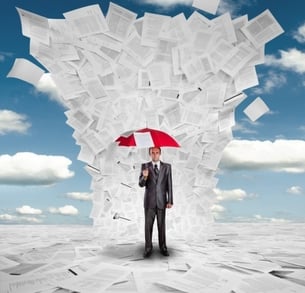 Do you become buried underneath of a mountain of paperwork every time you walk into your office? The good news about this is that it may not be because your team is flooded with too much work. Instead, there is a good chance that you feel overwhelmed by the paperwork in your office, because there is simply too much paper; there are multiple document solutions that can help you resolve this problem. Here are five steps that you can take right now to significantly reduce the amount of paper in your office.
Use Less Paper in Your Office
This is the first of all of the steps that you should take to save your office from drowning in paper. You can reduce your paper use by implementing policies that require certain documents to be shared digitally. This will stave off arbitrary printing and prevent your document flood from growing. You can streamline your team's ability to do this effectively by investing in a document management system.
Invest in a Good Scanner
If you're overwhelmed by the paper in your office, one of the best steps you can take is to make digital copies of it. By digitizing your paper documents, you eliminate the need to wander your office to sift through randomly assorted physical file folders and containers. Instead, you can obtain every single document that your company owns from one convenient location.
It's critical that you use a high-quality scanner for this task, because a cheap scanner that can only copy 10 or 20 documents per hour would make the copying process so slow that it would become counterproductive. Make sure that the scanner your company invests in can copy anywhere from a few hundred to several thousand pages per hour. A scanner will also allow you to copy any paper documents that you obtain in the future.
Invest in Good Scanner Software
The purpose of scanning your paper documents is to make accessing them easier. In order to maximize the benefits that you get from this process, you must invest in scanner software. These document solutions will read all of your scanned documents as if you had typed them up in a word processor, which will allow your document management system to automatically index each document you scan. This also means that you will have the added benefit of being able to modify documents at will.
Have Your Documents Professionally Converted
Since you have to focus on running your business, you may not have the time to scan all of the documents cluttering your office yourself. In this case, you should have them copied by a document conversion organization. The best of these services will guarantee conversion efficiency and the security of your documents throughout the process.
Destroy Redundant Paper Copies of Documents
Converting your paper documents to digital files will prevent you from having to sift through mounds of documents to get information, but it won't save the space that your physical documents take up. That's why you should start destroying any redundant copies of your documents after you make digital copies of them.
If you have made a complete conversion, then you should take the time to destroy your old paper documents en masse. This is also a great opportunity to start a green paper recycling initiative.
Too much paper in the office isn't just frustrating. It is counterproductive. You can prevent your office from having to deal with this issue by using the document solutions listed above.