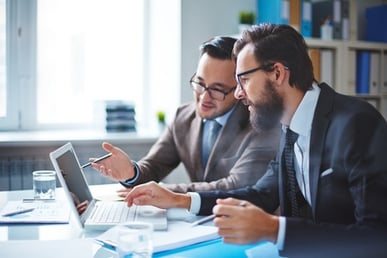 If your organization is currently paying employees to create, file, organize and manage paper records, you're likely wasting valuable resources and money. It is possible to cut back on your labor costs by investing in a comprehensive digital records and information management system that streamlines your processes and makes your employees more efficient.
While transferring your paper processes and filing systems to a digital records and information management system may seem like a huge undertaking, it can have a long-lasting impact on your labor costs. Consider the following areas of cost-savings when thinking about going paperless:
Paper & Storage Savings
Implementing a digital records and information management system will immediately cut down your costs in two areas: the cost of the paper documents themselves, as well as costs related to their storage. Since the typical office worker uses roughly two cases of paper in just one year, at a cost of around $80. When combined with the costs of storage, this can add up to a huge yearly investment in paper.
New Hire Savings
As your business grows, more and more documents will be generated, requiring additional personnel to manage these documents. You may need to hire more staff to accommodate the influx of documents and ensure the right people have them at the right time. By choosing a digital records and information management system, you can eliminate the need for additional hires, and realize big savings on salaries and other costs associated with the hiring process. You can also better manage peaks and valleys that your business may experience without requiring an increased workforce.
Filing & Organizing
The biggest cost savings come in the form of a reduction in labor costs associated with filing and retrieving documents. Where an employee may have spent an hour a day walking back and forth to a file room and searching for the documents they need, these tasks can now be handled electronically. This can add up to 250 hours per year that can be spent on more valuable tasks.
Data Entry
Labor costs can be reduced further if you choose document management software that is able to capture information from the documents you scan into your system. Rather than having an employee manually type in information from a form or document, you can make use of software that automatically pulls in key data without the need for human input. Furthermore, this software can automatically index and organize your documents, ensuring they are easily accessible when and where you need them.
Want to learn more about MES digital records and information management solutions? Contact us today for a free quote and to discover how we can help you reduce your labor costs.