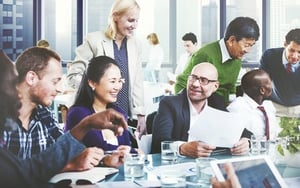 Many businesses hinge their success (or failure) on the relationships they have with their vendors. It is symbiotic, which can create a "win-win" or a "lose-lose" situation depending on the strength of your foundation. It is also incredibly tough to find reliable vendors - so once you do, you never want to sour the relationship over miscommunications, disorganization or inconsistencies. Quite the opposite. Most companies are looking for ways to improve vendor relationships, and one of the ways they are doing it is by going paperless.
Here are just a few ways your business can improve vendor relationships by adopting paperless systems for document management:
Speed

Manual processing of invoices, payables, shipping and receiving information, and HR materials takes time. Just ask your employees in those departments. They will tell you that one of the major frustrations of their job is the speed at which they can get approvals, resolve disputes and keep vendors happy. A lot of time and money is wasted due to increased paper volume, duplicate keying and improper document storage. As manual processes become more and more complex, eventually it will hurt the relationships you have with your key vendors. Time is of the essence for invoicing and making payments - one late payment to a vendor can lead to a broken (or bitter) working relationship. By bringing your accounting and HR into a Cloud document management system, your AP, AR and HR departments can automate manual processes that slow down their efforts and cost your business money. They will also benefit from the ability to resolve vendor disputes instantly with supporting documents at their fingertips, such as POs, invoices and packing slips.


Accessibility

Another complaint you might hear from various departments is that they cannot always access the files or data they need across different systems. Maybe you have accounting software that only accounting has permissions for, and an ERP that is siloed by department. A document management system will provide structure to the way you file, store, retrieve and secure all of your critical documents with the added benefit of streamlining your manual paper-based processes. It allows greater collaboration, communication and accessibility to every business unit. Additionally, visibility into how much and how often you pay vendors will provide your business with valuable insights that will aid in managing cash flow and even selecting new vendors. Vendor management can get disorganized very quickly if the right people cannot access the correct information with ease and intuition.


Consistency

A Deloitte study shows that an all-too-common risk for accounts payables is to "rely too heavily on error-prone manual processes to approve requisitions, scan supplier invoices and issue payments." You have heard it said that consistency is key. In business, that means staying on top of better processes and not allowing human error to create inefficiencies. Disorganization, or lack of consistency in your operations, will impact your vendor relationships, and your bottom line. An automated document management system will efficiently take care of timely transactions/payment processing, and make better use of your resources and output. Prove to your vendors that your process is stable, and they are more likely to provide you with equally reliable service.
By improving the speed at which you can make payments and resolve issues, your visibility into critical data, and the consistency of your processes, you will, in turn, see an improved relationship with valuable vendors. A paperless document management solution will help you streamline your services, internally and externally.