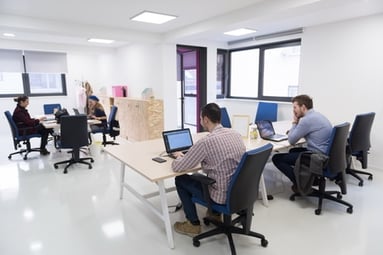 Are you using too much paper at the office? If you haven't gone digital yet, chances are you're engaging in the waste of this precious resource. The good news is a couple changes can be introduced to end the practice, increase effectiveness and save a lot of money.
Here are top five ways to stop wasting too much paper.
Stop Printing Files for Internal Use
A document management system is the best possibility for reducing the use of too much paper in the office.
Internal documents shared between colleagues or different departments happen to be a common practice. This practice, however, is wasteful and inefficient. Paper-based copies are difficult to upgrade and build upon. Digital documents, on the other hand, offer much better collaboration possibilities.
It's about time to stop printing files for internal use. A thorough management solution makes it very easy to secure the data, share it with the right people, do edits and keep a detailed log of everyone who has accessed the information.
Make it Less Convenient to Print
Some habits are difficult to break. Thus, to discourage people from printing, you'll simply have to make the procedure less convenient.
Reducing the number of available printers in the office is one viable solution. One central printer capable of handling a higher volume of documents is a much better idea than numerous machines scattered throughout the office.
Another similar change is to get rid of the fax if your company is still using one.
Reduce Paper Waste During Meetings
Office meetings are inevitably linked to printouts – a practice that leads to wasting too much paper.
There are many programs that increase the interactivity of office meetings and presentations without the need of using handouts. Screen sharing, graph displays, video transmission and even teleconferencing are all possible solutions.
Presentation software also increases effectiveness in that it makes it incredibly easy to share information with colleagues or business partners/clients prior to the meeting.
Opt Out of Junk Mail
Junk mail is still widespread and creates a ton of waste. Unfortunately, many companies target potential B2B clients with their messages. Chances are your office is receiving dozens of such letters that produce massive amounts of paper waste. Opting out of junk mail is imperative for making a statement and going paperless.
Electronic Payroll and Accounting
Here's one more idea you can utilize to stop using too much paper. Making payroll and accounting processes completely digital can have a massive impact on the use of paper at your office.
Today, there are numerous cloud-based accounting and payroll solutions. It's also a good idea to opt for electronic invoices and ask your clients to begin sending these as well. Not only will this approach eliminate the need for paper on premises, it will also make it possible for payroll/accounting information to be accessed from multiple locations.
Many accounting solutions are easy to integrate with document management programs and other software used at the company. Through such integration, you'll make it a whole lot easier for the right teams to access the information they need to do their job (without having to print anything).
Finally, remember that a serious change starts with the right mindset. Incorporating green practices in the office culture and encouraging such initiatives will be the first step towards success. Make sure everyone's on board and you'll get to complete a seamless transition.