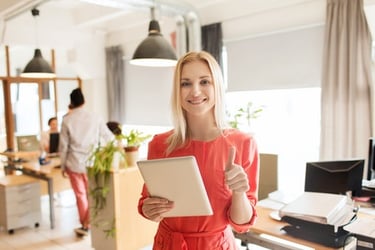 At first glance, document storage costs appear to be significantly less than implementing document management system. However, you have to take into account the long-term savings because that is where you really see the true cost of both. While one either plateaus or goes up, the other will have cost savings for more than just storage costs.
Keep in mind that you have to look at your costs for the first few years, not just the first year, to accurately compare document management software and document storage costs. You should also consider other costs when comparing the two. Document storage does not offer any other benefits, and should include additional costs, such as time to go to the storage area to retrieve documentation. Document management software is a cost saver in the same areas where document storage costs increase.
Initial Costs
There is an obvious disparity between document storage and document management software costs. For document storage, all you have to do is pay the first month, sometimes a little more, and you are ready to start storing hard copies.
Document management software requires a considerable amount of planning and initial costs are considerably higher than physical storage. There is the cost of the software, hours for planning and assessing current documentation, creating the structure, and implementation costs. These can appear to be incredibly high, often causing companies to reconsider.
While it is true that the first year document storage costs and document management software probably tilt in favor of document storage, this is the only time when document storage costs will appear to be competitive.
Maintenance Costs
Once you have implemented document management software, the costs go down considerably. Essentially, the software costs are just maintenance, such as patches and other IT factors. These can be worked into the current IT framework, making it a minor cost.
By comparison, document storage costs will either remain the same or go up every year. This means you know exactly how much it will cost, but this cost will be higher every month or quarter than what you will spend on software maintenance. BY the end of the second or third year, the combined document storage costs will exceed the combined document management software costs, including the initial costs.
Additional Costs and Savings
Document storage costs will go up over the years as companies will charge more as property values and inflation go up. You may also need to pay for insurance on the unit, and that could also go up. Even if neither goes up, the costs are guaranteed not to decrease.
Nor is there any additional use for this area. When an employee needs to refer to documentation, that employee will need to take the time to retrieve the physical copy, and then to refile it later. This may not be a substantial cost if it happens a couple of times a year, but it is a cost that is difficult to estimate. This means that you will need to track it if you are interested in seeing just how much time and money goes to retrieving and filing hard copies.
Document management software costs are not likely to go up as long as you maintain the software on a regular schedule. You may need to increase how much digital storage space you have, but that is usually a one-time charge per increase. It provides additional security in the event of a natural disaster or fire. It is also a significant cost saver because employees will require a fraction the amount of time to access documentation.