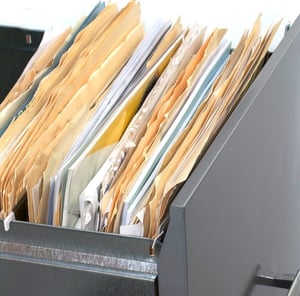 Managing documents is not at the top of an entrepreneur's favourite activity list. Maintaining original records has long been a dilemma for companies of any size. In the past, businesses that generated a high number of transactions were inundated with paper in the form of invoices, receipts, reports, correspondence and tax returns. Papers were shuffled from desks, cash registers and retail counters into banks of filing cabinets and eventually into boxes in some sort of storage area. As time passed and the business grew, the problem of document storage and retrieval became more and more acute. Space that should be used to generate income became dead space. Revenues that could be reinvested were used to pay for more and more storage.
Why Do You Need to Retain So Many Documents?
Simply put, records and original documentation should be retained in an easily retrievable location for two principal reasons. First is the necessity of filing and supporting all taxable declarations at the insistence of the Canada Revenue Agency. Secondly, to maintain continuity in a business in case of unexpected changes means that historic financial documentation needs to be readily available. A business records retention schedule is required.
Taxes: How Long Do I Need to Retain Records?
For tax purposes, the Canada Revenue Agency requires that businesses maintain original source documents for at least seven years to verify all tax-related declarations of sales, expenses and deductions. There are even some exceptions in which the CRA requests that some records be kept even longer.
The Best Way to Save Documents
Documents are acceptable to the Canada Revenue Agency in paper format or in an accessible and readable electronic format in English, French or both. Electronic formats may be in the form of electronic files, microfiches or microfilms. In any case, maintaining documents through imaging will always save significant space and retrieval of specific information will be less time consuming. A business records retention schedule should be developed which incorporates the digitization of your physical documents.
Solution: MES Hybrid Document Systems
A specialist in document scanning and management, MES Hybrid Document Systems will design a document management system that will work best for your company. Today, with the development of electronic data, the days of the analog or paper document management have passed. Now documents are not only stored in an instantly retrievable way, but properly managed formats can be shared, analyzed and integrated to help in decision making and marketing. And, yes, the documents are there for the CRA to review when needed.
With MES Hybrid Document Systems, your information will no longer be hiding in a filing cabinet somewhere, but are available where, when and how you need them.
Since 1971, MES has remained in the forefront of technology to help companies and organizations in a wide range of industries to organize their records and documents in the simplest and most easily retrievable ways. MES converts millions of images per month into high quality, specifically customized formats that are secure and economical.
The process for implementing your document management solution is simple. Our team will collect your documents in a secure manner, prepare them for conversion, scan the images, enter the data into the form optimal for your business needs and then deliver the product back to your business. By doing so, a business records retention schedule will be established.
In the end, MES provides peace of mind in place of all of those pieces of paper. At a reasonable cost, MES Hybrid Document Systems removes the burden of where to stash your ever-growing mountains of paper.