Historical books, new books, magazines, files, binders, contracts … the list goes on. There's almost nothing you can't capture or copy with the new zeta book scanner by Zeutschel. It is the ideal multifunctional system for scanning and copying in libraries, archives, universities, schools and more.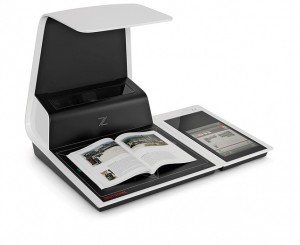 Plug and Scan
Simply unpack the zeta, plug it in, and off you go! The zeta book scanner delivers high-quality data with the highest resolution in no time flat. You can decide what format the output is. You can check, print or mail your data, saveit to a USB, send to application or send it for download via FTP. At the same time you're saving paper and going green.
Excellent Features
The zeta has many convenient features:
Compact, functional and revolutionary design
Touch panel with multi-touch technology
Brilliant colour rendering
High scanning speed
High quality output dada
Easy installation
Short scanning cycles
Multilingual user menu
Flexible interfaces
Energy efficient
Your Scans Never Looked Better
With the zeta faulty scans are a thing of the past. But don't take our word for it, discover it for yourself. If you're looking for the perfect solution for digitization and preservation of valuable assets and documents, let us help!