A completely new and easy way to scan, no cable required!
Introducing the WU10 portable WiFi unit from Canon. Enabling wireless scanning to mobile devices without the need to connect via cable, making it the ideal portable scan server.
Compatible with the Canon imageFORMULA mobile scanners (P-150 and P-215), it's easy to use, simply connect via USB to your mobile scanning device. Freedom!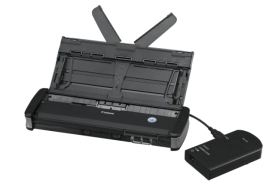 Thanks to the WiFi capabilities you can scan wherever you are - home, the office, a customer's office, or even on the road. You can scan up to 400 images with a fully charged battery, all with 200 dpi quality.
Execs on the go can connect the WU10 to their Canon mobile scanner that activates a wireless link directly to their mobile or tablet. Meanwhile, back in the office, the scanner can be shared among users via the company's WiFi network!
Bet you never thought scanning could be this easy.
For more information contact us today!
source: Canon Canada, Inc.