Cloud computing or Software as a Service (SaaS) allows you to enjoy all the advantages of a complete document management system without the upfront capital investment of an installed solution.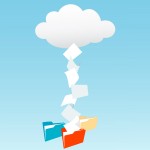 FileBound On-Demand is one of the leading SaaS solutions. It comes with an unlimited number of users and provides access to the FileBound back-up infrastructure and technical support staff. FileBound's Data Center is co-located within a carrier class facility with access to multiple telecom carriers, redundant power sources and world-class security.
Imagine your critical corporate documents being secure and accessible from anywhere in the world. We can help you do that.
Contact us today to find out how!
*source: FileBound