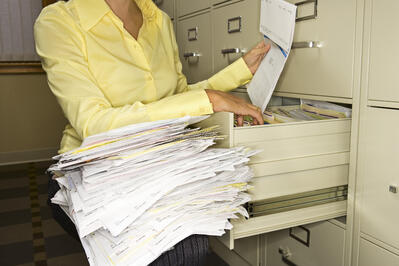 If your organization has recently embarked upon a project in document scanning, storage for the converted files is likely the next major challenge that needs attention. Now that the piles of paper have been digitized, finding methods for effectively storing and managing your documents is of utmost importance, particularly if you want to make the initial investment into file conversion worthwhile. Below are some tips to help ensure that your document scanning, storage and management work together seamlessly to achieve a well-rounded document management structure that benefits your business.
Choose the right software for your project
There are a myriad of software options to choose from when it comes to document scanning – perhaps too many – but not all are created equal. You want to ensure that you opt for software that is suitable for the needs of your organization. Common characteristics of good document scanning software include multi-format capabilities, backup and restore functionality, workflows, multi-user access and more, so opt for the software that has the features you require to make your project a success.
Furthermore, you should determine where the scanned documents will be stored, and what that particular software will do with them once scanned. Internal archiving versus cloud-based file scanning storage work differently, which leads us to our next tip.
Cloud or On-site?
Will you be storing your scanned documents using an on-site system, or will you be using a cloud-based system? Determining what you need in terms of storage capabilities can help you make an informed decision and ensure your project is handled adequately. Factors such as required storage capacity, budget constraints, mobile integration needs, and so on will all play a part in what type of file scanning storage system you opt for.
Indexing
Moving past the scanning project itself, document management becomes a vital issue. Once you have your documents scanned, you want to ensure you have a process in place for making your documents easily searchable and retrievable. This is where document indexing comes into play. It is an integral aspect of document management, using metadata and text to aid in the organization and retrieval of documents. To improve how you use and store your data, develop a standardized indexing process – if done efficiently, it can greatly increase productivity.
With these tips, you can greatly improve your organization's document management. From document scanning, to storage and overall data management, keeping the above in mind make the difference between the success and failure of your scanning project.