Are you looking for a way to improve your efficiency, maintain a high level of customer service and cut costs while at it? Is this even possible to achieve? Well, one of the best ways you can achieve this seemingly impossible task is to go paperless.
Despite technology making it super easy to go paperless, most businesses still haven't made the switch. Some are intimidated by the sheer thought of changi
ng organization policies while others are simply unaware of the incredible benefits it comes with.
Regardless of which category you fall in, there are many benefits of going paperless. To begin with, you'll be doing the environment a favour. Paper products fill about 16% of landfills with 26 million tons of paper waste each year. When all this paper decomposes, it releases methane, a gas more potent than carbon dioxide.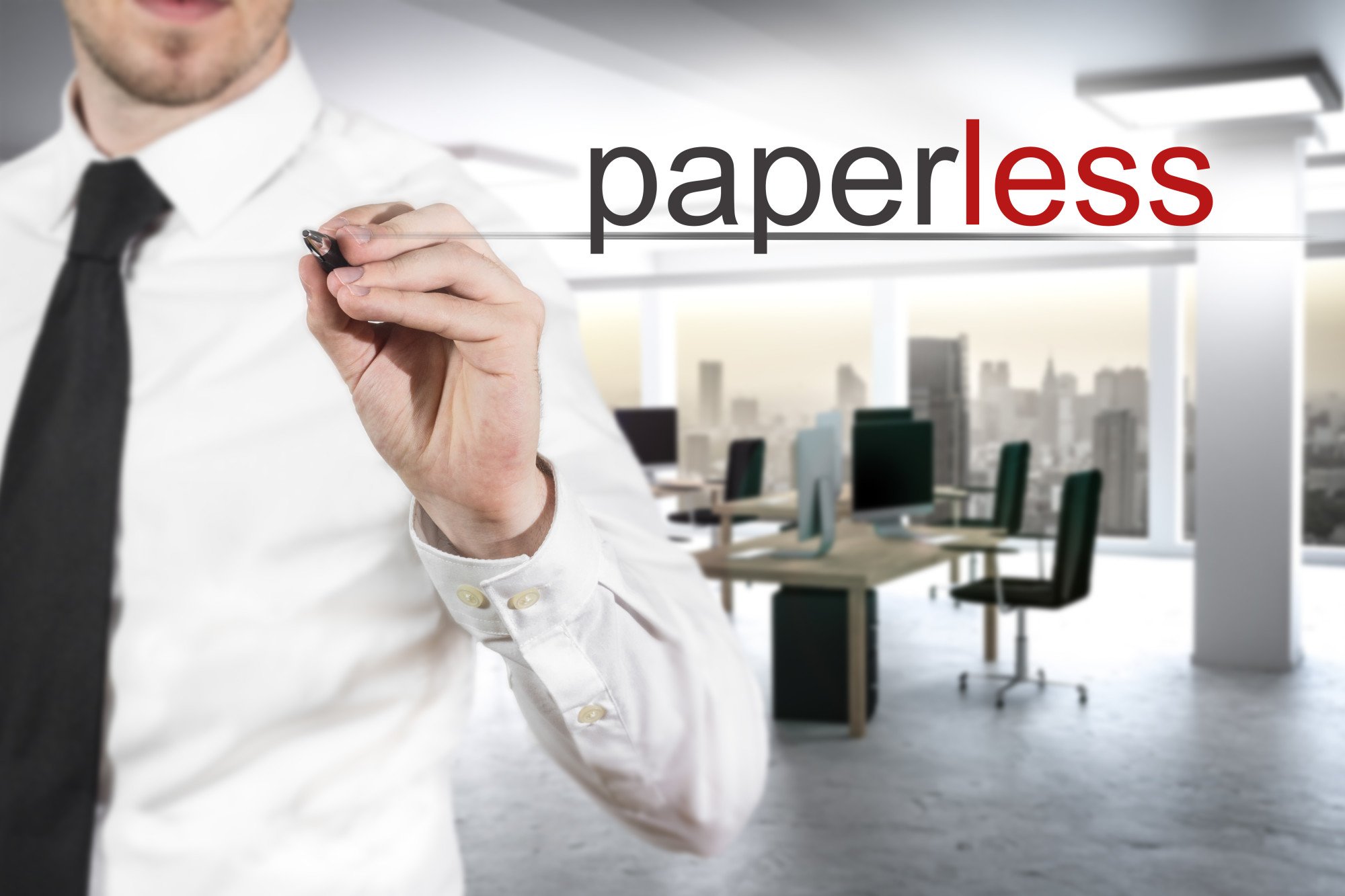 Are There Benefits of Going Paperless?
Apart from saving the world, let's look at how going paperless at work impacts you and your business directly. Here are 10 benefits of going paperless.
1. Cost Reduction in Operations
Paper is usually so ingrained in the business that most people don't consider the costs. First, you need to consider the cost of the papers, a price that's on the rise, then think of your toner, printers, filing cabinets, and maintenance. Consider all the stationery you have going from file folders to paper clips, pens, staples, and the like. All these can add up to a significant cost.
Besides all that, maintaining paper documents lead to other indirect costs, starting with labour costs. Maintaining paper documents is highly labour-intensive because employees have to print, file, collate and back-up documents, which takes up too much time.
If you feel the need to relocate, you must take all those files with you, making the move even harder and expensive. Going paperless at work will eliminate most of these costs and free up resources for other projects.
2. Strong Document Security and Confidentiality
When using papers in your business processes, you need to invest in a tight security system, which would essentially be a locked filing cabinet. You may go the extra mile and get a shredder to maintain confidentiality and security. These are not stringent security measures, and you are still left with security breaches
Additionally, you need to have ongoing training for employees when it comes to document management policies. All these processes are long, tedious, and costly.
On the other hand, if you invest in a cloud-based system, you'll have high-tech security that will keep your information both safe and confidential.
3. Saves Time
The time employees spend organizing, filing and searching for paper documents could be spent on revenue-generating projects. Once you go digital and adapt to paperless documents, you'll have a central repository to store all your documents. Searching will only take a matter of seconds, and you'll eliminate both filings and organizing in the process.
With a state-of-the-art digital file management system, you'll harness a search ability that will take your employees a significantly shorter time compared to looking for paper documents in buried folders.
4. Saves Space
Additionally, paper occupies so much of your office space, considering all those filing cabinets. You may have stacks on stacks of paper on your desk right now, and you don't even know when you'll get it organized and filed. Just looking at it induces a headache, does it not?
That's one of the drawbacks of using paper—it piles up faster than it can be sorted. Digitized processes allow you to store all those documents either in the cloud or on-premises servers.
5. Easy Access to Data
Imagine in a world where you no longer have to open cabinet after cabinet looking for a file brought in a few months ago? Appealing isn't it? It is possible if you digitize your office operations and eliminate paperwork. This is by far, one of the major benefits of going paperless.
If you utilize online tools such as Google Drive, you ensure seamless collaboration between you and your customers. Based on your business, there are numerous tools out there that make information accessible to all employees at the same time, minimizing time-wasting. As long as you properly index your documents, you'll have them at your fingertips whenever needed.
6. Automatic Data Retention and Digital Backups
One of the most significant benefits of going paperless is not having to create backups every time. With technology, you can easily save data automatically and back it up just as easily on flash drives or external hard disks. You'll have important information backed up in several locations, reducing any chances of loss, damage, and misplacement.
7. Easy to Meet Government Audits
One of the major benefits of going paperless is how effortlessly you'll go through an audit. Complying with regulations is mandatory, and dealing with paper documents can present several potential risks. For instance, paper documents are so easy to lose or misplace, and it'll be time-consuming to have your employees gather all the required papers.
Complicated or delayed audits only place more stress on your business and puts it in a precarious situation. With a paperless system, however, you'll eliminate all these problems and have everything ready as soon as the auditor makes the request. This will not only reduce workplace distractions but make the audit seamless for everyone.
8. Reduced Administrative needs
Switching to a paperless office will help you allocate resources effectively. For instance, the administrative staff that spend most of their time dealing with paper tasks such as copying and filing can be shifted to revenue-driving tasks.
You may even have an opportunity to reduce employees once you eliminate your mailroom or call center, and save on revenue. Besides this, with a paperless system, your business advisor will have a better view of the status of your business.
9. Convenient Day-To-Day Business Operations
The best thing about having your documents in the cloud is having access, regardless of where you are. This offers your business flexibility as some of your employees can work remotely. You can consult professionals located outside your area, something that would be near impossible in a paper-based office.
Going paperless at work is not just about a trend; it's a process that offers streamlined operations, reduces costs, and enables businesses to scale rapidly.
10. Cost-Effective Client Communication
Having a paperless office will be good for business in terms of communicating with customers. You'll have better communication methods, such as email lists that will eliminate mailing costs and hassles. Tracking leads and getting new clients is far easier to do as well because you can obtain analytical data for effective marketing tactics.
The faster you manage business processes, the happier you make your clients. More and more orders will come, and you'll have the ability to process them faster and have them delivered in no time. All this leads to a positive customer experience, which is one of the best things that could happen to a business.
Ready to Go Digital?
Now that you are well informed on all the benefits of going paperless, are you ready to make changes? There is only one place your business will head from there, and that's on top. Get in touch with us, and we'll help you go paperless.