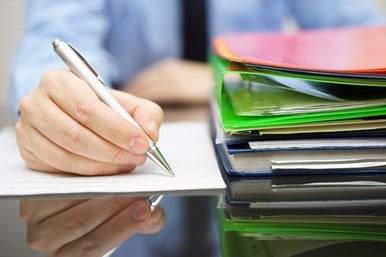 Every business, no matter how large or small, creates paperwork. From a work-at-home freelancer to a multi-million-dollar corporation, tax forms, receipts, business minutes and other forms of correspondence creates a dilemma: storage.
Off-site document storage allows you to clear your storage areas by entrusting another company to store and protect your valuable data. However, even though this is a great solution for some, many companies are moving to paperless storage for better access, sharing and security efficiency.
Here are some important reasons why off-site document storage is phasing out:
Inconvenience
With documents stored away from the office, it makes it difficult and inconvenient to find important papers right when you need them. Having no immediate access when you're meeting deadlines or facing a project emergency means you'll waste valuable time looking for and awaiting details.
Keep in mind, if you've used a document storage facility for years, you might be surprised how much is in there. Since data is kept onsite, you might not remember to purge and destroy unneeded files. Therefore, you may also end up with years of unnecessary stacks of paperwork.
Expense
The second drawback is cost. Storing hundreds of boxes costs money, as well as shipping costs to move important documents from your company to the facility. In the end, mileage and extra time racks up and probably doesn't make keeping an off-site document storage solution effective.
Security
While an off-site document storage facility is going to try it's best to keep your data safe, there're no guarantees. Employees, storing boxes of paperwork can stumble upon private information and documentation can go "missing" without anyone knowing.
Misplacement and Damage
Many off-site document storage facilities handle hundreds of other clients. This makes it easier for mix up or misplacement of important docs. Even if all your paperwork is kept together, how well organized would it be, and how easily can you access and find the document you need? Another point to consider is: what happens when documents become damaged? Although off-site document storage companies do take precautions to protect your data – a leaking roof, fire or pests can ruin important papers.
With the emergence of document scanning technology, all businesses have the option of scanning and storing documents digitally. This makes securely accessing information whenever you like, seamless. If you're considering phasing out your dated, off-site document storage solution, research scanning technologies that help cut your costs and up efficiency.