Today's lawyers rely heavily on court technology to file and serve documents electronically. We have entered the era of virtual court cases with many advancements adapted to allow the courts to function during the pandemic. However, the Ontario legal system uses technology during legal proceedings, from the onset of investigation and collection of required documents to the way documents are formatted, transferred for review and presented as evidence. Here we look at how digital records and technology are used in today's Ontario court system and why they are necessary for justice in 2022.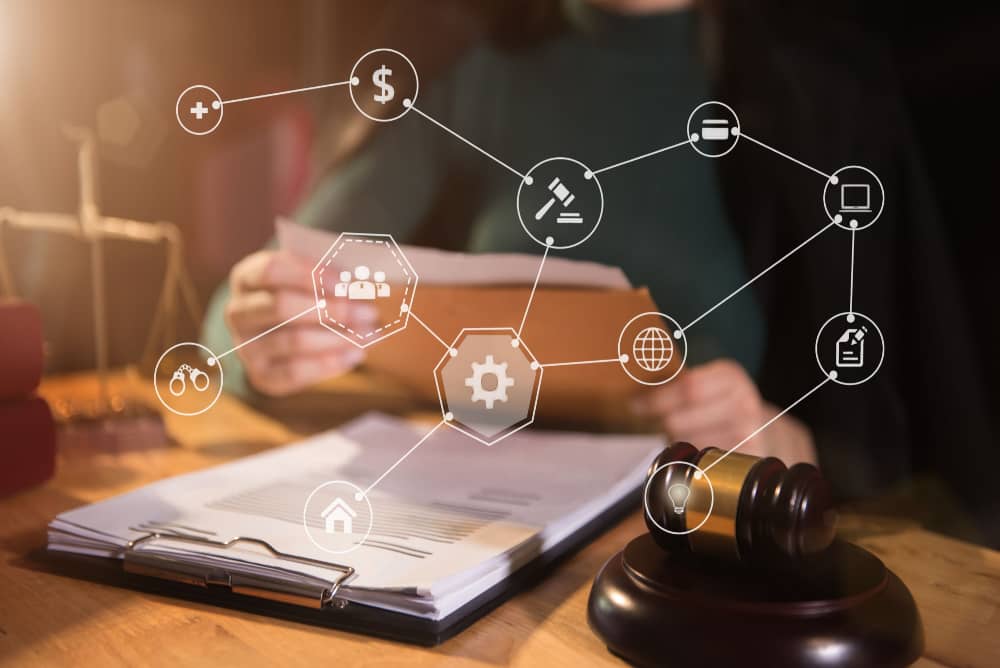 Ontario's Justice Accelerated Strategy
The Ontario government is transforming the management of Superior and Ontario Court cases with the Courts Digital Transformation initiative. It embraces the digital evolution of justice, replacing outdated paper-based procedures. A new online platform will allow the electronic management of cases, documents and schedules, creating an "on-demand" platform for people to manage their legal matters. As part of the Justice Accelerated Strategy, court users can access the system to:
Digitally access court information from anywhere, 24/7
Submit and view digital court records and documents online
File digital court documents
Access digital court records
Schedule matters and appearances online
Pay fees
Receive court decisions electronically
This groundbreaking approach to the justice system equips members of the public, court services division, lawyers, self-represented litigants, judicial officials and court staff so they can resolve legal matters with fewer delays and complications. This initiative makes it necessary to have access to digital court records to allow court participants to access online self-service documents and leverage integrated case tracking.
Digital Hearing Workspace
In 2019, the Ministry of the Attorney General launched a pilot for an online document management platform named the Digital Hearing Workspace (DHW). It provides real-time access to electronic documents for the Commercial List which means the entire court system has gone digital.
Electronic Filed Documents and Case Record Management
Electronic filing allows lawyers and the attorney general to quickly share files and enable secure, effective case record management. Electronic submissions provide access to all those involved in a case including judges who can view key evidence that might otherwise be overlooked. Exhibits filed by lawyers via digital files provide a comprehensive system allowing real-time access to court records. Digitized case record management helps reduce human error and minimize filing issues with a quicker, more dependable PDF format easier to share and review.
Digital Court Records for Electronic Submission
As mentioned, having a standardized PDF format makes it easier to share and submit files electronically. It eliminates piles of paperwork while limiting file sizes to make uploading and downloading digital documents less time-consuming. If paper documents are submitted, they can quickly and easily be scanned, categorized and stored as evidence so the format remains consistent across all documents submitted. Legal teams can determine the best format for their electronic materials and use technology such as thumb drives or cloud storage to safely and securely store and submit documents. The format is secure and uneditable to avoid tampering during the review process.
Improving Compliance with Digital Court Records
Organizations subject to regulatory body mandates and industry laws can improve compliance by using digital document storage processes. Documents are archived as required by law ready for quick access when lawsuits arise, or fines/penalties are applied. Such regulations might include General Data Protection Regulation (GDPR), Ontario Health and Safety, Workplace Hazardous Materials Information System (WHIMIS), Personal Information Protection and Electronic Documents Act (PIPEDA) or Freedom of Information and Protection of Privacy Act (FIPPA). It can also apply to lawsuits surrounding employee accusations of wrongful dismissal, unfair treatment, or harassment.
Document Integrity for Digital Court Records
Once documents and other materials are filed with the court, considerations for the quality and retention of document details are very important. An excellent example is the recent case of Johnny Depp vs Amber Heard. In this case, the integrity of the images submitted by Amber Heard was called into question with the plaintiff's lawyer showing images of bruising had in fact been enhanced. Electronic filing and digitized documents must therefore retain colour features and also be viewed with the proper technology to ensure the integrity of the evidence is maintained.
Ability to Link and Index Digital Court Records
Legal documents are complex and involve a lot of cross-referencing. Using digital documents allows legal teams to use indexing and cross-referencing links to make research easier. Users can quickly cross reference, review related citations, and find related exhibits without digging through stacks of files and paperwork.
Digital Court Records for Courtroom Proceedings
Available equipment and technology features allow lawyers to present exhibits and other materials to help support their case. Courts have adopted electronic methods, which allow counsel to more easily present evidence, exhibits, text trails, phone records and other information on interactive display monitors using wireless internet access. The recent crime series "The Girl From Plainville" demonstrates the importance of access to this technology. With access to secure storage on the cloud, documents can be called up quickly to respond to evidence presented by the opposing counsel. Defending a case becomes easier when compelling evidence is readily available to present persuasive proof to counteract the opposing counsel's evidence.
Digital Court Records and Remote Proceedings
The pandemic led to courts adapting to modern videoconferencing for remote proceedings. This makes it difficult to share documents and exhibits in a traditional manner. However, digital documents can be quickly shared and reviewed even for complex remote proceedings such as a criminal trial. The ability to share documents with multiple participants whether it is witnesses, jurors, the plaintiff and their counsel, etc. exhibits such as high-resolution documents can be presented in real-time. This ensures remote participants are never at a disadvantage and everyone has equal access to relevant documents and information presented.
There is no denying digitization is here to stay in the Canadian court system. As a result, digital court records are necessary for justice in 2022 and beyond.
If you are looking for an easy solution to help digitize court records or implement records into a document management system, MES Document Hybrid Systems offers affordable scanning and document management services. Reach out to our team today.