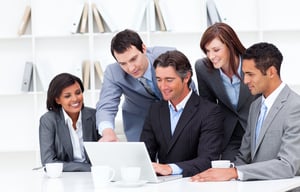 AP automation software continues to make waves and for a good reason. AP automation is streamlining financial activities by taking valuable human staff off of routine processing and letting software handle the drudgery of processing data. But what is AP automation software going to be in the future?
eInvoicing Gains Ground
One of the biggest "time sinks" in accounts payable processing takes place at the beginning when an invoice is received. If an invoice is mailed as a piece of paper or even sent as an attached file in an email, there's a need for data entry. In small batches, manual data entry is manageable, but once businesses grow, this task wastes far more valuable employee time.
The future is going to see a greater emphasis on standardized "eInvoice" methods. The right pairing of eInvoice and AP automation software yields a program that can automatically receive, recognize, and begin processing invoices, eliminating the need entirely for data entry by workers.
More AI/Machine Learning
One of the biggest innovations in technology is "machine learning." While it is not true artificial intelligence, machine learning allows software to recognize patterns and apply certain actions or judgments to specified conditions.
In other words, in the rigid world of invoicing, machine learning can "learn the rules" of how to properly process different types and formats of invoices. That adaptive ability will lead to increased speed and efficiency in processing data. Perhaps more importantly, machine learning can also help AP automation software to get better at spotting exceptions, anomalies, red flags, and even attempts at fraud, notifying human staff to deal with a situation faster.
More Cloud Storage & Processing
The cloud, as online storage and distributed computer processing is referred to, will gain more and more popularity, especially with small-to-medium enterprises. Before, only big companies with sizable financial "war chests" could afford to have internal AP automation systems. As both the storage and infrastructure of this technology move to the cloud, more businesses can take advantage of AP software, without needing to build it into their own workplace.
The future will see an increase in companies choosing cloud-based AP automation software solutions. The technology can then operate and store data online so that it can be retrieved by any staff member, at any time, from any location, as long as they have an internet-ready device on hand.
More and more companies are beginning to see the benefits of increased efficiency, speed, and performance when it comes to AP. Just like the adoption of computers into modern workplaces, AP automation software helps businesses to deal with more information, without sacrificing speed, precision, or the valuable time and talent of human works, especially in an area as important and sensitive as accounts payable.