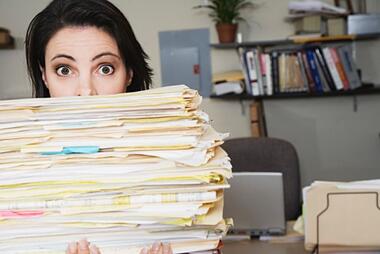 No matter what industry your company operates in, filling out, filing, copying, distributing and retrieving paperwork will be a requirement. This is a tedious set of tasks that nobody likes, no matter how important it is. Thanks to the necessity of paperwork, you can lose track of how much you are compiling, and you -- or your office -- can quickly become overwhelmed by packets, folders and files of paper. So when is enough enough? We are going to take a look at when you simply have too much paper, and what proactive solutions you can take to prevent paper-induced clutter from ever occurring in your office again.
When do I have too much paper?
Finding documentation is a chore
The most valuable asset that your company possesses is time. Once a man hour is used up, you cannot get it back. If your office is swimming in so much paperwork that it takes several minutes to find anything, then you are losing hours of productivity every day.
You have so much paper that it weighs too much to carry
This can happen quickly in an office. However, it is a strong indication that your paperwork is not only overwhelming your office, but that it is costing your company money. This waste is not small either. Yale University, for example, found that they were wasting over a quarter of a million dollars each year on paper.
What can I do about the paper clutter in my office?
Go digital
The only solution to having too much paperwork is to get rid of it and create a paperless office. However, you can't just toss out important documentation. Fortunately, modern technology can help you by transforming your paperwork into digital files. Here is how:
Large scale document scanning
If you have a lot of paperwork right now, there is probably some very important information stored therein. Fortunately, it does not have to be a toil to get rid of it without losing that data. You can engage in large-scale record scanning and document imaging so that you can access everything right from your computer screen.
Small scale document scanning
Once you have the bulk of your paperwork digitized, you won't have much need for large-scale scanning very often. That is why you should invest in small-scale scanning technology. This ensures that any paperwork that you do receive can quickly be converted to digital.
Digital document management solutions
Now that you have created a paperless office, you need to be able to manage all of this new digital data. Simply having thousands of files wouldn't be very efficient, so you need to take one more step before you can completely free yourself from paper. You need to add a digital document management solution. Here is what they do:
Document protection and security

With digital document management software, you can protect your sensitive documents from unauthorized access and intrusion. If someone does try to access secure data, you will be alerted.

Easier access to files

Everything will be categorized and organized even more efficiently than a paper filing system. In fact, if you are using the right document management software, then finding specific documents will be as easy as typing in a few relevant words, even if you don't know the exact document you are looking for.



A paperless office is possible
No matter how much paperwork your office is overwhelmed with, it is not too late to start cutting down on the waste it creates by going digital. All you need is the right tools to digitize your paperwork and manage it after the conversion.