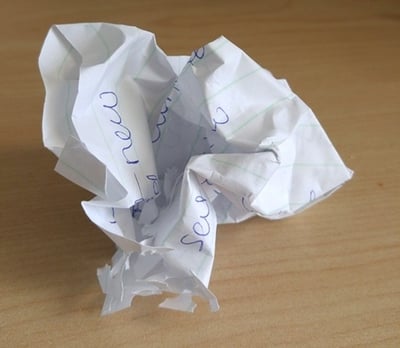 Welcome to the digital era. After years of having to sift through mountains of paper documentation in order to get things done, you have finally digitized your documents. Even after you officially make the transition from paper document management to digital, however, you will still have to deal with all of that paperwork that your company has piled up over the years. Here is what you should do with your paper documents once they're digitized:


Figure out which paper documents you need to keep
One of the biggest mistakes that you can make after your switch to digital document management is to thoughtlessly start tossing all of your old paper documentation into the garbage. Although digital document management removes your future reliance on paper, this doesn't mean that every paper document that you own will suddenly be without worth. Paper contracts signed by hand, for example, should be retained (at least) for the duration of the agreement therein. To avoid any mishaps, start placing your old paper documentation into the following three categories:


Paper documents that you are likely to need in the near future
In some cases, certain forms of paper documentation will continue to be a part of your operations for the foreseeable future. You should continue to use these documents as you have been.
Paper documents that can be archived for record keeping purposes
Legal documents, contracts, etc. should be stored away and protected. Since you aren't likely to need them anytime soon, you can use long-term storage solutions for these documents. However, make sure that the area in which they are stored is not overly humid.
Paper documents in use right now that you need to phase out
Even if you are planning to cease using a particular type of paper document in the near future, it may not be prudent to abruptly take it away from your team. You want the implementation of your new paperless document system to be seamless, not a disruption to your operations. To avoid any issues during the transition, you should take a look at what regularly used paper documentation you plan on phasing out, and what the best approach is to ultimately get rid of it.
Instead of simply telling your employees one day that they can no longer use the paper versions of the documents that they rely on, you will need to ensure that everyone understands how to best use the digital versions first. When this process is completed, you can then move these paper documents to the trash pile – assuming that they don't fall into either of the two categories listed above.


Throw away any paper documents you don't need to keep
If a paper document doesn't fall into any of the categories listed above, then you should know for certain that you will never need it again. In this case, you can throw it away at your earliest convenience.
If you plan on disposing of a document, destroy it first
Be sure to destroy all of your company's paper documentation before throwing it away, no matter how harmless a document may seem. Dumpster divers – which can sometimes be competitors trying to gain an edge over your company – can be very creative with the information that they dig out of your trash can.


Make room for a digital future without losing the value created by your analog past
Fully digitizing your business is a transition that cannot be blindly leapt into. Protect your business from accidental losses as you switch to digital document management by carefully determining what you should do with your old paper documents.