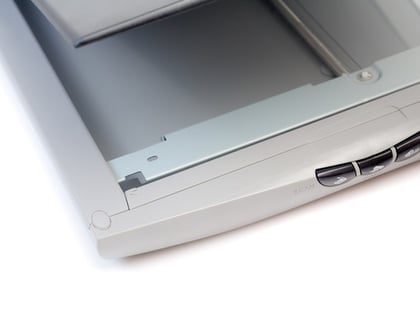 In order to effectively manage your paperless office, you're going to need a good scanner to make converting physical documents to digital files easy. However, just any scanner won't do, especially when you're converting 11 x 17 documents.
When searching for 11x17 scanners, you must narrow your options to the best ones available. To help you with this, we're going to discuss four of the best 11x17 scanners that you can get right now.
Plustek OpticPro A320
Pros
If you need your scanner to have mobility or an efficient use of space, then the Plustek OpticPro A320 is a device that you should consider investing in. Only 12" x 17" in size, virtually allowing you to place the scanner just about anywhere.
Cons
The scanner's slimline flatbed design doesn't allow for bulk scanning. This means that your scanning volume will be limited to how quickly you can manually switch documents.
Get answers to the four top document scanning questions in this free tip sheet.

Epson WorkForce DS-5000
Pros
If your office needs a super powerful scanner that can manage a heavy workload, the Epson WorkForce DS-5000 is one of your top choices. With this scanner, you can scan up to 80 pages per minute and 5,000 pages per day. To streamline your ability to scan large volumes of documents, it includes a 200 document feeder.
Cons
In order to accommodate such a large amount of scanning power, the Epson WorkForce DS-5000 is fairly bulky (25.2" x 18.5"). This means that your scanner won't be able to share much desk space.
Mustek A3 1200HS
Pros
If you need high-quality 11 x 17 images, then the Mustek A3 1200HS should definitely be on your shortlist. It can reproduce images at a 1200 x 1200 dpi resolution that can also be interpolated to 9600 dpi. This is also one of the least expensive 11 x 17 scanners that you can buy from any manufacturer. At 21.9" x 15.1" and 13.5 pounds, it's one of the slimmest and lightest 11 x 17 scanners that you can get.
Cons
This is a flatbed scanner, which means that it can only scan a single document at a time. If you need to scan a high volume of documents at one time, this could be a problem.
Canon imageFormula DR-3010C
Pros
When you need a high-powered scanner that can handle any volume of 11 x 17 documents, the Canon imageFormula DR-3010C is one of your best choices. This Canon scanner has a large feeder that can accept up to 50 documents at once. This, combined with its fast scanning speed, allows you to comfortably scan up to 3,000 documents per day. It comes with a one year warranty that include free telephone support whenever you need it.
As an added bonus, this is an ENERGY STAR compliant device. This means it will help you save a great deal of money on your energy bill in the long run.
Cons
In order to get this scanner to perform at maximum efficiency, you will have to tweak some of the settings.
Which scanner is best for your needs
Each of the 11 x 17 scanners on this list has unique capabilities that set it apart. Which one works best for your company will depend on your unique needs. If you need mobility and adaptability, then the Plustek OpticPro A320 would be your best option; if you need a lot of power to handle a heavy workload, then the Epson WorkForce DS-5000 would be great; for incredibly high-quality images, go with the Mustek A3 1200HS; for a balance between power and energy efficiency, consider the Canon imageFormula DR-3010C. For more information, consult with a scanner expert.