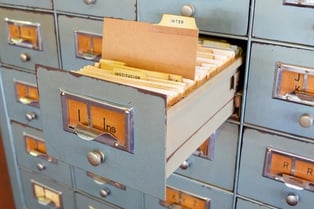 How you store your documents matters. Storing your company's documents in a centralized document repository is a smart idea. It ensures that all of your documents are stored in a secured location, and that you won't have to worry about any stray data ending up in the wrong place. It will also increase the overall efficiency of your document storage by making it easier to find documents and reducing the storage space needed to save everything (multiple storage solutions waste space, because many of them won't be filled up).
That being said, deciding to implement a central document repository is just step one. Next, you must plan, prepare and execute. Here is how you can implement your own central document repository in 2017:
Plan
Before you act to implement a unified document repository, you should have a plan in place. This will help you avoid missteps that would unnecessarily exacerbate the transition. Your plan should include the following two steps:
Decide what capabilities you want your central document repository to have
Your company's central document repository shouldn't just be a virtual box. It should be a utilitarian storage solution that enhances your company's productivity. To this end, you should plan for your new repository to have the following capabilities:
Remote access

Security encryption

Access control

File type flexibility

Automatic document indexing

Industry-specific utility functions
Create a shortlist of good repository systems using the list above as a guide.
Determine whether there will be any exceptions for your central document repository
In 2017 the only type of centralized document repository that you should be investing in is a digital one. That being said, you may have to retain some documents in physical form only. If this is the case, you should account for these documents beforehand, so that they aren't accidentally swept up in the centralized repository implementation process.
Prepare
You want the implementation of your new repository to be streamlined, because a chaotic implementation would waste your time. By preparing to execute your centralized repository implementation plan beforehand, you ensure that the process is not chaotic. To this end, you should do the following:
Make sure that all of your documents are capable of being stored in your central document repository
A good central document repository will be able to store your documents in a myriad of file formats. However, the document needs to be digitized before this is possible – if you start trying to use your repository before, you will effectively have to complete the implementation process twice, because you will have to convert them anyway. As such, it is key that you convert all of your documents to digital files before you start implementing the repository.
Destroy any unnecessary or redundant documents
Implementing your centralized repository is the perfect opportunity to eliminate all of your superfluous documentation. In addition to streamlining the implementation of your new repository, taking this step will save storage space and reduce confusion, especially regarding document versions.
Execute
After properly planning and preparing, executing your centralized repository implementation should be a breeze. In fact, you will only need to take a single step:
Install and transfer your documents
A good document repository provider will streamline the implementation process by walking you through the installation and transfer process.
Streamline your document management capabilities in 2017
By taking advantage of the benefits of centralized document storage, your business will be able to operate more efficiently and securely than ever. Get the planning process started today by taking a look at the best centralized document repository systems available to you.