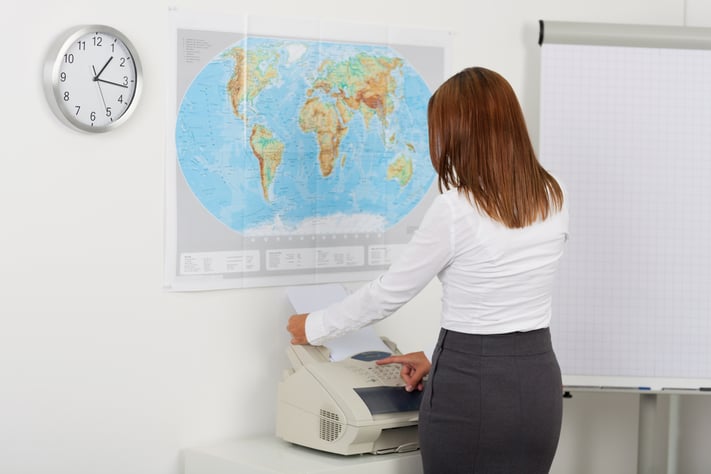 Fax Machines
If you're still using a fax machine, it's probably because it's been screeching away in the corner like a gladiator for 50 years not asking much from you. Long ago it turned that "old plastic" shade of yellow and the numbers on its keypad wore off (so you markered them back on with Sharpie). Its name is Hal and you can't bring yourself to part with Hal because he's been with you for the long haul, seen countless Christmas parties, and won employee of the month more than once. He earned his spot in the dusty corner and you reward loyalty with appreciative nods, not dumpster-bin mentality.
You also still keep Hal around because, despite new technologies that render him obsolete, many offices still send facsimiles—especially in law, medicine, and government, massive industries that should lead the way with secure technologies (but don't).
Nevermind that multifunction printers have been able to send faxes via email for decades because multifunction printers are in the same boat as fax machines—they've had their environmentally-destructive heyday and aren't needed anymore. Here's the crazy-wasteful thing about using a fax machine or a multifunction printer to fax a piece of paper: that piece of paper didn't come off a typewriter. It was made on a computer. Then it was printed. It was digital, but it was turned into a non-digital thing… only to be made digital again with a device that was around before all of your children were born. Why print that paper? Why not attach it to an email and send it off in a more secure way? Or, better. Why not share that document by clicking a share button? Cybercrimes are going through the proverbial roof. Using a fax machine is like putting a home-baked pie on the sill of an open window to your company's sensitive information kitchen:
"The continued use by the NHS of fax machines to share patient information in 2018 is indeed absurd," said John McCann, senior director at BridgeHead Software, a healthcare security company. "Fax machines are wide open to security breaches. If the fax number is publicly available, as many are, a hacker can infect the fax machine with malware – not only infecting the machine itself but also the network its connected to."—Forbes
If security is important, and it is—it might even be required under compliance statutes!—it's time for Hal to hit the road. So replace your fax machine with the secure share button. Share your digital document! Create your document using Google docs or Google Sheets and share it with whomever needs it using whatever permissions you like. And then track changes. And make corrections right in that one document.
Google Docs replaces your fax machine.
But what if someone asks you for a fax and Hal had his bowtie ripped off and got a boot down the stairs last week? No worries. Ask the person with the backward habit for her email address and tell her you'll securely send that "fax" over digitally.
Printers
Printers print paper. Paper gets used and then filed or recycled. Storing paper is expensive—the cost of floor space and the cost to productivity trying to manage paper workflows. Recycling paper doesn't prevent trees from getting cut down. As long as we continue to toddle that pathway from our desks to the mega-huge printer in the hallway and back, the eco-destructive habits will remain. What happens if the printer disappears tomorrow? What would your office do?
Everyone would stop printing on paper, that's what. Without a way to replicate paper hard copies, it wouldn't take long (try immediately) for everyone to figure out how to share a file and how to archive it (file it away) on a digital drive, like Google Drive. So pretend that day has arrived. Get used to digital practices. If a coworker asks for a printed copy, send a digital copy. Make it the only option by unplugging that printer and sending it off to printer paradise—forests around the world rejoice! Chances are your industry will soon face compliance protocols that levy penalties for analog systems. So get on with the new mindset now.
Google Docs replaces your printer.
Photocopiers
That's a big no. The last thing you need are duplicates and triplicates of paper. You're going for less paper not more. Need a copy? Click File > copy. Now share that copy. Or better, don't make a copy, which can create versioning nightmares. Simply click the share button so multiple people can update one document. No trees are hacked off at the ankles to copy that file. No millions of megawatts are wasted to power and house a replicating machine. One-click and done. Cost-effective, fast, and affordable.
Google Docs replaces your photocopier.
Scanners
So you decided to stop printing things and started sharing your files digitally—bravo! But you're a B2B company and your associates at Behind-the-Times Co. send you paper documents and paper invoices in the paper mail. You still have paper coming into your office even though you stopped sending paper out of the office.
Don't panic.
It's easy to turn paper into digital workflows that suit your new modern way of doing things. First of all, let Behind-the-Times Co. know that you no longer accept paper documents. The more we start tooting that horn, the more others start driving smarter cars, too. Secondly, scan that paper! But DO NOT buy a scanner to scan that paper. A scanner was likely a function of your multi-function printer that you already sent to printer paradise.
Guess what?
Your phone is a scanner. And the scanning app on your phone is more high-tech and more agile than a clunky scanning device. So, for the odd paper document you need to convert to digital so it slides into your digital workflow and fits nicely into your paperless company policy, try Adobe Scan (free, iOS, Android). There are dozens of scanning apps out there, but Adobe Scan does everything you need it to and it's made by a reputable company that isn't going anywhere and will keep all firmware updated (secure).
Virtually anyone can benefit from having a scanning app on their phone, and for most people, it can completely replace a physical scanner…[T]hanks to rapidly improving smartphone cameras, today's scanning apps are perfectly capable of handling once-in-a-while scanning needs: receipts, business cards, legal documents, or the occasional form. And because your phone can go almost anywhere you can, scanning apps can also go places physical scanners can't. You can, for instance, use an app to quickly scan receipts at a business lunch, to capture pages from rare books at a library, or even to send in bills of lading and trip reports from big-rig trucks on long-haul routes.—NY Times
Portable, easy-to-use, great resolution, Optical Character Recognition (OCR), editable, shareable, and secure. What more do you need?
An app on your phone replaces your scanner.
...unless the job is too big.
For all that paper mess that's been piling up for decades now, your powerful, handy smartphone isn't up to the task. Not efficiently. Archived paper should be handled by an outsourcing company that can turn thousands of sheets of paper into digital versions—in minutes.
For large-size scanning jobs, call MES Ltd. With over 40 years of experience, MES Hybrid Document Systems helps companies large and small who are frustrated with slow record retrieval, are unhappy about the space required for document storage, and who struggle with sharing information across team members.
When clutter goes away, productivity goes up. We provide Peace of Mind, Not Pieces of Paper. Contact MES today.
While you're at it, ditch that paper wall calendar of the surfing puppy and cozy up to task apps like Monday, Trello, and Teams.