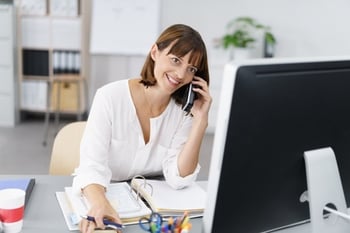 Managing employee records is a crucial function for any business. Employee information, timecard management, performance evaluations, and other similar data is collected and stored on most employees. However, traditional ways of maintaining these records can be difficult. Manual tracking and management can lead to human error and gridlock. Electronic employee records are easier to manage, keep accurate, and access.
Easier Management
Managing employee records is much easier if those records are in a digital format. One reason for this is because with digital records you have the ability to catalog multiple types of information about employees in a single program or digital location. Secondly, you can easily change information and make those changes available across departments instantly instead of having to manually update records multiple times. Finally, you're able to add, remove, and change the department listings for your employees with the click of a mouse. There's no need to shuffle paperwork, which means you're less likely to wind up with lost or mismanaged records.
Improved Accuracy
Since electronic records are available across departments and changes made in the system update across the board, instantaneously, there's more of a chance that records will be accurate. It's also less likely that record changes will be miscommunicated, or not communicated at all, between departments. Additionally, records are more accurate when data is available electronically across departments and office locations because there are more eyes on those records. Because of this, any mistakes or errors can be caught sooner and changed unilaterally in almost no time at all. Finally, if employees are given access to certain records, accuracy could be improved even further as employees would be able to easily spot and report errors in their time card, requests, inter-departmental correspondence, and other records.
Ease of Access
Employee records are only useful if they're easy to access. If you have to search through piles of papers or files of information, you're less likely to refer to those sources, even when you should. It's much easier to access information that is stored digitally than it is to have to find a file, piece of paper, or document stored in a cabinet or drawer. Digital records and self-service portals would open up electronic employee records like time cards and vacation requests to employees themselves, eliminating the need for laborious requests made on paper that require processing from multiple people and departments. These records, if made digital, could be implemented across self-service portals if desired, meaning your human resources department will spend less time processing time off requests and more time on tasks like recruitment. The easier it is to access employee records, the easier it is to update them, pull information from them, and, if made electronic, create reports from them with a click of a button.
Electronic employee records are easier to manage and access, make self-service portals a possibility, and improve accuracy. By ensuring that these digital records are available and accurate, you open up the opportunity to place some of the more administrative and mundane human resources tasks in the hands of employees themselves. Time off requests, time card completion, and other similar tasks could be handled by the employees themselves either remotely or on-site, and the records of these actions would be easily accessible to all of management. Electronic employee records also facilitate report generation and employee progress tracking thanks to the fact that they can be updated from anywhere. Using electronic employee records helps your company or organization run smoother, maintain more accurate records, and lowers the demands on human resources so more work can be done.