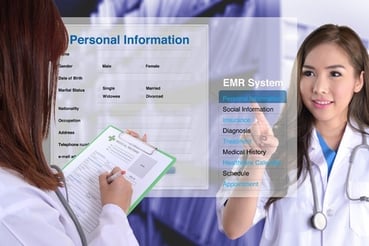 Today more and more healthcare facilities, both hospitals and private practices, are moving from paper files to electronic medical records. The benefits of electronic medical records are numerous for both patients and healthcare providers.
Benefits of Electronic Medical Records
On Demand
With electronic records, communication between doctors and patients is improved by leaps and bounds. Each party is able to access a full medical history whenever they want; patients can access the records from home, whenever they need to.
Fewer Errors
Electronic health records contain significantly fewer errors than paper records, according to experts.
Ease of Follow Up
With electronic records, doctors have an easier time tracking their patients care, especially when they are referred to specialists or other healthcare practitioners. Everything is recorded in the same electronic record. They can then easily follow up with their patients and with the other doctors. Test results can be seen online, without a doctor having to make phone calls to another office.
Life Savers
In cases of emergency, doctors can easily access a patient's electronic health records. In casualty situations, like natural disasters, doctors can use EHRs to get a more accurate picture of a patient's medical history quickly. In this type of situation, patients are not likely to bring their paper medical records along, so when a healthcare professional has access to electronic records, it can help speed the process of care along, perhaps saving lives.
Scalable
In our quickly transforming, highly digital world, EHRs can be accessed by Smart phones, tablets, laptops and more. Your records are available anywhere you are.
Secure
Electronic medical records are much more secure than paper records. Electronic records are stored within secure databases; they will never be lost or misfiled. And, these records are always backed up for extra protection.
Safety
Electronic records can improve a patient's quality of care, too. They will help prevent oversights and errors such as incorrect prescriptions or related issues.
Real Time
With EHRs, patient records are updated in real time. There is no downtime; there is no need for anyone to type in a doctor's notes. These records can be accessed by multiple users all at once, too, so multiple physicians can access them at once. This allows for an easy exchange of information between locations, even different countries.
Electronic medical records can benefit both patients and healthcare providers. They are safe, secure and they even take up less space. Patients and doctors can access their records whenever and wherever they want.