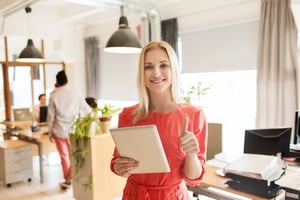 Companies have always relied on data. For decades, data like customer and vendor info, employee records, AP/AR invoices, etc. lived on paper, in files, and stored in filing cabinets. Electronic filing systems have started to replace paper document management processes, but the need for a well-planned filing system remains at the fore of every process strategy.
Here are five ways an effective office filing system will positively affect your bottom line:
Be in compliance
Compliance and regulatory practices aren't getting any laxer. Document management software provides a structured framework for security, practices/processes, and retention and information delivery. Mandates from government departments, regulatory bodies, and standard organizations are usually enforced using costly fines and penalties for noncompliance. It's all in the fine print, and for small - mid-sized businesses, it can be extremely tough to manage the operations of a company while staying within the lines of full compliance.
That's why companies turn to electronic document management partners to help tighten up their compliance practices by implementing secure and structured document management solutions.
Mitigate risks
For many organizations, a lost or incomplete file can have a severe impact on their bottom line, not to mention the legal, social and business implications that follow. Often, it's a lose-lose situation: fines or the loss of client trust will hurt the company, and lack of accountability will hurt your clients.
An electronic document management system will help manage sensitive documents and information, protecting the interests of your clients by minimizing risks. A proper document or record management system will effectively mitigate risk by ensuring accuracy, increasing accountability, streamlining data collection and access, producing end-to-end audit trails and ultimately, improving reliability.
Reclaim your office space
A disorganized or cluttered office can be harmful, in more ways than you might think. Studies have shown that 55% of a person's opinion is driven by physical appearance and first impressions are formed within seven to 17 seconds. Employee morale can also be severely affected - no one enjoys working in cramped, disorganized office environments, or spending time searching for a needle in a haystack (or, one piece of important paperwork in a pile). Reclaiming your office space will help clean up the perception of your business, the psyche of your employees, and even decrease the cost of storage. Whether you're looking to free up extra space, improve the look and environment of your office, or have decided you don't want to take the paper with you when you move, a document management system can help.
Find a new competitive advantage
Be honest, when you rely on manual paper-based tasks, filing cabinets full of paper and antiquated business systems to serve up information, it's hard to compete with those who are doing it better, faster and more reliably. It's incredibly competitive in every marketplace, and the only way to stand out is to find unique ways to be more profitable, grow revenue, justify premium prices, and attract top-tier talent.
A streamlined document management system is being used to get "the edge" on the competition. An effective system will allow you to deliver faster to your clients, secure cost advantages for your products and/or services and increase accountability.
Improve your business processes
Are your business processes at a standstill because change sounds expensive and chaotic? Many organizations merely accept that the "way it has always been done" is the way it has to be done. This kind of thinking, unfortunately, leads to immobility and stagnation. Companies that use workflow and document management systems to automate and control their business processes offer their team a faster, and more accountable platform. Improve your processes by implementing a system that will advance the goals of leadership, eliminate information silos, streamline compliance and ultimately, boost customer satisfaction.
Sometimes, the only way to truly consider the effects of change is to look at the impact to the bottom line. The value of a proper office filing system shows itself in many ways, how will it help you achieve the goals of your business?