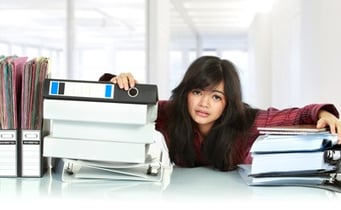 There are many ways to build a business case. However, each one must include basic information if you are looking to have investors take an interested role in the business you are about to pitch. Investors, whether it is the board of directors of your corporation, or outside investors; are going to want to understand why they should deviate current corporate standards to adopt new standards.
Companies, big and small, may or may not be aware how much they are spending in printed document support system. If you look at the amount it costs just to print one page for most companies in this day and age. It is widely reported that it costs $1 per page for a corporation to print one page of printed materials for the business.
If you take in to consideration the fact that employees must attain documents; and manually file them; and once that is done, documents must be archived as they age. The archival footprints of documents are costly in a per square footage factor.
A business case for a document management system is no different. The benefits and advantages of a Document Management System are inherent. From better, more efficient document service capabilities, to digital document storage, to the impact on paper and filing system cost savings, to the digital-archiving footprint vs. the hard-archival footprint.
A powerful presentation to explain what a Document Management System (DMS) is, and how it can help the company save money; help employees save time retrieving-using-filing documents; help the corporation to reduce the document archival footprint; help the environment through digital document vs. printed document.
Though the cost savings are clear, in order to obtain these cost savings, the company will have to spend a certain amount of investment capital in order to achieve the savings. Once the capital is spent, investors will want to know how long it will be before they start to see the return on their investment (ROI).
Step One
Always obtain a detailed quote from the Document Management System software creators. If your company is planning to employ a digital document management system, it is wise to follow-up with several different providers to find the most suitable provider for your business. One of the most important things that you can do while you are researching the right company, is to research your company's needs first and establish parameters, so that all vendors are bidding on the same pre-established parameters.
Step Two
Build a positive plan on how to showcase the elements of the Document Management System. Defining all the advantages of the system for the decision makers is only part of the process. When you are presenting the chosen Document Management System, you will need to emphasize how this will work for the corporation and what needs to be done to implement the system. The decision to commit to a Document Management System will affect your day to day company operations. The company will have to invest time and supply training to key employees who then will training other employees. Further the decision to go paperless requires the investment to digitize archived files that may or may not have been in your current digital archive. It also requires commitment from employees and management alike, to become a paperless organization. This is your "Change Management System".You must show your decision-making body, that you have a viable plan that addresses all their monetary concerns with regard to a Document Management System and the Change Management System that will need to be implemented.
Step Three
After you have accomplished the Document Management System review of positive attributes, you will need to counsel the decision makers on how they are expected to obtain a return on investment and how long it will take to start seeing that return in their investment. In this step you will explain in detail: how the company will reap the monetary rewards and savings, along with the time plan for the managing body to expect the final changes to be realized in the business model.Items including the differences in time management employees will see, due to the more efficient way of accessing files and the ability of employees to access live files and at the same time, make changes that are then realized immediately in the corporate files. Facilitating this transition and the timeline required is of paramount importance to the managing body. Your estimation of the time required to achieve ultimate efficiency, will be a big factor in the management's decision to implement the plan or not. Therefore, it is important that you provide detailed research to support your plan.
Step Four
Your ability to get others interested in the Document Management System and have employee "buy-in" is also very important, because ultimately the main change management will come from employee change.Appoint a team of volunteers who are interested in and will help manage the changeover. It is important for the managing body to see that you are able to are able to earn the co-operation of your peers in the project. This fact may change the decision of your management, if they are worried the project might be too large to accomplish. Your team should be made up of at least one managing team member. This team member will head-up the team and with your help will be able to show your managing body that you have thought of every step of the project of implementing a Document Management System.
Step Five
Providing a solid follow-up Document Management System Plan summary, will remind the managing team what they are deciding on when it comes to your plan.Keeping in mind that a Document Management System is a complete Document Server System, it is advisable to incorporate a variety of formats when presenting this plan to your management team. To go with your theme; instead of printing your proposal, you may want to send a copy to the management team via your team sharing software and follow up in the meeting with a powerful and interesting, PowerPoint presentation.