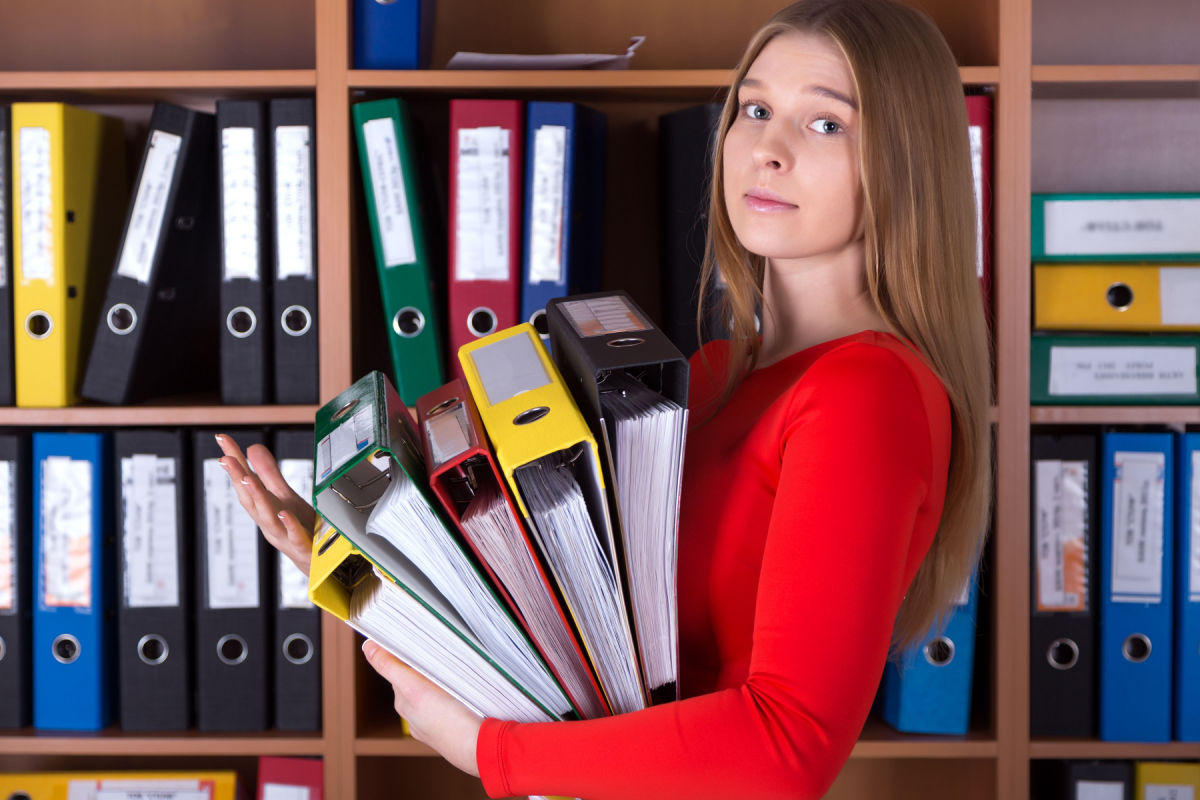 Millions of students pass through educational institutions every year across North America.
Each student goes through an intensive process of filling out enrollment applications and scholarship forms, providing annual report cards, transcripts, and many such documents.
And it's not just the students who must deal with tedious documentation—schools process tons of paper during the school year. Every educational institution collects heaps of new paper documents each year. New students mean additional paperwork. Nor can they get rid of documents once students pass out of school.
There are regulations that govern how long schools must retain education documents even after a student leaves school. In addition, federal privacy laws such as FERPA in the US and specific provincial laws in Canada protect the privacy of a student's education records.
Student record scanning is the first step to transforming school administration digitally. In the long run, a document digitization project helps schools save time and money and achieve compliance with federal, state-specific or provincial laws for the privacy and security of student information.
MES offers reliable and affordable student records scanning services specifically to schools in Ontario as well as other parts of Canada and the US.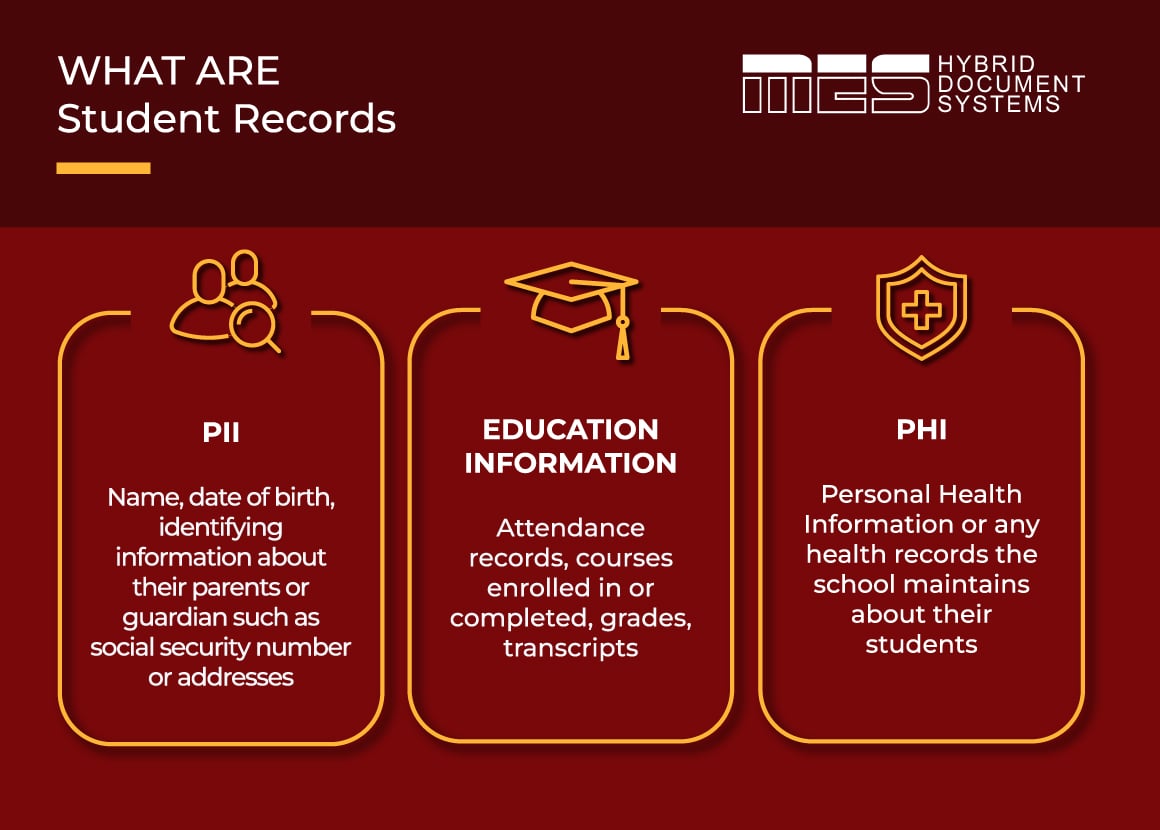 What are student records?
Student records refer to documents or records maintained by any educational institution about their students.
These records may contain information such as:
PII (name, date of birth, identifying information about their parents or guardian such as social security number or addresses)
Education information (attendance records, courses enrolled in or completed, grades, transcripts)
PHI (Personal Health Information) or any health records the school maintains about their students
Protecting the confidentiality of student information is an important consideration for schools and universities.
Many other institutions, such as universities, organizations who are potential employers, or students themselves, may occasionally request the school for official documents such as certificates, exam reports, transcripts, etc.
But before releasing such information, schools must seek the explicit permission of the students (or their parents, in case the student is a minor).
What requirements must education institutions meet for compliance with student privacy laws?
Under FERPA in the US, schools must observe the following:
Schools must have explicit permission from parents of students (if the student is under the age of 18 years) or the students themselves (if over 18 years) to release any student-related information.
Under the law, parents or eligible students have the right to ask to inspect any of the student's education records that the school maintains. The institution must provide the documents to them for inspection within 45 days of the request.
FERPA recommends (but does not stipulate) that a school should keep temporary student information like attendance records for a minimum of 5 years after a student's last day at the school, and permanent student records should be kept for at least 60 years.
Other state-specific or provincial laws for the protection of student records
Some states and school districts in the US have additional data privacy laws to protect students' information, either by extending the FERPA guidelines or giving additional guidance for the secure release of student information.
For example, the New York Education Law 2-d provides guidance on ways to strengthen data privacy and security and also extends FERPA's student record retention policy from 5 years to 7 years.
In Ontario, the Ontario Student Record (OSR) holds a complete record of a student's progress through the school system in the state. All school boards in Ontario are required by law to create an OSR for each student.
MFIPPA (Municipal Freedom of Information and Protection of Privacy Act) and the Education Act are the two main laws that guide access to information and privacy in Ontario's public and separate schools.
Under MFIPPA, a parent or guardian of a student under 16 years of age may provide consent on the child's behalf. The child may also provide consent. Once a student turns 16, their parent or guardian may no longer consent on their behalf.
Under the Education Act, the parent or guardian of a student under 18 may provide written consent for the use or disclosure of information from the child's OSR. Once a student is 18 or older, the student alone may provide the consent.
Personal information held by school boards is subject to MFIPPA's access and privacy provisions. MFIPPA protects privacy by setting rules for collecting, using and disclosing personal information.
Ontario's access and privacy laws do not stand in the way of the disclosure
of vital information in urgent situations. School boards should consider all the circumstances before determining whether personal information will be disclosed, including whether the disclosure is necessary to address the threat to health or safety.
Given these federal and state-specific laws governing the creation and maintenance of student education records, converting paper records to digital has become a priority with educational institutions.
Digitizing student records brings many benefits. Digital records managed via a robust document management system are more secure than paper documents. A DMS has strict access control features which prevent unauthorized access, making it easier to maintain regulatory compliance with student privacy laws
Digitized records are also easier to share with other institutes, agencies or companies. In addition, they can be affordably stored on cloud-based storage systems, which is ideal for high-volume records with long retention requirements. Cloud storage also makes the records easily accessible by school staff as they can be searched instantly at the click of a button instead of having to search out documents from physical onsite or offsite storage areas.
MES Hybrid Document Systems provides student records scanning and document management solutions tailored to your school's needs—giving you complete control over the access, storage and retention of your school records.
What happens if a school fails to comply with student privacy laws?
Schools are liable to face a range of consequences for privacy law violations. These may include:
Financial penalties imposed if, after issuing a notice of violation and a plan of correction, the school still does not comply with student information privacy laws.
Loss of government funding
Students or their parents may legally sue the institution
Does your school face challenges with student records management and storage? Do you want to mitigate the risks of compliance violations?
Connect with MES and ask us for a free quote for our student records scanning services today.
How student record scanning helps with student records privacy compliance
From K-12 schools to state-level universities, paperwork is the backbone of school administration. As the corporate world goes into hyperdrive to transform its operations digitally, the education sector is also going through drastic changes in terms of how they deal with paper.
Student records scanning provides schools with a digital copy of the original paper record. Digital files can be access-controlled using a robust document management system.
This means:
Schools can prevent unauthorized access to sensitive student information to prevent misuse of information or data leaks. A DMS provides stringent access control measures and password protection for all sensitive files.
In the event of an unauthorized release of information, schools can track and audit usage of the concerned digital files
Since privacy laws specify a time limit for the release of school records to parents or eligible students (within 45 days of a request as per FERPA, 30 days as per MFIPPA), digital records will ensure that the requested records can be easily found at the click of a button using a search functionality and can be conveniently shared well within the time limit.
Schools can process documents like transcripts and exam reports faster when these are requested by universities, potential employers or other agencies.
Schools can reduce costs of physical storage once records are digitized. Save space and eliminate endless rows of filing cabinets on your school premises. Digital records can be backed up and stored affordably on the cloud.
Digital records can be backed up frequently and affordably. Digital copies are always available if the original documents are misplaced, lost or damaged during natural disasters such as fires or floods. Day-forward scanning of new student records is an essential part of a school's disaster recovery plan as they must ensure that not just archived records but every new paper document is digitized at source and backed up frequently to maintain records meticulously.
Schools can meet long-term document retention policies more efficiently with digital records. Automatic expiration can be scheduled via a DMS.
Why schools should outsource student records scanning to an experienced scanning company
Schools often have many years worth of records that must be scanned during a digitization project. This is difficult for schools to execute in-house and is best done by a professional scanning company.
Known as backfile conversion, a scanning services provider will use high-speed scanners to complete a one-time project of scanning all legacy documents and existing paper documents.
Next, they would set up a daily scanning operation to handle new paper records that the school generates after a set date. This ensures that the school can maintain their digital records without landing up with stacks of paper documents again after a few months.
Additionally, a professional scanning vendor will be able to suggest affordable cloud storage options as well as route the digitized files into an existing content server or other backend applications or deploy a new DMS to help the school manage and secure the digital student records.
MES offers educational institutions an affordable and convenient Scan to Zero service to convert all their paper documents to easily manageable digital records.
Scan to Zero reduces the costs of high-volume document scanning and storage by splitting the project into a monthly service with a fixed number of documents scanned every month. You can decide the amount of budget you want to spend each month, making even large scanning projects budget-friendly. It eliminates ongoing physical document storage costs as we store documents free of cost during the scanning project. Moreover, you'll have fast and easy access to any document you need without delay or per-access penalties.
MES: Your partner in student record scanning services
Digital transformation in the education sector is critical to improve efficiencies in the school system, provide students with the convenience of remote learning and fast document processing and relieve school staff of the burden of intensive paperwork.
MES specializes in secure, fast and accurate document scanning services for student records.
MES can also deploy and implement a document management system to help you manage your newly digitized files. We create a digital environment based on your specifications and unique needs—from scanning existing paper documents to implementing a DMS with cloud-based storage options—we work with your IT team to leverage the maximum potential to improve your staff's productivity and help you comply with student information privacy laws.