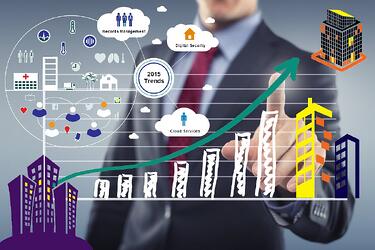 Being able to effectively manage your records is one of the most important elements of running a business. Without properly managed records, you could not effectively keep track of anything, and your organization would be poorly run as a result. That being said, modern technology is significantly changing how we are able to manage our records; let's take a look some of the records management trends that you will see in 2015.
A greater adoption of electronic records
As the use of paper records becomes increasingly expensive and time consuming, the need for the use of digital records becomes more urgent for many organizations. Although the use of digital records has burgeoned over the years because of this, 2015 is the year in which electronic record use is expected to explode. As such, you can mark this down as the most significant records management trend of 2015.
More digital security systems
One thing that the past couple of years have taught us is that we need to take the protection of our digital data very seriously. Without the right security measures in place, any organization can have its data stolen for any reason at any time, regardless of how big they are. Sony, Home Depot the United States Government and eBay can all attest to that.
As such, you can expect there to be a significant spike in the use of security measures to protect one's electronic records.
An increased use of cloud services
As the bytes of data created by digital records start to pile up, organizations will inevitably begin to run out of space on their hard drives. As a result, they will need to find alternative storage solutions. The best storage solutions for this need are cloud-based services. The reasons that the use of these types of services will take off in 2015 are that they only allow organizations to significantly expand the amount of data that they can store, but they also allow expanded access to the records.
A spike in IT jobs
More digital security and an increased use of cloud services will inherently mean that more information technology professionals will be needed just to help manage these two things. As a result, the changes in digital records management that we will see in 2015 will create many more jobs.
More data analysis
As electronic records continue to make data more manageable, organizations will be able to more effectively analyze everything. A doctor's office, for example, will be able to effectively analyze how well patients respond to a specific treatment. This will lead to more informed decision making for organizational leaders.
More organizational independence
Paper records often require you to contact multiple people in order to retrieve them. Sometimes, you will even need to retrieve these records from parties outside of your organization. This is due to the fact that there will always be only a limited number of copies of paper records, and whoever has them, has them.
This is another area in which the shift towards electronic records is creating records management trends. This is due to the fact that more organizations will be able to independently access all of their records without having to scramble around trying to figure out who within -- or outside of -- their organization has a copy of them on hand.
This is one set of trends that you will want to follow
Organizations that keep up with the trends discussed above can expect to yield more efficient, less expensive operation as a result. The time to start transitioning to a more effective records management solution is right now.