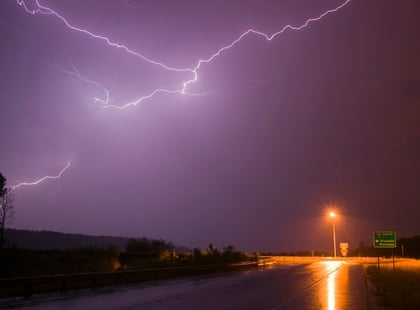 Is your business prepared for a natural disaster? Preparing for these unpreventable circumstances will require more than an insurance policy. This is because no amount of insurance can recover your company's data once it is destroyed. Protecting company data from natural disasters requires a specific plan. Here are the steps that you need to take:
Try to prevent a natural disaster from affecting your business at all
While flooding in a building is ultimately caused by heavy rain, flooding damage can often be prevented with the right type of drainage system. This is just one example of how natural disaster damage can be averted. Keep an eye out for other ways that you can secure your facilities against natural disasters. Protecting company data will be much easier if you start by protecting the physical location in which it is stored.

Keep your data away from vulnerable areas
Your data is much more likely to receive the brunt of any flood damage if it is being stored in the basement; hurricane winds could rip through glass and damage your data if it is stored in a room above ground without adequate protection. Instead of putting your data in these situations, it is ideal to store your confidential or important information in a much more secure location.

Store your data in the least vulnerable state possible
When a paper document gets wet, the data that it contains is destroyed, meaning that physical paper documents are extremely vulnerable to flood disasters. Reduce the risk of permanent data loss by only storing your company data in a way that minimizes the potential for damage. Many flash memory solutions, for example, are waterproof, dust proof and shock resistant. Using more secure storage mediums such as these will require you to use digital files for your company data. All you need to do is call in a professional document conversion service. The sooner you do this, the faster you can start better protecting company data with the best storage solutions available.

Have a backup plan
You should never only have one copy of your company's most valuable data. You should have at least one backup copy of everything. These backups should be stored at a location separate from your company's facilities. You can easily create these backups by investing in a cloud-based storage solution. Cloud servers store your data in a highly secured facility that is usually very far away from your facilities – and by extension, far away from where the destructive natural disaster would occur.
In addition, cloud backup makes recovering from a natural disaster even easier because you will be able to access these copies of your files from anywhere, even if your office is moved to the other side of the country, or even if you are forced to temporarily work from home.

Plan out how you will communicate with those affected by a natural disaster that damages your company's assets
In addition to protecting the company data you already have, you will need to protect your ability to continue to receive the valuable data that keeps your company going. As such, have a communication plan in place that will allow you to continue sending and receiving new data with business partners, suppliers, customers, etc.

Do not allow a natural disaster to force your business to start from scratch
Although a natural disaster is an unstoppable force, it doesn't have to destroy your business. Prevent a natural disaster from doing irreparable damage to your company by protecting your data from these destructive forces. To learn more about how to secure your data, feel free to contact our team of data management experts at MES Hybrid Document Systems.