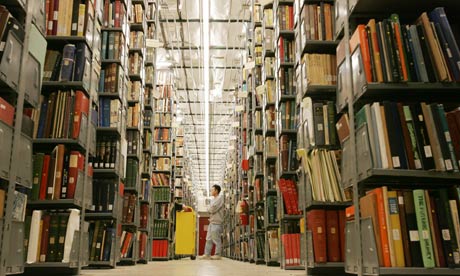 A simple truth about digital technology is that it is transforming the ways that library systems and services operate. Not only is technology itself advancing, but the expectations of users are also changing; today, people expect to be able to access all manner of information digitally.
Analog documents – books, newspapers, microfilm, microfiche, town records, historic information – are still important, but there is a recognized need to have them digitized in order to improve access and availability. And documents are not the only things being affected by the digital age. Increasingly, libraries and other informational institutions are rethinking the ways they provide services to their clientele. Below are some of the bigger transformations library systems and services are experiencing in the age of digital media.
The Digitization of Library Resources
Libraries and Archives deal with more unique media formats than any other institution. Thus, the process of digitizing such resources is inherently complex. Older collections require special care, unique formats call for innovative digitization equipment, and there is of course an impetus to balance preservation and better accessibility. Despite these challenges, libraries and archives are working tirelessly to digitize all manner of resources, from books to historic information, newspaper collections to microfilm and beyond.
Enhanced Library Services
Despite what many may think, the digital age is not threatening the role of the library as a centre of knowledge – if anything, it's reinforcing it. Digital technology is improving library systems and services and bettering the experience of patrons, who are being provided easier access to information. For example, the continual improvement of online databases is improving the sharing of information across different geographical locations, something that wasn't possible prior to the digital age. Furthermore, there is an increasing trend toward providing patrons the ability to make analog documents (such as microfilm) into digital documents on-demand via advanced equipment. This along with internet-enabled account systems for searching, renewing, and placing library materials on-hold, indicate a shift in the way library systems and services are offered in the digital age.
The Need to Capacitate Digital Materials
The digital age is characterized not just by the digitization of analog materials, but also by the high volume of digital information being created. Libraries and archives don't just need to digitize current collections; they also must have systems that can capacitate the archiving of newly created digital material, such as eBooks, websites and more. And, as technology continues to advance and more information is created, this need will only become more immediate.
Essentially, the digital age is not only changing library systems and services, it is also guiding the nature of many of the transformations. Libraries and Archives are working tirelessly to digitize resources, capacitate newly created digital materials, and enhance their services and systems in ways that better suit the digital environment. And as technology rapidly advances, we can expect that these transformations will continue.