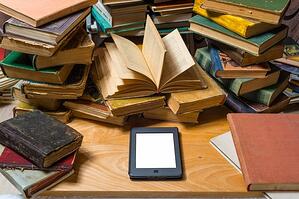 With the internet surpassing other media as the primary source of information, digitization has become an increasingly salient topic. The ability to access information digitally is no longer a novelty ­– it is expected. Take for example the Google Books Library Project, in which Google is working with several major libraries and educational institutions (including Stanford University) to digitize library resources and create a vast digital library.
The trend isn't ephemeral. The push towards the digitization of library resources and other sources of information will only accelerate. As Guy Berthiaume (who will become the new head of Library and Archives Canada on June 23) points out, libraries are in the process of reinventing themselves. He believes that digital technology is not threatening the place of libraries as centres of knowledge; rather, it should be embraced and leveraged to improve the availability of information and how people access it.
While this presents a number of challenges for the modern library, it is not an insurmountable task. The following tips will help you ease the process of digitization of library resources, and catapult your library into the digital age.
1. Build a network with partners and stakeholders
The task of digitizing library resources is only made simpler by developing relationships with other libraries and informational institutions. A fundamental characteristic of digital media is information-sharing, and this characteristic should be mirrored in the digitization process. If multiple institutions are on-board, resources are shared more freely and thus access to information is improved.
With the abundance of information being created, it's no longer possible to expect every resource to be centralized in any one place. And, with limited budgets, sharing the work can maximize outputs and minimize spend.
2. Develop a digitization plan
Depending on the size of your collection and what you are planning to transfer into digital format, the digitization process can be a large undertaking. As such, a plan needs to be drafted in order to better facilitate the transition. Start by defining the objectives of your project. Are you trying to improve access? Preservation? Both? Determine which resources are to be digitized, and establish a team among your staff that can help implement the necessary changes. Other considerations include: copyright, reproduction, and distribution laws; technical capabilities; and human/financial resources.
3. Invest in equipment that can accommodate your needs
Digitizing books is one thing, but libraries contain much more than books. A book scanner will not capacitate the need for the digitization of other library resources. To truly create a digital library, it's important to digitize as much material as possible. This includes books, documents, microfilm (rollfilm, microfiche, aperture cards, micro-cards, photographic cards) and other resources. Prior to investing in equipment, make sure that it can accommodate your needs based on the resources you will be digitizing.
The digitization of library resources is a step towards the creation of a truly digital library. It can help not only to improve access to materials, but also their preservation as well. Additionally, it helps to improve the experience of your patrons and expedite the distribution of information. Developing a network, drafting a digitization plan and making prudent equipment/resource investments are a few of the many actions you can take to catapult your library into the digital age.