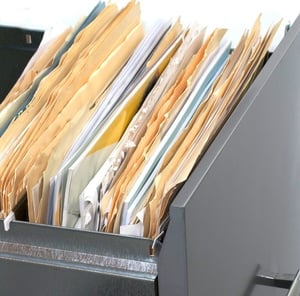 Business records are of paramount importance: they are crucial for compliance and tax obligations, and provide a frame of reference for your organization as you progress. There is also the fact that business records must be kept by law, and failure to do so can result in costly repercussions.
However, it is not merely the act of keeping records that is important. A business must also do so efficiently, in order to avoid wasted resources, lost records, lapses in organization, and a myriad of other issues. That's why an effective business records storage solution is so pivotal. Your business storage should not only curtail the mountain of paper in your office, but it should also offer security, enable easy access to specific documents for employees who need it, and also reduce the administrative time it takes to file, organize and search for business records.

Below are 3 business records storage solutions that can help you save time, money, and ensure you keep records with pinpoint accuracy.
1. Media Conversion
Though paper records are still widely used, they are highly impractical. For one, they create the need for physical business file storage, which can prove cumbersome and monopolize office space. Additionally, paper records are susceptible to filing errors and tend to be lost much more so than electronic files.
Media conversion involves more than simply document scanning; it is a way to take source material from different formats – paper, records, microfilm, etc. – and convert them into digital format so they are more easily stored, tracked, accessed and managed. The result is that business records storage becomes not only easier, but also more accurate.
2. Document Workflow Automation
Document workflow automation involves decreasing inefficiencies through automating error-prone manual tasks. Most highly effective when integrated with document management software (see #3), workflow automation serves to accomplish three key goals: the even distribution of tasks among your team; uniform file processing, so important business records are handled correctly; and easy, convenient access to all of your documents.
3. Document Management Software
If one of your main challenges is records organization and accessibility, document management software is an avenue to consider. This type of software allows you to file, store, secure, and most importantly, access all of your business records efficiently and conveniently. Rather than searching through file cabinets to try and locate important documents, document management software allows you to access what you need in a single keystroke, exactly when you need it.
Improving your business records storage system won't just ensure that you meet your legal obligations as a business; it will also help you eliminate inefficiencies and will ultimately save you money. Investing the time to beef up your system now will help your reap the benefits in the long-term.